Does Cohen-Manafort Mean Supreme Court Nominee Kavanaugh Can't Be Confirmed?
Liberal critics want the Senate to hit the pause button. Will it?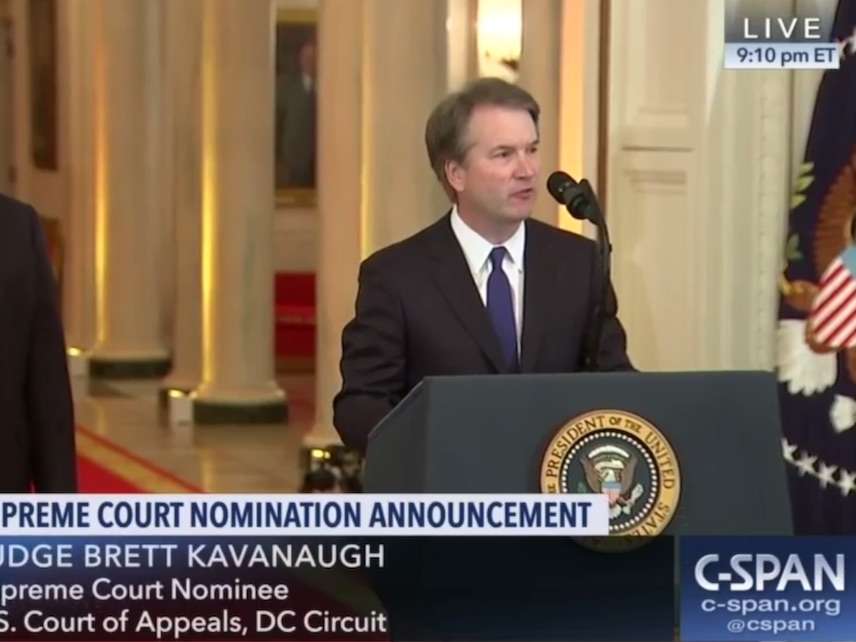 Critics of Supreme Court nominee Brett Kavanaugh have adopted a new line of attack in the wake of yesterday's federal convictions of President Donald Trump's former campaign manager, Paul Manafort, and his former personal lawyer, Michael Cohen. Until all of the facts about Trump's own alleged corruption and criminality are known, these critics say, the U.S. Senate has no choice but to place Kavanaugh's SCOTUS nomination on hold.
"Americans deserve to know the full truth about illegal activity in the Trump campaign and by Donald Trump himself," declared Marge Baker, executive vice president of the liberal activist group People for the American Way. "That means the Senate needs to make clear that it will not confirm his pick to the Supreme Court, Brett Kavanaugh."
Democratic Rep. David Cicillin of Rhode Island put it more bluntly: "A President who's also an unindicted co-conspirator should not get to make lifetime appointments to the Supreme Court."
Liberal MSNBC host Chris Hayes made a similar point: "So the Senate is just gonna rush ahead to confirm the president's nominee to the Supreme Court amidst all this? Really?"
If the history of modern judicial confirmation proceedings is any guide, then yes, the Senate really is going to confirm Kavanaugh amidst all this. After all, something similar has happened in the Senate before.
Consider what transpired back in the eventual months of September and October 1998. On September 3, Congress received the so-called Starr report, which, among other things, argued that President Bill Clinton had committed 11 impeachable offenses. A month later, on October 5, the House Judiciary Committee recommended opening an impeachment inquiry into Clinton's actions. On October 8, the House of Representatives officially began its inquiry into Clinton's impeachment.
At the same time that the House Judiciary Committee was weighing the contents of the Starr report, the Senate was weighing the record of a federal district court judge named Sonia Sotomayor, who President Clinton had nominated to a seat on the U.S. Court of Appeals for the 2nd Circuit. On October 3, the Senate confirmed Sotomayor to the federal appellate bench by a vote of 67-29.
In other words, with the very real possibility of a presidential impeachment looming on the horizon, the Senate debated, voted on, and confirmed the judicial pick of that potentially lawbreaking president. Sound familiar?
Here's some advice for anybody who is seriously hoping to see Senate Republicans hit the pause button on Kavanaugh over Cohen-Manafort: Don't hold your breath.