Trump's Rally Isn't the Craziest Thing Happening in West Virginia Right Now
West Virginia's entire Supreme Court was impeached last week. And things have only gotten weirder since then.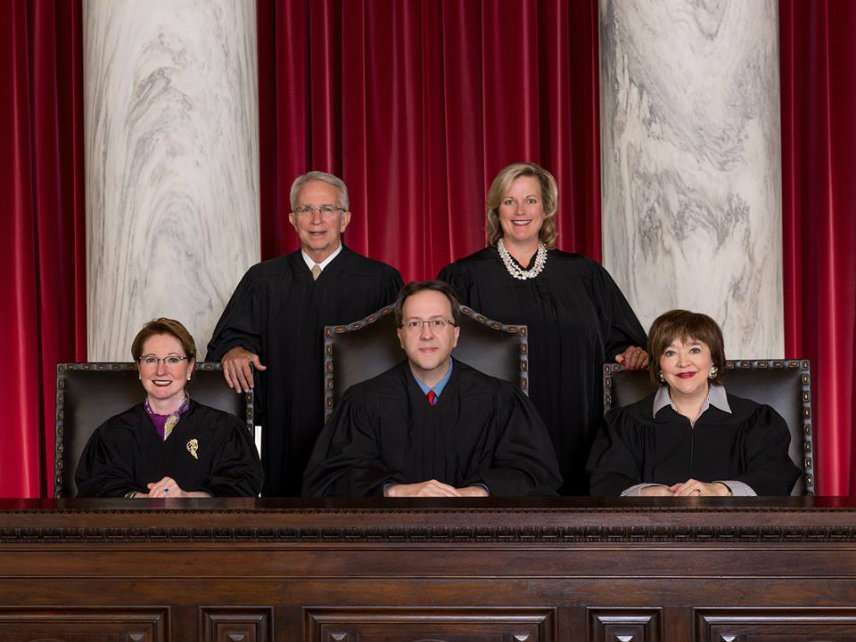 President Donald Trump is headed to West Virginia today to campaign for state Attorney General Patrick Morrissey, the Republican running to unseat Sen. Joe Manchin (D–W.Va.). But the craziest thing going on right now in Mountain State politics has nothing to do with the Senate race. It what's happening with the West Virginia Supreme Court of Appeals, which is currently missing two justices due to an almost comical corruption scandal.
As I reported last week, the state's House of Delegates recently adopted 11 articles of impeachment against all four of its Supreme Court justices, who allegedly abused their authority and used taxpayer funds for personal gain. There's a long list of accusations against Chief Justice Margaret Workman and Justices Allen Loughry, Robin Davis, and Elizabeth Walker. But the highlight is their alleged use of more than $1 million in taxpayer funds on office renovations. (A $32,000 couch stands out.)
Davis has since resigned her post, and Loughry has been suspended without pay. Another former justice, Menis Ketchum, resigned last month and admitted to defrauding the state. With Davis and Ketchum gone, West Virginians will vote for their replacements this November.
That's where the plot thickens. House Speaker Tim Armstead (R-Kanawha) announced today he's resigning from the House of Delegates and running for Supreme Court:
Today, I resigned as Speaker of the House and will file to run for the West Virginia Supreme Court of Appeals this afternoon. I am looking forward to talking with my fellow West Virginians and working to earn their trust and votes to serve as their Supreme Court Justice. pic.twitter.com/40Qxl2b55u

— Tim Armstead (@ArmsteadWV) August 21, 2018
Armstead is technically looking to replace the one justice who wasn't impeached. (Ketchum resigned beforehand.) But that doesn't make his decision to run any less odd. Essentially, the politician who led impeachment proceedings against West Virginia's Supreme Court is now running to be on that Supreme Court.
He's far from a shoo-in: Local NBC affiliate WVVA notes that Armstead is one of nine candidates for Ketchum's seat. Meanwhile, the fate of the remaining justices is in the hands of the state Senate, which yesterday officially received the House's articles of impeachment. A trial start date has yet to be set.