A New Report Details Pro-Trump Censorship of Liberty University's Student Paper
"I didn't feel comfortable being told what I couldn't write about by President Falwell."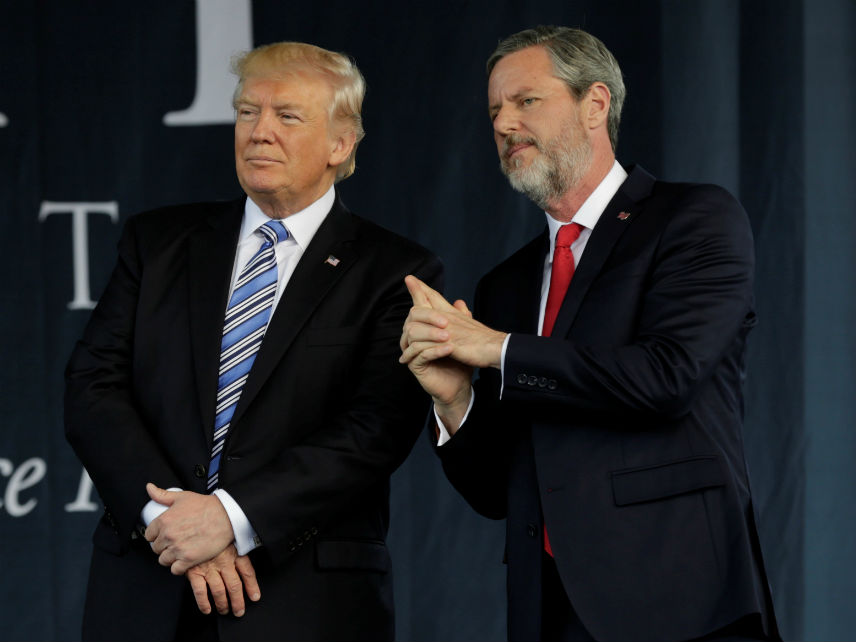 A rift between the Liberty University president and an on-campus newspaper indicates that campus free speech battles are not solely an issue for liberal colleges. Jerry Falwell, Jr., the president of one of the largest Christian universities in America, is a very vocal supporter of Republicans and conservatives and that support has crossed over to his college's identity. Earlier in the month, Falwell invoked his students to criticize Attorney General Jeff Sessions for not supporting President Trump enough, citing their low attendance at a 2016 event as proof that they did not back Sessions. Now World Magazine alleges that Falwell played a direct role in censoring the political views of Liberty's Champion, the on-campus paper. The alleged censorship mostly applied to criticisms of Trump.
In one allegation, Falwell reportedly directed staffers in 2016 to state the presidential candidate for which they were voting. At another point, Falwell told another editor to not run former Sports Editor Joel Schmieg's column disavowing Trump's "locker room talk" controversy. Schmieg then attempted to share his thoughts on Facebook, but later resigned when a faculty adviser communicated to him that he should refrain from repeating the action in the future. According to World Magazine, Schmieg said, "I didn't feel comfortable being told what I couldn't write about by President Falwell."
The other allegations follow a similar model of faculty members not only revising stories that were critical of Trump, but of staff, including Falwell himself, advising students not to cover certain events on campus. In April, Champion staff accused Falwell of telling them to not cover a controversial "Red Letter Revival." The event was comprised of progressive evangelical Christians who sought to pray against a culture of "toxic evangelicalism." The event featured a handful of Liberty student speakers. When former Assistant News Editor Erin Covey reached out to Falwell requesting a statement, he reportedly emailed her saying, "Let's not run any articles about the event." Covey later told Religious News Service, "I do think that currently the level of oversight we have does make it difficult to pursue the accurate journalism that we're taught in classes."
About a week after the event, Bruce Kirk, dean of the School of Communication and Digital Content, informed the students that they would be interviewed for staff positions for the following year, a first in Champion history. In a conference call with Falwell, Kirk, and the staff, Kirk advised the students to put "journalism aside for a second" to remind them that someone else "decides what you do and what you don't say or do," according to the World Magazine report. After the passing of another week, Kirk informed former Editor-in-Chief Jack Panyard that the paper would be doing away with his position, reorganizing its structure, and that Panyard would not be part of the operations any longer. Because of this, Panyard also lost the $3,000-per-semester scholarship that came with his position.
Champion staff are now reportedly required to go through a multi-stage approval process for their stories that requires input from the faculty adviser, a panel of faculty members, and Falwell.
This is not the first time Liberty students have found themselves at odds with the university. In 2015, Sen. Ted Cruz (R–Texas) announced his presidential bid at the school. As Reason reported, a number of students took issue with the setting as Cruz announced his campaign during a mandatory morning convocation for students. One student complained that the setting made it seem as though Cruz had the unanimous support of the nearly 10,000 people in the room. It also appeared that Falwell encouraged the students to stand in support, though he later asserted in a statement that students were "free to cheer or boo as they see fit."