UNC's Century-Old Confederate Monument Takes a Tumble
Silent Sam was erected in 1913 to honor UNC students who fought and died for the south. Critics say it is a symbol of white supremacy.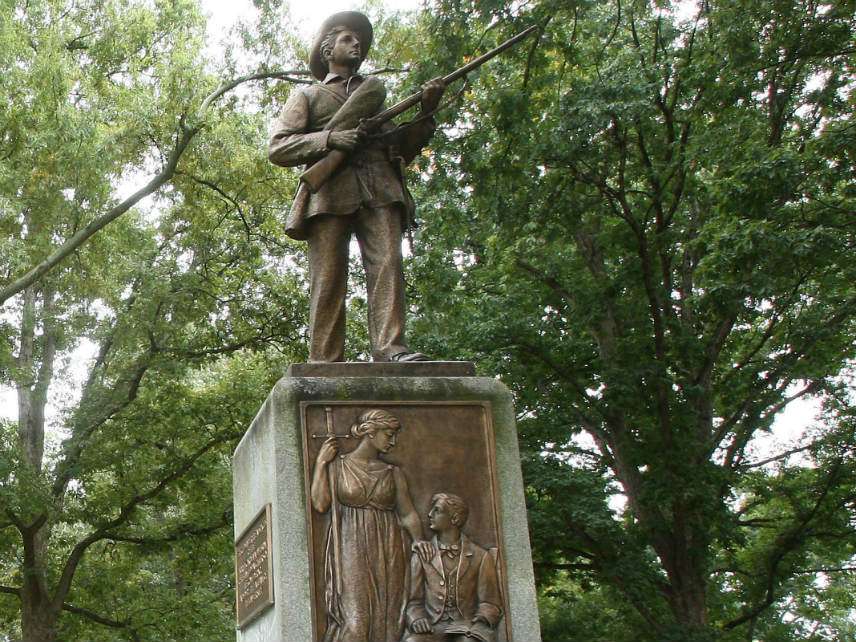 A controversial Confederate monument was torn down last night by protesters at the University of North Carolina's Chapel Hill campus.
The Silent Sam statue went up in 1913 to memorialize UNC students who fought and died for the south in the Civil War. In recent months, many activists called for its removal, arguing it was nothing more than a symbol of white supremacy.
Last night, on the eve of the first day of classes, roughly 250 protesters gathered in support of Maya Little, a UNC grad student who covered the statue with red ink and her own blood earlier this year. Little is facing criminal charges and potential expulsion.
Before the statue came down, protesters covered it with gray banners that read, "For a world without white supremacy," the Charlotte News & Observer reports. Behind the banners, demonstrators attached ropes to the monument, which were used to bring the statue down.
The scene on campus was at times chaotic, as some protesters tossed smoke bombs. Police arrested one person for "concealing one's face during a public rally and resisting arrest," UNC spokesperson Kate Luck tells CNN.
UNC Chancellor Carol Folt criticized the protesters' "unlawful and dangerous" actions, though she recognized the "divisive" nature of the statue. "The police are investigating the vandalism and assessing the full extent of the damage," Folt said in a statement posted on the school's website.
North Carolina Gov. Roy Cooper, a Democrat who has said Confederate monuments should be removed from public places, expressed similar sentiments. "The Governor understands that many people are frustrated by the pace of change and he shares their frustration, but violent destruction of public property has no place in our communities," Cooper's office said in a tweeted statement.
Silent Sam was first erected using donations from the United Daughters of the Confederacy. But as more people started calling for it to be taken down, the school was forced to spend at least $390,000 in security for the monument in the past year alone, according to the News & Observer.
School officials said that state law precluded them from removing the statue. As The New York Times reports:
Under that law, similar in its language and structure to other statutes shielding Confederate-themed displays in the South, a "monument, memorial or work of art owned by the state" may not be "removed, relocated or altered in any way" without the consent of a state historical commission.

University officials resisted calls, including one from the governor, that they invoke a loophole in the law, which allows for "an object of remembrance" to be removed without the commission's approval if it is deemed "a threat to public safety because of an unsafe or dangerous condition."
Had school officials moved quicker, it's possible they could have avoided what transpired last night.
Bonus link: Reason's Ronald Bailey argues that most Confederate monuments belong at historical sites or museums, not on public land.