Movie Review: Crazy Rich Asians
Culturally important, fine-but mainly a very funny movie.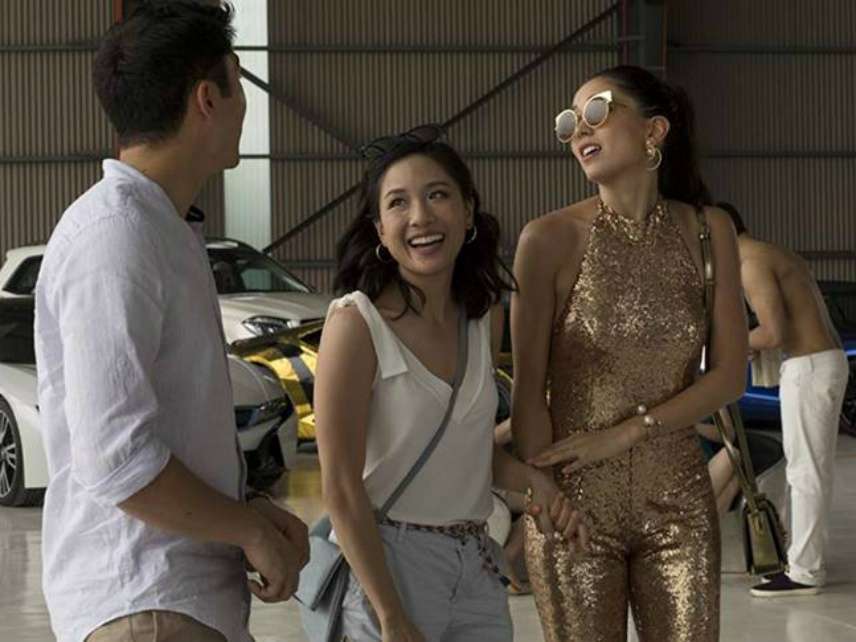 We are all brothers and sisters beneath the skin, my people, united in our need to laugh, to cry, and to take in an occasional rom-com. Not a crap rom-com—not a Gigli, or a Glitter, or a Ghosts of Girlfriends Past (that final embarrassment before Matthew McConaughey changed agents or whatever). No, rom-com fans wait and pray for another Moonstruck or Princess Bride, or maybe a fourth Bridget Jones movie. Now, very happily, those prayers have once again been answered, this time by Crazy Rich Asians.
One feels duty-bound to be earnest about this movie before anything else. It is, after all, the first Asian-centric Hollywood feature since The Joy Luck Club, 25 years ago, and is thus a gratifying breakthrough for cultural representation. (Director Jon M. Chu has said he passed on a distribution offer from Netflix to place the picture instead with Warner Bros., because he wanted Asian filmgoers to be able to see it on a big screen, like an old-fashioned "real" movie.)
More important than the cultural milestone it will now become, however, is the fact that this is a terrific little picture, one that checks all the traditional rom-com boxes. First, there's a nuzzly couple who are clearly made for each other. Then there are various kinds of trouble that conspire to keep them apart. And then there are kooky sidekicks who pitch in to get true love back on course. There's also a boatload of high-end lifestyle porn, which we'll get to in a moment. The movie is light and billowy, packed with charm and personality. Watching it is like floating away on a cloud of champagne bubbles.
Our designated love birds are both professors at New York University. Rachel Chu (Constance Wu, of Fresh Off the Boat), is the American-born-and-raised daughter of a Chinese immigrant. Nick Young (first-time actor/hunk Henry Golding) was born and brought up in Singapore. When Nick asks Rachel to accompany him back to his native land for the wedding of an old friend, there's a definite meet-the-family, pre-engagement vibe. What could go wrong?
I know you didn't ask that. Everything could go wrong, of course, and mostly does. First of all, Nick has been withholding some important biographical data from Rachel. As she discovers after they board their flight and he walks her past First Class and into a private suite in a special section of the plane (an actual thing on Singapore Airlines), Nick's family is among the biggest property developers in Southeast Asia – in other words, they're crazy rich.
As soon as the plane lands in Singapore, we enter a radically different world, starting at the city's Changi Airport, which features, among many other dazzling amenities, a butterfly garden. (You'll never look at LaGuardia or Logan or hellacious O'Hare in the same way again.) Soon, along with Rachel, we begin meeting more new characters than we can, to be honest, easily keep track off. There's Nick's best friend, Colin (Chris Pang), the groom-to-be. And two of Nick's cousins: the very gay Oliver (Nico Santos), who introduces himself as "the rainbow sheep of the family," and the unhappily married Astrid (Gemma Chan, of Humans). And Nick's old spoiled-rotten classmate Bernard (Jimmy O. Yang), who exists in some alternate universe of unfortunate sartorial choices. Rachel also gets to reunite with her old college pal Peik Lin Goph (riff-mistress Awkwafina, a continual hoot), who has returned home to Singapore to move back in with her own very rich (although not crazy rich) family and is now available for sidekick duty.
Looming over all of these characters is Nick's mother, the arctic grand dame Eleanor (incomparable Michelle Yeoh), who takes an instant dislike to Rachel because she's not really Chinese—she's Chinese-American, a very different thing and not at all what a prominent young man like her son will need to take his privileged place in this society. To complicate things further, there's also a devious ex-girlfriend in the mix, and a squad of local young dingbat women who have Rachel figured for a gold digger and would be happy to make her life a living hell.
The story, adapted from Kevin Kwan's bestselling novel, works itself out in ways that will hold no head-slapping surprises for rom-com fans—but who goes to rom-coms for head-slapping surprises? We go for the semi-familiar fun, of which this movie is full. And while the plot is unfurling, we get to pop our eyes at some of the world's glitziest real estate as the camera leads us around Singapore and Malaysia on a tour of gilded mansions, fantasy islands, vast bayside gardens, and any number of other indications that all of us on this side of the globe may be living in the wrong international zip code. A zany dad played by Ken Jeong sums up this unsettling possibility at dinner with his young kids one night. Finish your food, he tells them, "There's a lot of children starving in America."