Decades after Brown v. Board of Education, Choice Finally Integrated Schools in Alabama's Poorest County
Opponents of charter schools often claim that school choice will segregate K-12 education. Sumter County, Alabama proves them wrong.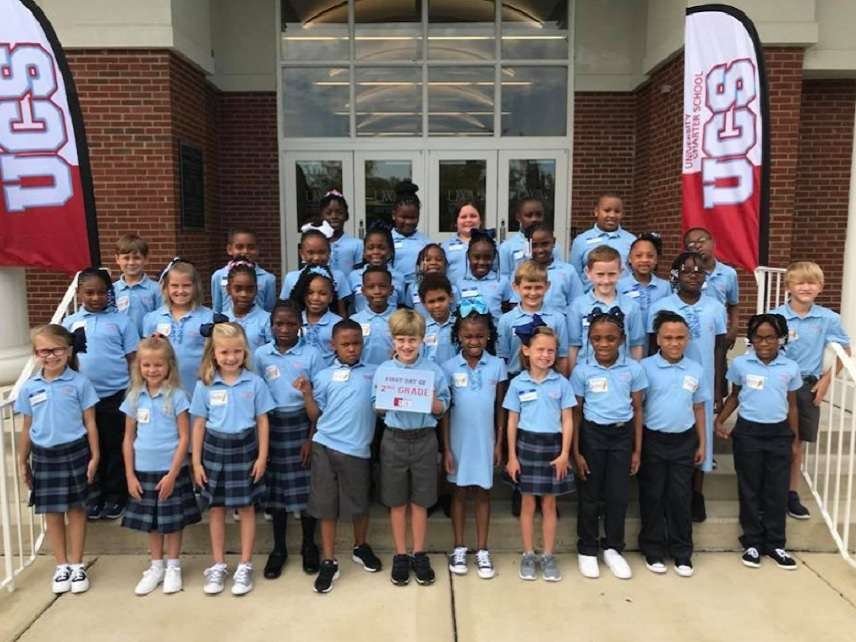 Earlier this week, something momentous, something historic, happened in Sumter County, the poorest county in Alabama and a place with a long history of segregation: A publicly funded school opened in which the student body was actually racially integrated.
Welcome to the University Charter School in Livingston, which serves students in kindergarten through eighth grade. Situated on the campus of the University of West Alabama, the school had to fight court battles against the local board of education in order to open and is one of just three charters currently operating in the state.
Charter schools are funded with tax dollars but are free from many of the bureaucratic rules and requirements that traditional, residential assignment schools have. In 2015, according to federal education statistics, about 3 million, or 6 percent of K-12 students, attended charters; in 2000, only 1 percent of students did. Parents and students must choose to enroll in a particular charter, which typically gets less money per student than traditional public schools. Yet charters are routinely attacked for "draining away" money and "skimming the best students" from conventional public schools. As the University of Arkansas' Jay P. Greene has pointed out, studies that control for individual student ability consistently find charters improve academic outcomes especially among minority students in urban districts. Charters are also criticized for promoting segregation because they disproportionately serve poor and minority students in racially isolated areas. For instance, in her 2017 book Democracy in Chains, Duke historian charges that the modern school choice movement, including charter schools, is a covert way to perpetuate racial division in K-12 education.
Schools such as University Charter put the lie to such claims. Slightly more than half of the students are black and slightly fewer than 50 percent are white, reports AL.com, so the racial makeup of the school doesn't quite reflect the area's demographics (county-wide, 76 percent of students are black and 24 percent are white). But "no public school in the county has come close to reaching the percentage at [University Charter], according to historical enrollment documents."
That's an understatement. Decades after Brown v. Board of Education, the 1954 Supreme Court decision striking down legal school segregation, many parts of the country, especially in the former Confederacy, dragged their heels on actually integrating schools. It wasn't until 1969 that federal courts finally forced Alabama to integrate and the response by whites was overwhelmingly to withdraw from traditional public schools and create a private system of "segregation academies" that weren't covered by anti-discrimination laws. In Sumter County, for instance, a private Christian school called Sumter Academy opened in 1970 and operated until June of last year. In 2017, fully 159 of its 160 students were white, with another being identified as "Asian or Pacific Islander."
The creation of segregation academies had long-lasting effects on Sumter County's public schools:
According to the state department of education, during the 2017-2018 school year, all but 11 of Sumter County's 1,500 [public school] students were black. Black students accounted for nearly 100 percent of enrollment in five nearby counties, all part of the Black Belt region of Alabama, enrolling fewer than 20 white students during the same time period. [Emphasis added.]
Alabama had been slow to adopt a charter school law and University Charter is the only such institution in a rural county. As AL.com reports:
Until Sumter Academy closed, families had to choose between an all-black public school system or an all-white private school.

University Charter School board member Anthony Crear said now families have a choice. "It's an opportunity for whites and blacks to go to school together," Crear said, "to give the kids in Sumter County an educational experience that they perhaps have not had before."
For more on charter schools, go here.
Hat tip: Alan Vanneman.
In 2015, Reason TV's Jim Epstein explored the public school system in Camden, New Jersey while exploring "Why Government Money Can't Fix Poverty"—and why school choice can.