California Considers Canceling Mandatory Cancer Warning For Coffee
Surprise! California is getting rid of a labeling requirement.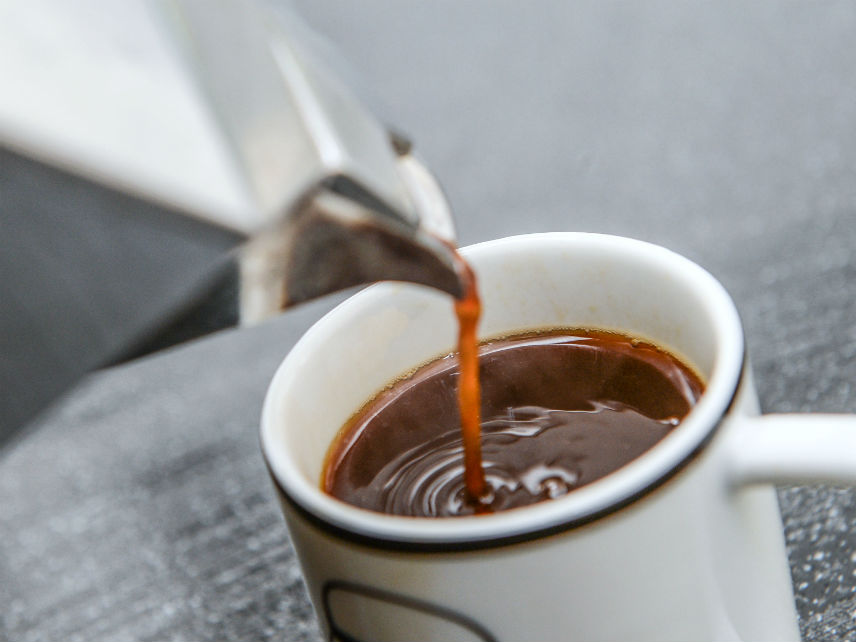 California officials are wondering if the decision to force coffee shops to post cancer warnings went a bit too far.
California's Proposition 65 requires that all businesses use explicit warning labels on their products if there is a cancer-causing agent present. A March ruling by a Los Angeles County Superior Court judge extended that requirement to coffee shops, including major chains like Starbucks, because the drinks they serve contain acrylamide.
Acrylamide, a byproduct of roasting coffee beans, was included on California's list of carcinogens after a study found lab rats that consumed the chemical in high doses were much more likely to develop cancer. A human coffee drinker would need to consume 35,000 cups of regular coffee every day to face the same risk.
The Los Angeles Times reports that the Office of Environmental Health Hazard Assessment (OEHHA) determined that coffee did not pose a significant risk to consumers and is seeking to reverse the labeling requirement. OEHHA announced a Thursday hearing to propose an update to the regulations that would clarify "exposures to Proposition 65 listed chemicals in coffee that are produced as part of and inherent in the processes of roasting coffee beans and brewing coffee pose no significant risk of cancer."
Other groups also have found no connection between coffee and cancer in human beings. In February, for example, the American Institute for Cancer Research (AICR) said that while "acrylamide increases risk for lab animals, no links have been established between acrylamide in food and cancer risk for humans as research is inconclusive." AICR added that the topic of whether or not coffee is linked to cancer "is a well-studied one."
Bonus links: Coffee beans are not the only part of one's morning routine that has faced scrutiny from regulators. Coffee additives and accessories such as sweeteners, plant-based milk, and straws (for the cold brew fans) have all been controversial at some point.