Revoking Ex-CIA Chief John Brennan's Security Clearance Is Both Good and Bad News
Brennan was awful and defended the indefensible, but Trump is clearly trying to silence critics.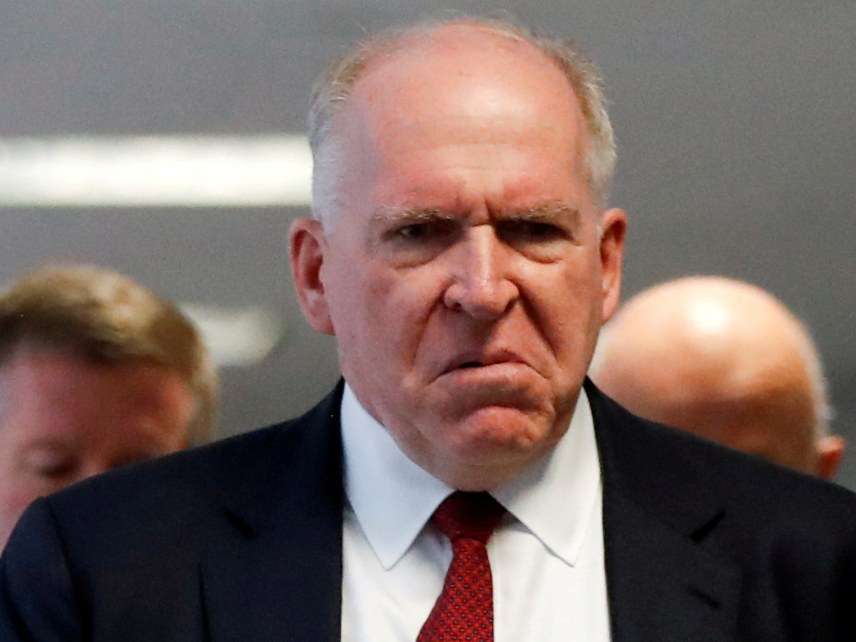 President Donald Trump has revoked the security clearance of former CIA Director John Brennan.
In a statement, Trump accused Brennan of leveraging his "status as a former high-ranking official with access to highly sensitive information to make a series of unfounded and outrageous allegations—wild outbursts on the internet and television—about this administration." Trump added that "Mr. Brennan's lying and recent conduct, characterized by increasingly frenzied commentary, is wholly inconsistent with access to the nation's most closely held secrets and facilitates the very aim of our adversaries, which is to sow division and chaos."
Which is to say, Trump doesn't like Brennan's very vocal criticism of him. The president told The Wall Street Journal he holds Brennan largely responsible for the special investigation to determine the extent of Russian meddling in the 2016 presidential election and whether anybody in Trump's orbit was involved.
Let us not weep much over Brennan's fate. As director of the CIA, Brennan defended terrible practices such as torture and extrajudicial drone assassinations. Under him, the CIA secretly snooped on Senate Intelligence Committee staff who were researching and producing a report critical of the CIA's use of torture in interrogations of terrorism suspects during the wars in Iraq and Afghanistan. Then Brennan played dumb about it. And then nothing happened. Brennan is neither the hero of this story nor a victim, and he is probably still going to do just fine as a talking head on the news.
Sadly, not very many people cared about Brennan's behavior in connection with the Senate torture report at the time, which makes Trump's inclusion of it as a justification in his statement a bit unexpected. Sen. Rand Paul (R-Ky.), who is encouraging Trump to revoke the security clearances of former officials and who filibustered Brennan's appointment as CIA director to highlight the secret use of drones by Barack Obama's administration, certainly knows all about Brennan's background. Other Republicans, however, were hardly big supporters of the torture report, and the Trump administration apparently wants nothing to do with the issue.
There is little about Brennan's actual behavior as CIA director that Trump would disagree with, so let's not play dumb about Trump's motivation in revoking his security clearance or those of other potential targets. It's obviously a way of punishing critics within the national security and intelligence community whom Trump loathes (and who loathe him in return).
Does the motive matter? Trump, for his own reasons, is punishing former officials whose behavior may be detestable on other grounds. Or even possibly illegal: One of Trump's targets is form National Intelligence Director James Clapper, who lied to a Senate panel about the existence of the National Security Agency's massive domestic surveillance program.
Let's not fall for a false choice. We can welcome the outcome here and still be concerned about the downstream consequences of tying security clearances to personal loyalty. This is an administration under investigation, and Trump is clearly using his powers against those who support the investigation. There's a pretty clear message here for anyone working within the administration who may be connected to the Trump investigation or anybody currently employed by the Justice Department who may be involved: If you support this investigation, it could hurt your career.