Twitter Caves, Bans Alex Jones. For a Week. Sort Of.
The conspiracy theorist's account has been restricted for seven days.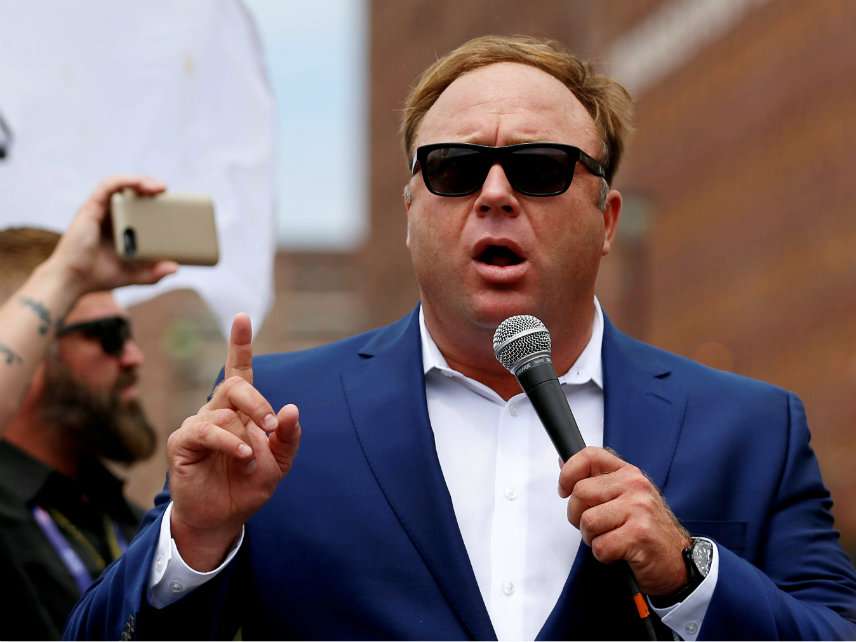 Controversial Infowars founder and host Alex Jones has been hit with a lite ban from Twitter.
The social media platform took action Tuesday to restrict the conspiracy theorist's account for seven days. That means he can't tweet, retweet, like, or follow. He still has access to his account and can see the tweets other users post.
Twitter's move against Jones comes the week after it was criticized for not banning him. Other major internet platforms—including Facebook, YouTube, Spotify, and Apple—had completely unpublished and/or removed his professional pages and podcasts. As Reason's Zuri Davis noted at the time, all four companies stated that Jones' inflammatory statements about Muslims, immigrants, members of the LGBT community, and other groups violated their terms of service.
Twitter, though, decided to keep letting Jones use its platform, with CEO Jack Dorsey explaining that "he hasn't violated our rules. We'll enforce if he does."
So why did Twitter finally decide to move against Jones? According to BuzzFeed's Ryan Mac, Jones had tweeted a video from Periscope (which is owned by Twitter) in which he called on his followers to have their "battle rifles" ready to defend against the mainstream media, Antifa, and others. That likely violated Twitter's policies prohibiting users from inciting violence.
This is part of the offending Periscope video as captured by Media Matters. https://t.co/eOTjXqXmL9

— Ryan Mac (@RMac18) August 15, 2018
Jones responded Wednesday morning in a video posted to Infowars' official account, which was not restricted.
"We have been so careful even to follow [Twitter's] anti-free speech, kind of university SJW rules, and so a video about Donald Trump needing to take action against web censorship, that is flagged and then gets us suspended for seven days," he says. "I guess Dorsey is toying with us, or his people are."
Dorsey et al. may indeed be toying with Jones, but their most recent action against the right-wing host likely won't placate those who thought Twitter should have banned him in the first place. Of course, as a private company, Twitter is under no obligation to listen.
Partisans on both sides of the aisle want digital speech they don't agree with be restricted and/or banned. But it's impossible to please everyone. And by picking and choosing who they censor, Twitter and other internet platforms are likely to make the problems of polarization and information bubbles even worse.