Kanye West's Support for Trump Is No Different Than the Average Voter's
Except possibly the bit about "break[ing] the fucking simulation."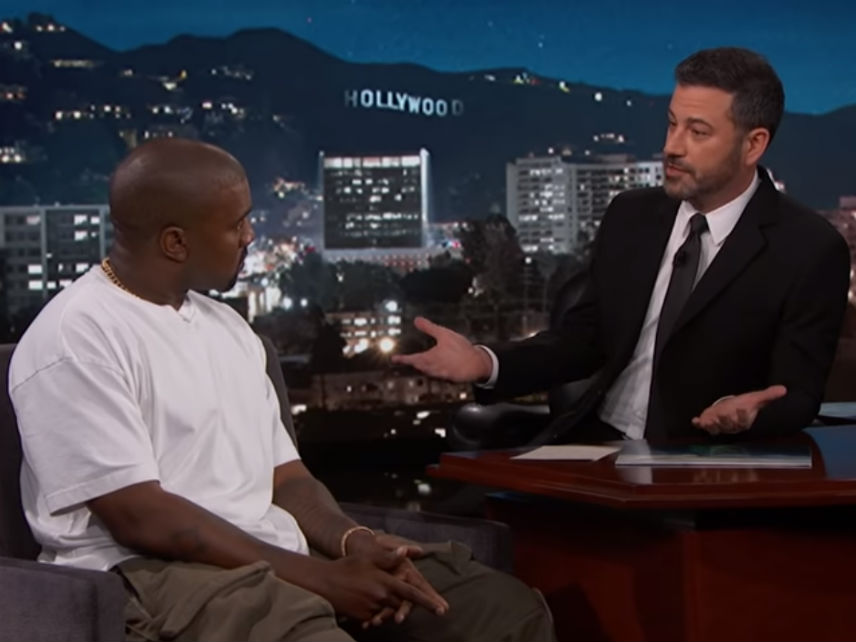 Those wondering why Kanye West admires Donald Trump finally got an answer last night when West sat down for an interview with Jimmy Kimmel.
The rapper, who once famously claimed that George W. Bush didn't "care about black people," caused anger and confusion in his fan base when he stated just after the election that he would have voted for Trump. About a month later, West met with Trump at Trump Towers. In April of this year, West tweeted his love and support for the president as well as an autographed "Make America Great Again" hat. Since then, West's wife—reality TV star Kim Kardashian West—met with Trump to ask for clemency on behalf of nonviolent drug offender Alice Marie Johnson. Trump commuted Johnson's sentence in June.
West's interview yesterday began lightly, with Kimmel suggesting that West use his Yeezy apparel to design the uniforms for the president's Space Force. Later, West revealed that his support for Trump didn't actually have much to do with policy, a position that's probably similar to the average person's support for any politician.
"It took me a year and a half to have the confidence to stand up and put on the [Make America Great Again] hat, no matter what the consequences were," West said. "And what it represented to me is not about policies, because I'm not a politician like that, but it represented overcoming fear and doing what you felt no matter what anyone said."
West added that he rather enjoyed when people became upset with him, invoked Galileo's support for the theory of a heliocentric Solar System, and declared that someone needs to be "fearless enough to break the fucking simulation."
The full interview can be viewed below.