Former Gary Johnson Campaign Manager Ron Nielson Launches SuperPAC
As the fundraising gears up, the two-time Libertarian presidential candidate has until Aug. 18 to decide whether to run for U.S. Senate. Meanwhile, Republican Mick Rich is emphatic about not dropping out.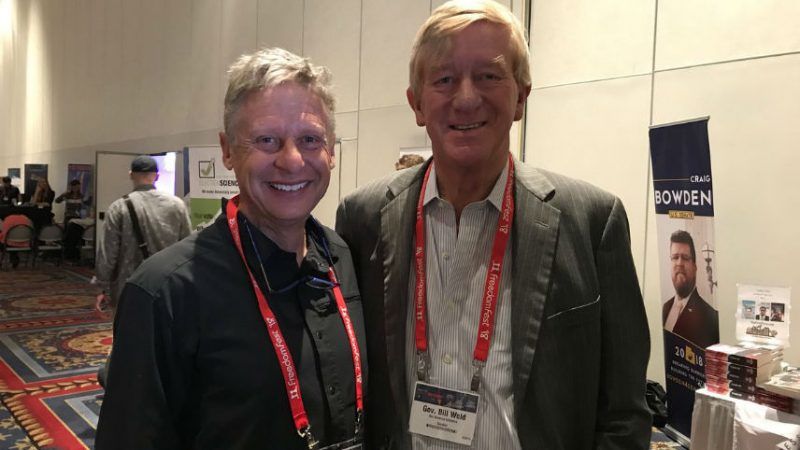 In the latest signal that Gary Johnson is revving up a run for U.S. Senate in New Mexico, his 2016 presidential campaign manager, Ron Nielson, announced Monday that he was forming a new fundraising vehicle called Elect Liberty PAC. The move came after the Libertarian Party's unanimous decision Saturday to nominate the two-time former governor to replace State Land Commissioner Aubrey Dunn, who vacated his candidacy late last month while urging Johnson to run.
"Aubrey Dunn just did what statesmen do. He put the best interests of New Mexico before his own personal interests," Nielson said in a statement. "Now it's time for New Mexicans and other supporters of good government to take the next step and seize this opportunity to give the state a powerful, independent voice and vote in the U.S. Senate. Governor Gary Johnson can be that Senator, and we want to show that he has the support he needs to win."
Johnson still hasn't officially thrown his hat in the ring; the L.P. gave him two weeks to decide. "I am giving the race my most serious consideration," he said in a statement following the party's vote. "A major factor is, simply, whether I can win…. If I choose to run it will be for all New Mexicans, Democrats, Republicans, independents, Libertarians and Greens. I will be an independent voice for our state."
Democratic incumbent Martin Heinrich has until now been considered a shoo-in for re-election in this solidly blue state, and sits on a campaign war chest estimated at $4 million. Republican nominee Mick Rich, a political novice with 1/24th that amount of cash on hand, has been emphatic about not dropping out should Johnson run.
"I'm in all the way to the end and I intend to win this thing," Rich told NM Political Report this week. As for calls from some Libertarians to step aside, Rich said: "What really surprises me, is the message they're putting out there is, 'Gary's a weak candidate and he can't win on his own.'" (Retorted the unofficial Gary Johnson for Senate fan page on Facebook: "Nope. We're saying Mick Rich is the difference between Johnson winning by a close margin and winning by a landslide.")
The injection of the high-profile Libertarian—who received 9.3 percent of the presidential vote in New Mexico two years ago—would spark media interest in what has been a yawner of a race.
"Rich is duller than last night's dishwater. Few are contributing to his moribund campaign," Santa Few New Mexican political columnist Milan Simonich wrote last week. "For Heinrich, Johnson is the far more dangerous opponent. Rich isn't going to catch fire. Johnson might."