Demonstrators Might Have to Pay a Fee to Protest on the National Mall
The National Park Service says there's an "enormous cost" to managing large political protests.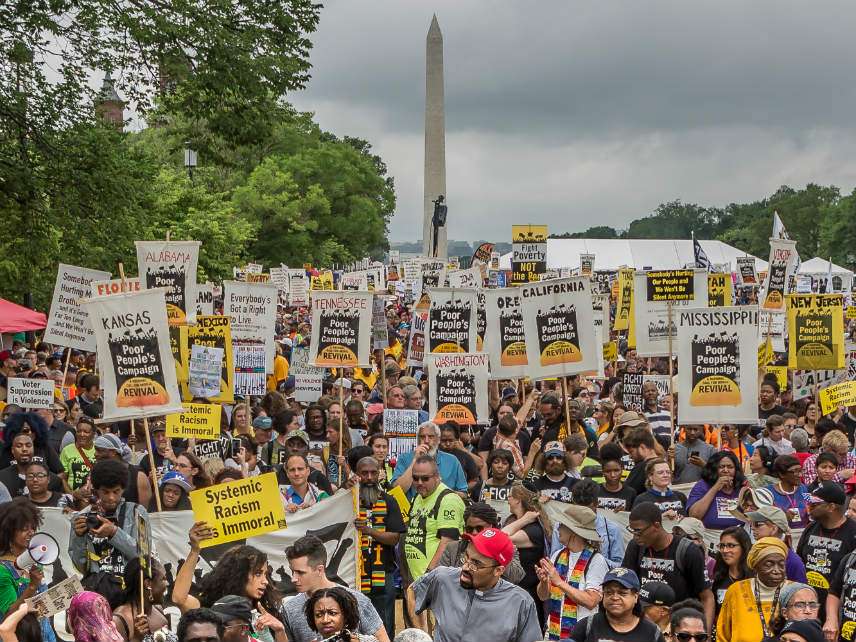 Is free speech still free if you have to pay for it? That's the question to ask after the National Park Service (NPS) unveiled 14 regulations it's considering implementing for demonstrations and special events in the Washington, D.C., area.
According to an NPS press release, the agency hands out about 750 permits for "First Amendment demonstrations" in the D.C. area every year, plus 1,500 more for special events. The NPS handles events on the National Mall, next to the White House, and at popular monuments around the city.
The agency now says it wants the groups organizing such events to foot the bill. "The federal government and taxpayers shouldn't be required to underwrite the cost of somebody's special event, whether it's a concert, wedding, or gathering of some sort," NPS spokesperson Mike Litterst tells WAMU, Washington's local NPR station. Apparently, that includes political protests too. "There is an enormous cost to putting on or assisting with some of these larger First Amendment demonstrations," Litterst says.
The NPS notes it "has the authority to recover all costs of providing necessary services associated with special use permits." Currently, the agency charges fees for special events, but not "if the proposed activity is an exercise of a right," like free speech. Those rules could be changing for the first time since 2008, though it's not a done deal yet. Starting Tuesday, the public will have 60 days to comment on the rule changes.
Charging demonstrators fees to protest isn't the only notable proposed change. The agency might also require structures bigger than podiums to have a permit, in addition to banning events at various memorials in the city and establishing security zones in the area surrounding the White House.
Acting National Capital Regional Director Lisa Mendelson-Ielmini thinks the proposed changes will help maintain the First Amendment rights of "groups wanting their voices heard."
"The role the National Park Service plays in facilitating these groups' First Amendment rights—regardless of their views—is not something we take lightly," she say in the NPS's press release. "These proposed changes would provide much needed clarity to regulations while ensuring those unalienable rights remain."