Death Row Inmate to State: Just Kill Me Already
Convicted murderer Scott Dozier has already had his execution postponed twice. He says the state should "just get it done."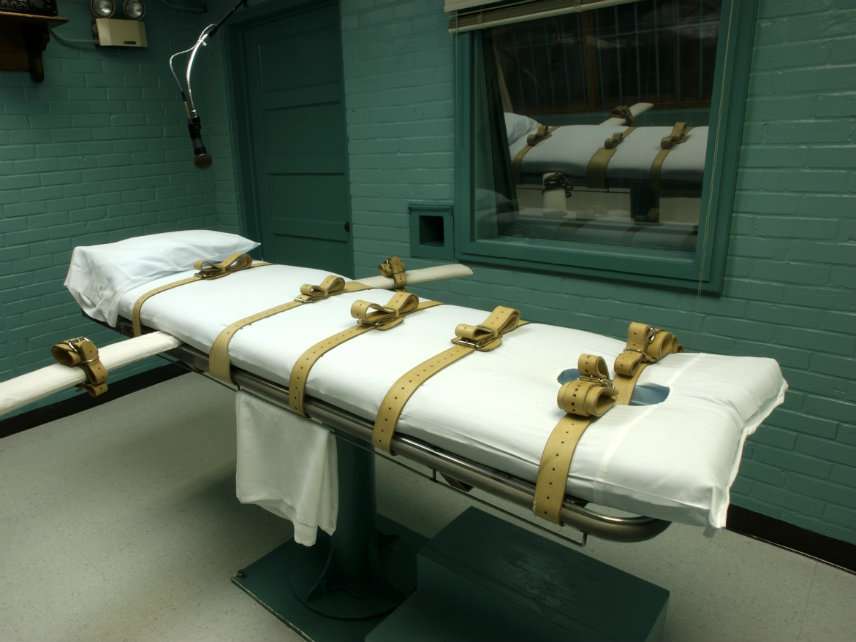 A convicted murderer on death row in Nevada has one simple request: He wants the state to kill him.
By all accounts, 47-year-old Scott Dozier is a bad man. He already had one second-degree murder conviction under his belt when he was sentenced to death in 2007 for first-degree murder. In the latter case, the torso of Jeremiah Miller was eventually found crammed in a suitcase and dumped in the trash. The body was missing its head, arms, calves, and feet.
Dozier denies having committed both murders. But he says he's ready to die anyway, especially after his lethal injection was postponed for the second time last month. Nevada should "just get it done, just do it effectively and stop fighting about it," he tells the Associated Press.
Civil libertarians and classical liberals have long argued against capital punishment on the basis that the government shouldn't kill its own citizens. "The death penalty is uncivilized in theory and unfair and inequitable in practice," the ACLU argues. "Well-publicized problems with the death penalty process—wrongful convictions, arbitrary application, and high costs—have convinced many libertarians that capital punishment is just one more failed government program that should be scrapped," Ben Jones writes at Libertarianism.org.
But what about cases where the defendant wants to die? In this case, one might argue that the state wouldn't be murdering Dozier; it would simply be granting his last wish. Then again, while the state of Nevada wants to kill Dozier, it has no desire to let him go out on his own terms: he was put on suicide watch following the most recent postponement of his execution.
Dozier claims he's not suicidal. He doesn't even want to die that much; he just prefers death to prison. But his execution has turned into a complicated legal affair that sheds still more light on the messy business of capital punishment.
Hours before Dozier was set to be executed in July, Judge Elizabeth Gonzalez of Nevada's Eighth Judicial District Court said the state couldn't use a sedative called midazolam. That's because the drug's manufacturer, Alvogen, successfully argued that "serious harm" would be done to its business if the sedative was used in an execution.
Since then, the makers of the other two drugs that were set to be administered Dozier have also joined the fight. Neither Hikma Pharmaceuticals—which makes the opioid fentanyl—nor Sandoz Inc.—which manufactures the muscle relaxant cisatracurium—want the state to kill Dozier with their products.
Dozier, though, just wants it to all be over. "I want to be really clear about this. This is my wish," he tells the AP. "They should stop punishing me and my family for their inability to carry out the execution."
It's not like the state of Nevada disagrees. The attorney general's office says the drug companies are simply trying to improve their public image. "For Alvogen (and similarly situated drug manufacturers), this lawsuit has little downside. Whether it ultimately wins or loses, Alvogen scores points in the public relations arena just for bringing this lawsuit," lawyers for the AG's office wrote late last month in a petition to the Nevada Supreme Court. On Monday, 15 states filed an amici curiae with the Supreme Court expressing similar sentiments.
Dozier agrees with what those states are saying. "It just seems like they're a little late to the party on that whole theory," he told the Reno Gazette Journal earlier this week, referring to the drug companies. "I don't really think they care. I think they started caring when it started affecting them, bottom line."
As Reason has documented in the past, states often operate in the shadows when it comes to obtaining and administering death penalty drugs. In one instance, Texas even sought to procure banned drugs from a shady Indian company. There have also been questions regarding how humane death by lethal injection really is. Transparency is sorely needed, particularly in Dozier's case, where Alvogen has accused Nevada officials of illegally purchasing midazolam.
For now, Dozier has no choice but to keep waiting. The next court date for the case isn't until September 10, and prison officials want his execution to be rescheduled for November. "To be clear, this is actually a state of torture, without question," he told the Gazette Journal. "I mean at least now I know nothing's going to happen before September 10, so that's better."
And while he's no suicidal, the whole ordeal has made think about whether state-assisted suicide might be the way to go. "I've been thinking about writing them and telling them, 'You know what, would you let (the drugs) be used for state-assisted suicide, because I am in a terminal situation and I'm suffering?" he told the Gazette Journal.