Arkansas Judge Sued Over Ruthless Cycle of Jailing of Those Who Can't Pay Fines for Minor Crimes
In many cases the sentence for missing a payment is harsher than the original conviction.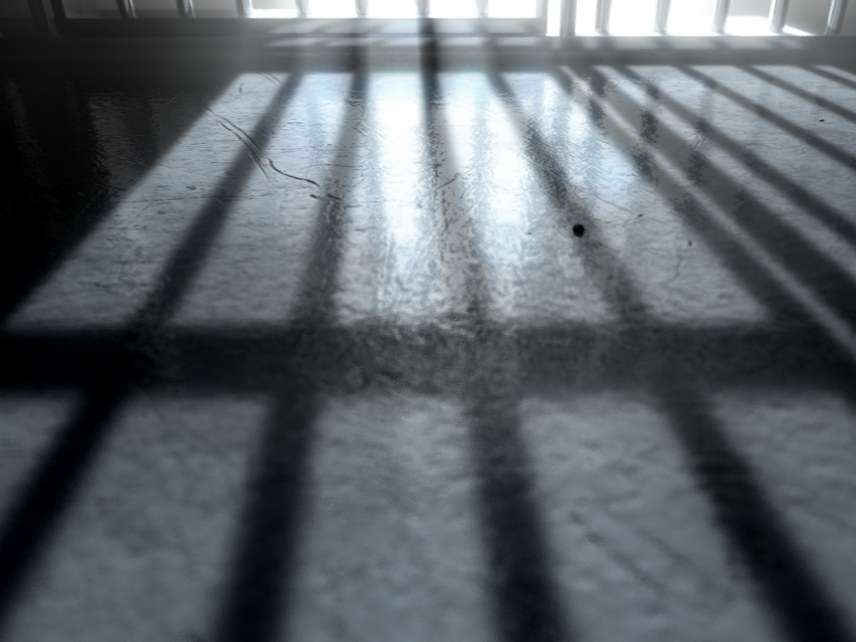 A lawsuit filed Thursday accuses an Arkansas judge of running an unconstitutional debtor's prison, locking up defendants for low-level misdemeanor crimes, and suspending their driver's licenses unless they fork over thousands in fines, even if they're poor or unemployed.
The Lawyers' Committee for Civil Rights Under Law has filed a class action suit representing six named clients and others against Arkansas state District Judge Mark Derrick, accusing him of violating citizens' rights by locking them up in White County because of their inability to pay court-imposed costs and fees. Derrick oversees eight low-level courts in different towns in White County (population: 79,000) and two in nearby Prairie County. These district courts handle non-jury cases like traffic and contempt proceedings. Judges are elected to four-year terms.
The lawsuit describes Derrick's practices as among "the most extreme" among judges who do whatever they can to extract fines from defendants:
Judge Derrick routinely levies substantial fines, fees and costs against persons convicted of even the most minor infractions, and requires them to pay monthly amounts of at least $100, and sometimes several hundred dollars, towards court-imposed debt. If they fail to pay this amount in full, he subjects them to arrest, driver's license suspension, and incarceration, as well as an additional $450 to $670 in fines and costs. He imposes these punishments without conducting any inquiry—let alone an adequate one—into the person's ability to pay or the reasons for non-payment.
It's important to note here that Derrick is handling misdemeanors, not felonies. He's accused of imposing 30-day sentences for missing payments for fines for very low-level crimes. In fact, the lawsuit notes that these sentences are frequently twice the length of the sentences for the most serious of misdemeanors under state law. Defendants in his courtrooms are being punished more harshly for missing payments than for the underlying crimes. And the lawsuit notes that once somebody gets caught up in this cycle of missing payments, their jail time is not credited against this debt. The jail time is in addition to the debt imposed.
The 50-page lawsuit is full of horror stories of poor people stuck in this brutal cycle. One plaintiff, Kimberly Snodgrass, has been convicted by Derrick 10 separate times solely for her failure to pay fines. She has spent a third of her days since 2014 in jail because of these compliance issues and payment issues, not because she's committing new crimes. The lawsuit claims she's been kicked out of her place of residence four separate times because of these jailings. And because Derrick also suspended her driver's license (which itself demands a fee to restore), she has a hard time maintaining a job. She owes the courts $500 a month for various fines and fees. If she fails to pay a single cent of that she faces a new warrant and more jail time.
Meanwhile, Christopher Snodgrass, the father of two children with Kimberly, has accumulated $5,000 in debt mostly due to traffic charges. He's had his driver's license suspended at least five times by Derrick over the past four years.
Dazarious Braggs owes $300 a month solely due to traffic charges. He ended up arrested on a "failure to appear" warrant for a court date he said he had never received. Defendants saying they've never received a court date is a recurring theme in this lawsuit, and one section of the complaint is devoted to criticizing the poor record-keeping of Derrick's courts. Braggs was jailed for three weeks because he couldn't afford bail of $1,120. His family eventually bailed him out with the money they got from a tax refund. Then the failure to appear charge was dropped.
Oh, and about the cash bail: Derrick's courts offer a terrible twist on the narrative about problems with our judiciary's pretrial detention and release system. According to the lawsuit, Derrick wouldn't allow defendants to go through bondsmen to get released by paying only a portion of the bail and promising to show for court. They had to pay it all up front to get out.
That defendants couldn't get out on just a percentage of the bail demand matters because Derrick runs several courts and in some of the smaller courts, he appears only once per month to hear cases. This means that if you get arrested on one of these warrants and can't afford cash bail, you can end up serving your whole sentence while waiting to enter your initial plea. Two of the plaintiffs in the case were detained for weeks on "failure to appear" charges for which they were ultimately not convicted.
These plaintiffs, and others, are "trapped in a vicious cycle of repetitive court proceedings, subject to incarceration and perpetual debt," explained Kristen Clarke, president and executive director of the Lawyers' Committee for Civil Rights Under Law, in a press call. "These people have lost homes, jobs, cars, and custody of children…. This is nothing short of a moral failing of the court."
This not the Lawyers' Committee's first lawsuit over this mechanism of incarceration. The group previously represented plaintiffs in their suit against the criminal courts in New Orleans for using fines and fees as a revenue source, backed by the threat of incarceration for those who couldn't pay. Last week a federal judge ruled that that court's behavior was unconstitutional. Asked by Reason whether the organization believed similar revenue generation was driving Judge Derrick's actions, Clarke said they would be investigating how much money his courts received from all these fines.
The new lawsuit, filed in the circuit court of Pulaski County in Arkansas, is asking the court to find that Derrick's practice of loading up misdemeanor defendants with fines and then jailing them and suspending their licenses—all without any sort of prior determination of whether they could actually pay—is a violation of the Due Process and Equal Protection Clauses of the Fourteenth Amendment.
A clerk at Derrick's court in Beebe, Arkansas, said he was unavailable Thursday and that nobody was currently able to answer questions about the lawsuit.
The lawsuit can be read here.
Bonus link: In 2015 Judge Derrick was attacked by a zebra, owned by his father.
Bonus link II: I've put together a proposal for a panel at 2019's South by Southwest conference in Austin, Texas, about the bail reform movement. Check it out and vote for us!