Facebook Deactivates the Free Brazil Movement
The classical liberal group accuses Facebook of bias.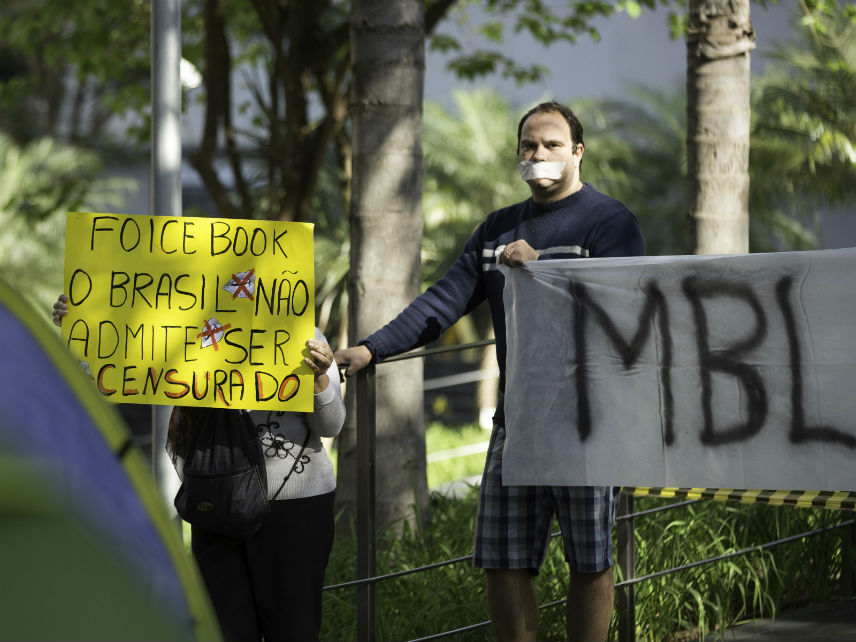 Even as it tightens its controls on the things people in the U.S. can say on its platform, Facebook has dealt Movimiento Brasil Libre—the Free Brazil Movement—a serious blow shortly before the country's October elections. The social media giant deactivated 196 pages and 87 accounts belonging to the classical liberal organization, calling the pages "a coordinated network that hid behind fake Facebook accounts and misled people about the nature and origin of its content, all for the purpose of sowing division and spreading misinformation."
Free Brazil Movement spokesperson Kim Kataguiri tells Reason that the group was unaware of the scope of Facebook's actions until its members read a Reuters article about it. (Facebook has not deactivated the group's main page.)
This is the first time the group has ever faced a crackdown of this sort. Previously, Kataguiri says, Facebook chose instead to diminish the reach of the group's posts. He compares that to "a disease that doesn't kill you in the first moment but makes you suffer over time.
"Our Facebook pages were crucial during the past 3 years," he adds. "When our movement, the Free Brazil Movement, had its greatest moment of growth, we reached a range of 40 million people weekly. The social media today has a brutal role in the political game, is how most people get informed and follow politics. That's why we're so concerned about it, because there's a huge part of the public debate happening there."
The movement now plans to spread its message using "Minds, Telegram, Youtube, [LinkedIn], and even sending a newsletter through e-mail," Kataguiri says.
In 2015, the Free Brazil Movement organized a protest of more than a million people to call for the impeachment of then-President Dilma Rousseff. Rousseff was forced to step down in May 2016 after she was charged with trying to manipulate the federal budget and mask economic problems by secretly borrowing money from state-owned banks. The young activists were widely credited with Rousseff's removal.
The group was the subject of a Reason profile in November 2016. There, Free Brazil Movement activist Renan Santos called Facebook an important tool: "Without Facebook, we would still have Dilma." In an accompanying video, Santos told Reason that the group used the site to create "a sort of parallel media." The open nature of Facebook allowed the group to gain exposure often denied them by the traditional media outlets that received money from the Brazilian government.
One Free Brazil Movement activist, Thomaz Barbosa, says that Facebook took a payment from him just before removing his account. According to Barbosa, he paid 400 Real—equivalent to about $100—to use a Facebook feature that would expand a post's reach. Despite Facebook's decision to deactivate Barbosa's account, Barbosa says the money was not returned. Reason reached out ot Facebook for comment on this, but did not receive an immediate response.
*CORRECTION: A previous version said that Barbosa paid 400,000 Real. The proper figure is 400 Real. The total in American dollars, $100, is correct.