Cincinnati Police Are Allowed to Tase Suspects as Young as 7 Years Old
The tasing of an 11-year-old girl highlights a police department's policies.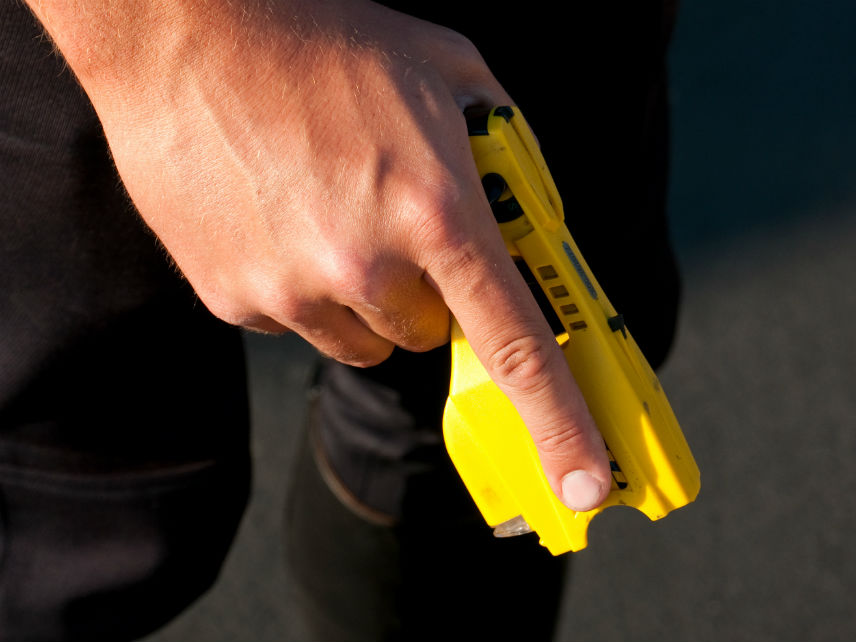 An Ohio police department's policy on Taser has come into the spotlight after an officer tased an 11-year-old girl.
According to the Cincinnati Police Department, an unidentified officer was working an "outside employment detail" at a Kroger grocery store in Spring Grove Village. The officer was assigned there to investigate a group of girls accused of shoplifting. While on duty, the officer issued "several commands" telling an 11-year-old to stop walking away from him. (Though the department's press release does not explain what led to the confrontation, the Columbia Dispatch reports that the girl was allegedly seen stealing food and putting it into her backpack.) The officer then deployed his Taser on the girl's back.
The girl was taken into custody on charges of theft and obstruction of official business. She was then transferred to a children's hospital and eventually released into parental custody. She is set to appear at the Hamilton County Juvenile Court at a later date.
Following the incident, police Chief Elliot K. Isaac said that he was "highly concerned" with the use of a Taser on such a young child. Isaac announced an investigation and said the officer involved would be placed on "restricted duty" pending the outcome. He also promised to evaluate footage from the incident, but police later revealed that the officer's body camera was not turned on during the confrontation.
City policy, as reported by The Cincinnati Enquirer, lists age requirements for Taser use: "Officers should avoid using the Taser on obviously pregnant females and those individuals under the age of 7 or over the age of 70 due to the potential for these individuals to fall when incapacitated by a taser, unless the encounter rises to the level of a deadly force situation."
"There needs to be a complete investigation," Vice Mayor Christopher Smitherman tells the Enquirer. "It's hard to understand why an 11-year-old would be tased. I expect answers in 24 hours."