Trump Says 'Shadow-Banning' Conservatives on Twitter Is 'Illegal,' Promises Investigation
Trump used Twitter to blast Twitter for allegedly censoring several prominent conservative leaders.
President Donald Trump slammed his favorite social media platform today for allegedly "shadow-banning" several prominent conservatives, meaning their accounts weren't auto-populating in the dropdown bar when users searched for them.
In a tweet (ironically), Trump promised to "look into this discriminatory and illegal practice."
Twitter "SHADOW BANNING" prominent Republicans. Not good. We will look into this discriminatory and illegal practice at once! Many complaints.

— Donald J. Trump (@realDonaldTrump) July 26, 2018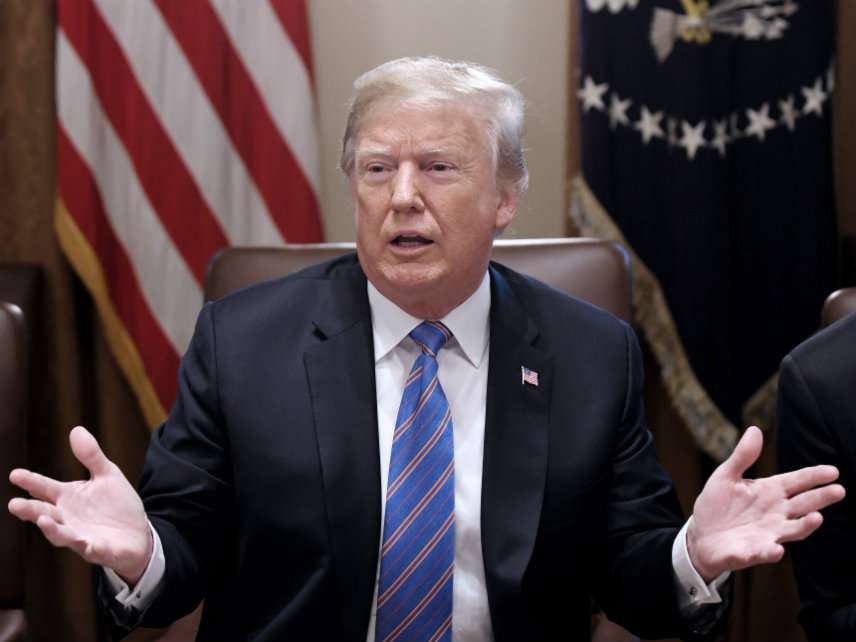 Trump's pledge to investigate Twitter came one day after Vice News reported on several conservative leaders whose Twitter accounts didn't auto-populate in the search bar, but could only be found with a manual search. Those affected included Republican National Committee Chairwoman Ronna McDaniel and Donald Trump Jr. spokesperson Andrew Surabian, as well as the verified accounts of Reps. Mark Meadows (R–N.C.), Jim Jordan (R-Ohio), Devin Nunes (R-Calif.), and Matt Gaetz (R-Fla.).
There did not appear to be a comparable crackdown on the left, says Vice:
McDaniel's counterpart, Democratic Party chair Tom Perez, and liberal members of Congress—including Reps. Maxine Waters, Joe Kennedy III, Keith Ellison, and Mark Pocan—all continue to appear in drop-down search results. Not a single member of the 78-person Progressive Caucus faces the same in Twitter's search.
In May, Twitter said it was addressing the issue of trolls on the platform to ensure that "people contributing to the healthy conversation will be more visible in conversations and search." Prominent far-right users like Mike Cernovich and Richard Spencer appear to have been "shadow-banned" as a result, but it wasn't clear why more mainstream conservatives were getting the troll treatment as well.
Twitter acknowledged the issue but blamed it on a glitch, insisting political bias was not a factor. "To be clear, our behavioral ranking doesn't make judgements based on political views or the substance of tweets," Twitter product lead Kayvon Beykpour tweeted. "Our usage of the behavior signals within search was causing this to happen & making search results seem inaccurate."
On 2) Some accounts weren't being auto-suggested even when people were searching for their specific name. Our usage of the behavior signals within search was causing this to happen & making search results seem inaccurate. We're making a change today that will improve this.

— Kayvon Beykpour (@kayvz) July 25, 2018
But many conservatives weren't buying it:
So now @twitter is censoring @GOPChairwoman?

Enough is enough with this crap. @Jack it's time for you to #StopTheBias against conservatives and Trump supporters and fix this once and for all. https://t.co/JC6i6y01Ek

— Donald Trump Jr. (@DonaldJTrumpJr) July 25, 2018
Silicon Valley's bias against conservatives is apparent. It's time they acknowledge it and tell us what they are going to do to fix it. https://t.co/sXvFWaWrNQ

— Rep. Steve Scalise (@SteveScalise) July 25, 2018
This is what it looks like when a social media company suppresses conservative voices. https://t.co/NW3xMrSd3C pic.twitter.com/XovW5IyCAg

— Ronna McDaniel (@GOPChairwoman) July 26, 2018
By Thursday morning, the profiles for McDaniel, Surabian, Meadows, Jordan, Nunes, and Gaetz were once again auto-populating in the search bar.
But even if those conservatives were being censored, Twitter wasn't, as Trump said, doing anything "illegal." As a privately run company, the social media platform has every right to promote political viewpoints it likes and censor the ones it doesn't.
Conservatives say they're proponents of free speech and free markets, and while that doesn't mean they have to like the political biases of the people who run Twitter and Facebook, they should at least respect a private company's right to promote some views over others. There is nothing stopping right-leaning programmers from creating social media networks that amplify conservative voices at the expense of liberal ones. Some conservatives have done just that, though for many more, it's much easier to complain about bias and argue the law should force private companies to accomodate them.