Watch Little Pink House, Drama About Eminent Domain Abuse, in Safety of Your Own Home!
Award-winning movie about Susette Kelo's attempt to save house from a local government gone klepto is out on streaming and video-on-demand services.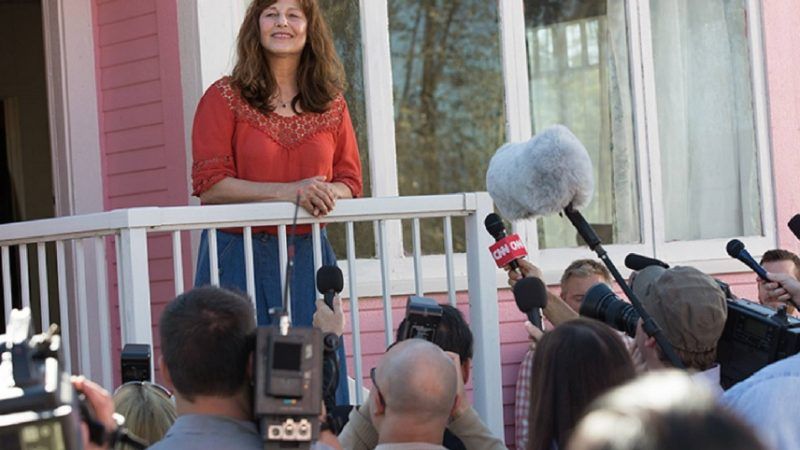 Critics swooned when Little Pink House, produced by former Reason TV documentarian Ted Balaker and directed by his wife and business partner Courtney Balaker, hit theaters earlier this year. "Like Erin Brockovich for eminent domain, Little Pink House does well to explain the thorny legal issue at its center without getting bogged down in minutiae," wrote the Village Voice's Tatiana Craine. Writing at Reason, economist Veronique de Rugy wrote, "Little Pink House puts a real face on [eminent-domain] victims and those who abused them, and it shows why we must always fight against this injustice." The flick currently enjoys an outstanding "fresh" rating of 74 percent at the review-aggregator site Rotten Tomatoes.
Catherine Keener's portrayal of Susette Kelo, a resident of New London, Connecticut, who didn't want to sell her house at a sub-market price to a public development agency that would immediately turn over the property to a private developer, anchors a film that enrages as it edifies. The libertarian public-interest law firm the Institute for Justice took Kelo's case all the way to the Supreme Court in 2005, where she lost. The outcome wasn't all negative, though. So many people were outraged that a government could so easily abuse eminent domain so easily to condemn, take, and take thriving property and gift it private actors that states around the country started limiting eminent-domain abuse.
Little Pink House is still in theaters around the country (go here for listings or to bring it to your local theater). But it is now available on streaming, on-demand services ranging from Amazon to iTunes to Netflix* to Vudu. Finally, you can watch a powerful, heart-breaking movie about government cronies stealing a woman's home from her in the comfort of your own home!
Reason talked with Courtney Balaker shortly before the movie debuted. Take a look.
Correction: An earlier version of this post said Little Pink House was available on Netflix. It is not.