Hollywood Stars Defend James Gunn From 'Cyber Nazi' Lynch Mob
Guardians of the Galaxy actors say there's more to the man than his old tweets.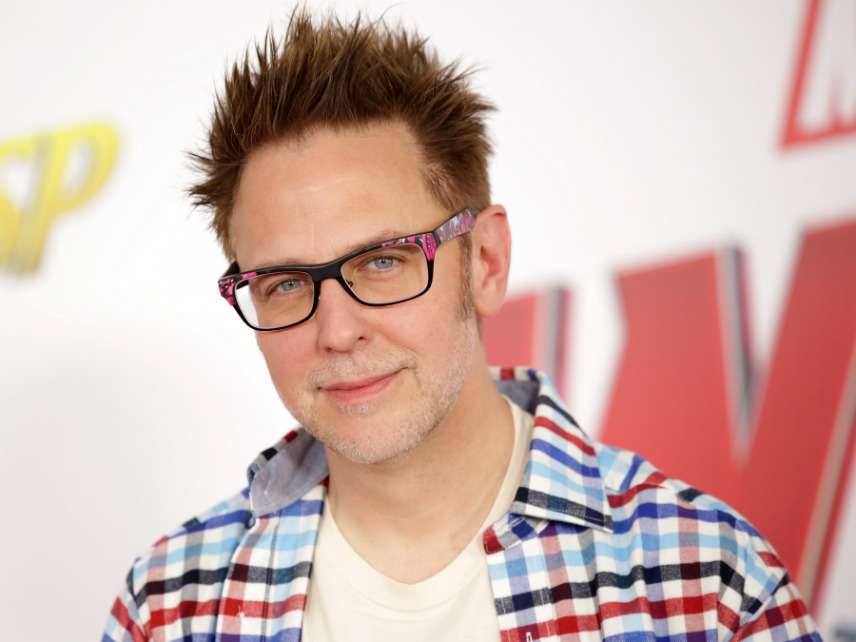 The stars of Marvel's Guardians of the Galaxy franchise have come to the defense of director James Gunn, whom Disney fired from the films on Friday after right-wing trolls dug up some of his ill-advised Twitter jokes from years ago.
The tweets from Gunn, who directed the first two Guardians of the Galaxy films, involved violence and sexual assault against children. They're disgusting, but they were clearly intended as gags. Making them an issue now is an act of pure retaliation against the left (Gunn is a liberal), perpetrated by far-right hypocrites who are just as committed to weaponizing P.C. culture as anyone on the other side of the spectrum.
Dave Bautista, who plays Drax in the Guardians films, said on Twitter on Friday that Gunn is a "gentle and kind" person. Although he admitted that Gunn has "made mistakes," he said he's "NOT ok with what's happening" to the director. In a pair of follow-up posts, Bautista called out the "cybernazis" responsible for getting Gunn fired:
What will you do when the #cybernazis attack you? Who will stand by you? Who will cowardly distance themselves from you? Who will punish you for horrible JOKES in the past instead of defending you for INSPIRING millions? MILLIONS!!! #Redemption #injustice @JamesGunn

— Dave Bautista (@DaveBautista) July 22, 2018
What happened here is so much bigger then G3, @JamesGunn ,myself,@Disney etc. This was a #cybernazi attack that succeeded. Unless we start to unite together against this crap, whether people are offended are not! …it's going to get much worse. And it can happen to anyone https://t.co/AMZEd0tfqb

— Dave Bautista (@DaveBautista) July 22, 2018
Chris Pratt, who plays Star-Lord, didn't directly reference Gunn, but the implicit meaning of the Bible verse he tweeted out Sunday was clear: "'Understand this, my dear brothers and sisters. Let every person be quick to listen, slow to speak, slow to anger.' JAMES 1:19."
And Zoe Saldana, who stars as Gamora, was sure to point out that she loves "ALL" the members of the Guardians of the Galaxy family:
It's been a challenging weekend I'm not gonna lie. I'm pausing myself to take everything in before I speak out of term. I just want everyone to know I love ALL members of my GOTG family. Always will.

— Zoe Saldana (@zoesaldana) July 22, 2018
Guardians stars weren't the only ones who expressed their support for Gunn. Rick and Morty creator Justin Roiland and filmmaker Fede Alvarez also wrote that the director deserves better.
This is insane to me. Is this real?! Jesus. Well there goes that R rated jar jar binks movie I've been working on. I QUIT, DISNEY! https://t.co/G9hu4mw3Iq

— Justin Roiland (@JustinRoiland) July 20, 2018
Just so I don't have to keep typing this over and over: I'm not defending his old jokes. Only read one anyway. It's that he was fired over OLD tweets intended as (bad) jokes… it's a crazy concept and I'm just saying: no more R rated jar jar binks movie. Im walking. Peace.

— Justin Roiland (@JustinRoiland) July 20, 2018
Can't believe what Disney is doing to @JamesGunn This nonsense culture of zero tolerance has to stop.

— Fede Alvarez (@fedalvar) July 21, 2018
Actress Selma Blair even shared a Change.org petition urging Disney to rehire Gunn. As of Monday afternoon, more than 200,000 people had signed it.
Marvel: RE-HIRE JAMES GUNN—Sign the Petition! https://t.co/JeVbFZkQLL via @Change. Because if people are punished despite changing, then what does that teach people about owning mistakes and evolving? This man is one of the good ones.

— Selma Blair (@SelmaBlair) July 22, 2018
Gunn, for his part, has apologized for the old tweets.