Imported Cars Are Not a National Security Threat
Representatives of the auto industry are in Washington to deliver an obvious message to the oblivious Commerce Department.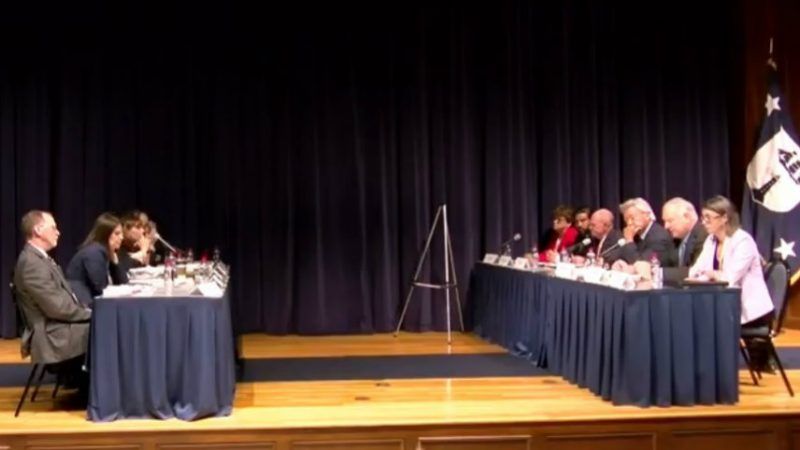 (Screenshot from Youtube, Commerce Department)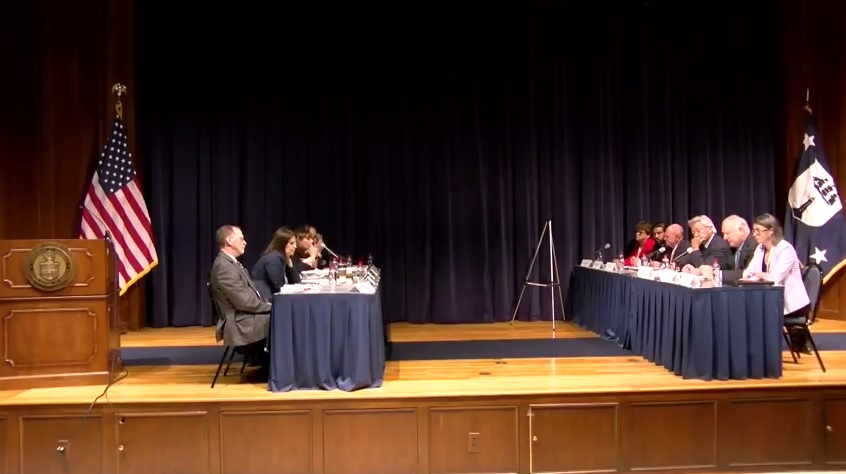 It's something that should go without saying, but unfortunately it has to be said.
"Let me start by dispelling the notion that cars are a threat to national security," Jennifer Thomas, vice president of the Alliance of Automobile Manufacturers, told representatives of the Commerce Department at the start of Thursday's administrative hearing on proposed tariffs targeting imported cars and car parts. "The automobile industry is part of the fabric of America."
Thomas was the first of more than 40 people scheduled to testify during Thursday's hearing, and by mid-afternoon there had not been a single voice disputing the argument she made: that the Trump administration's plan to impose new import taxes on automobiles was an "unprecedented, unwarranted" attack on an industry that is both quintessentially American and fundamentally global. Representatives of automakers, dealerships, and specialty equipment manufacturers repeatedly told the department that tariffs will increase costs for raw materials, which will hike prices for consumers, which will reduce car sales, which will cost manufacturing jobs. "Higher costs will lead to lower demand, lower sales and production, and ultimately fewer jobs in the auto industry," said Matt Blunt, president of the American Automotive Policy Council.
And for what? The Trump administration is investigating whether the U.S. should slap new tariffs on imported vehicles and auto parts under Section 232 of the Trade Expansion Act of 1962, which allows the president to impose tariffs unilaterally for "national security" reasons. It's the same process Trump used to craft the tariffs on steel and aluminum imports he announced in early March.
"There is evidence suggesting that, for decades, imports from abroad have eroded our domestic auto industry," Commerce Secretary Wilbur Ross said last month in a press release announcing the start of what's expected to be a months-long process. The Commerce Department's investigation, he said, will determine if "such imports are weakening our internal economy and may impair the national security." On Thursday, Ross said it was "too early now to say whether this investigation will result in a Section 232 recommendation on national security grounds, as we did earlier on steel and aluminum."
That's probably little consolation to the auto workers whose jobs could be on the line if Trump presses forward with the tariffs. A previous hearing that featured nearly unanimous opposition to the administration's plan to place tariffs on Chinese imports seemed to have little impact on the administration's plans.
Tariffs on auto part imports would have an immediate effect on American carmakers, whose supply chains stretch around the world. According to a new analysis from the Center for Automotive Research, an industry-backed group, a 25 percent tariff on automotive parts imports will result in up to 2 million fewer vehicle sales in the U.S., triggering more than 714,000 job losses in the industry and reducing U.S. economic output by $59 billion.
Since foreign car companies such as BMW and Hyundai already have manufacturing facilities in the United States, producing cars that do not count as imports, it's unclear what the tariffs would accomplish. But at least everyone would feel the pain.
"A lot of Alabamans—my friends and neighbors—would lose their jobs," warned John Hall, a maintenance team member at Hyundai's Montgomery, Alabama, plant who testified on Thursday. That facility opened in 2002 and employs about 30,000 workers.
Just down the road in Huntsville, Alabama, Japan-based Toyota and Mazda are in the process of opening a joint plant that will employ 4,000 people and produce up to 300,000 cars annually. In Spartanburg, South Carolina, BMW has a manufacturing facility, the company's largest anywhere in the world, that employs more than 9,000 people and produces more than 40,000 vehicles every year.
Over all, the American automobile industry employs 50 percent more people than it did in 2011, according to the U.S. Chamber of Commerce, and domestic production has doubled in the last decade. There is little evidence that the industry needs protecting or that new barriers to trade are necessary to keep auto jobs here.
There seems to be little support for the proposed tariffs. Of the 2,256 public comments submitted to the Commerce Department before Thursday's hearing, 98 percent were in opposition, according to the National Taxpayers Union, a free market group.
"Imports are just a part of our American operation, but they are vital to the success of all the others," Hyundai's Hall told the government officials seated at the table opposite him. "Automotive imports do not threaten our national security."