Security Drags Journalist Out of Trump-Putin Press Conference
After Sam Husseini refused to lower a sign that read "Nuclear Weapons Ban Treaty," he was forcibly removed.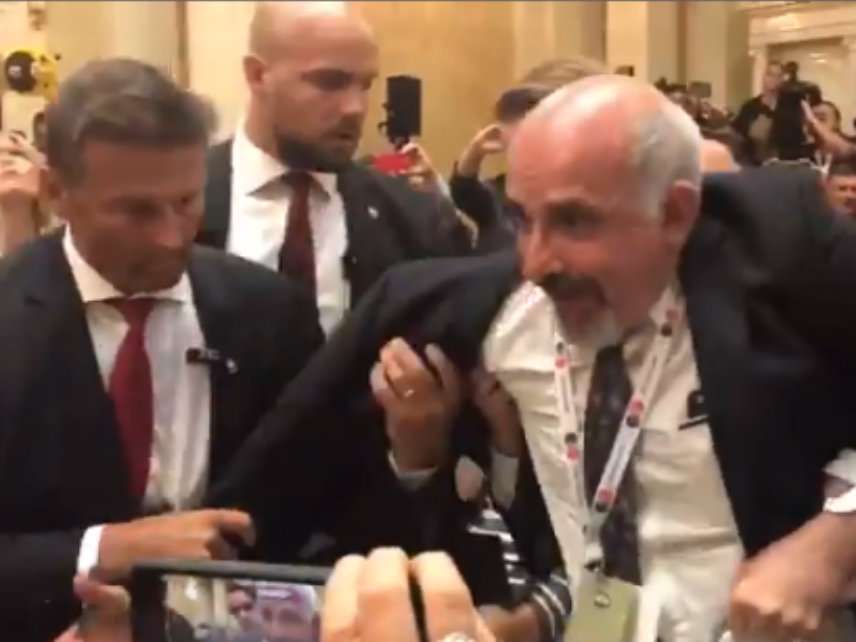 An accredited journalist covering Donald Trump and Vladimir Putin's press conference in Finland today was forcibly removed before both leaders came out to answer questions.
Sam Husseini, who was covering the summit for the progressive publication The Nation, was holding up a sign that read "Nuclear Weapons Ban Treaty" when security guards grabbed him and marched him out of the room. According to CNBC, Russian authorities considered his sign a "malicious item."
CNN White House correspondent Jim Acosta reports that Husseini had been asked to leave the room earlier. He did so, then returned to retrieve his things; on his return trip, he told the assembled reporters that he had gotten the boot because of the sign. "At that point, as he held it up, the security officials grabbed him and forcibly removed him from the room," Acosta says.
Video captured at the scene showed the situation escalating. Husseini says his sign wasn't a protest, but a security guard keeps trying to get him to lower it anyway. When Husseini refuses and keeps talking, the guard attempts to wrest the sign from his hands, knocking the reporter's glasses off in the process. Several other guards join the effort, and Husseini is eventually dragged out of the room as a crowd of journalists watched.
Canadian Broadcasting Corporation correspondent Susan Ormiston has said on Twitter that Husseini had been "heckling" other journalists as they reported live from the briefing room. According to Ormiston, the people who removed Husseini were with the U.S. Secret Service.