Police Kill Man with Bulldozer over 10 Marijuana Plants
Drug war absurdity meets police recklessness.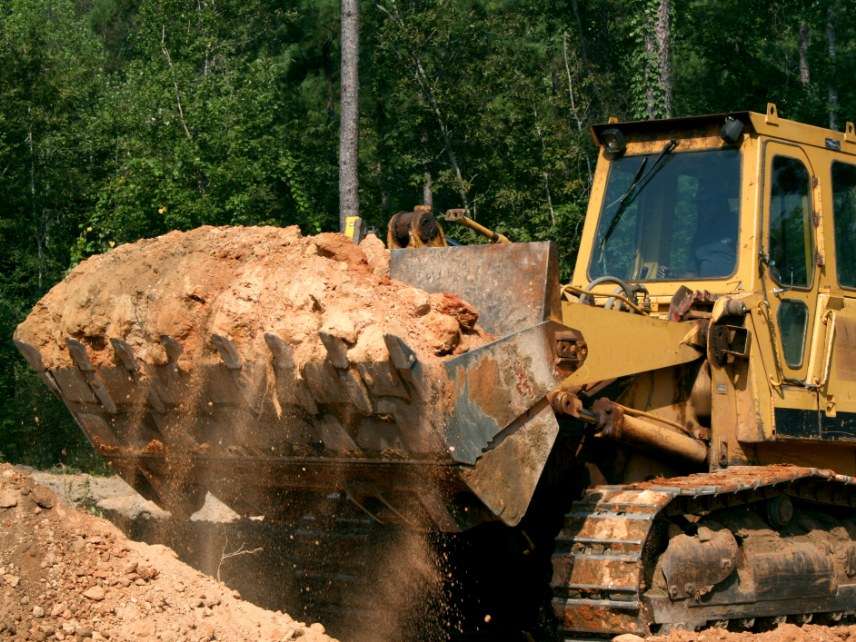 Pennsylvania State Police killed a man with a bulldozer over a 10-plant marijuana grow "operation" on state lands in Berks County.
The man's death was likely an accident, but it highlights how recklessly and foolishly police have perpetuated the drug war, even as Americans want to pull back.
On July 9 a state worker on a bulldozer was clearing out some brush to improve hunters' access to state lands. He saw a suspicious car off the road and called the cops. When law enforcement came out to investigate, the Reading Eagle reports, they found those 10 marijuana plants.
They also found two men: David B. Light, 54, and Gregory Longenecker, 51. Light surrendered to police immediately. Longenecker ran.
The police called in a helicopter to follow Longenecker, but they lost him in the dense brush of the state lands. A trooper jumped onto the bulldozer and used it with the state worker to try to chase the grower. What happened next is a little vague, thanks to police spokespeople's propensity to describe events in ways that leave out any sort of clear cause-effect relationship. But according to State Police spokesman David Boehm, the bulldozer was clearing a path through the underbrush when the state trooper on the bulldozer told the worker to stop. Then they looked behind the bulldozer and saw Longenecker's body.
The subsequent autopsy determined that Longenecker died of "traumatic injuries." At the time of Longenecker's death, Boehm had tried to float the possibility that maybe the man died of a heart attack prior to being run over by a bulldozer. (Presumably the terror of having a bulldozer bearing down on him, about to run him over, caused Longenecker to have a heart attack and die, right before the bulldozer actually ran him over.)
Boehm also told the Eagle that the police do not think Longenecker's death was the result of a "police pursuit." He insisted they were just trying to "locate" him by commandeering a bulldozer and sending it racing into the brush while a helicopter hovered overhead.
That defensive posturing is likely a reaction to angry questions wanting to know why the police responded so harshly to a grow operation involving 10 whole plants. The National Organization for the Reform of Marijuana Laws (NORML) has trashed the State Police's behavior, reports the Associated Press:
"We simply cannot understand how a man is dead over an investigation involving 10 cannabis plants," said Patrick Nightingale, executive director of NORML's Pittsburgh chapter and a former Allegheny County prosecutor. "The whole investigation was ridiculous. I've seen law enforcement take down major heroin traffickers that haven't engaged in this level of aggression."
The officer who had been on the bulldozer is on administrative leave while the incident is under investigation.
Recreational use of marijuana in Pennsylvania is still a crime, though Philadelphia and Pittsburgh have decriminalized the possession of small amounts. The state legalized medical marijuana use in 2016 to treat a limited set of conditions.
Light has been charged with felony counts of drug possession with intent to deliver and conspiracy to possess drugs with intent to deliver, as well as drug possession, possession of a small amount of marijuana, possession of drug paraphernalia, and criminal trespass. He was released on a $25,000 bail. Jeff Reidy of NORML tells the Associated Press that the 10 marijuana plants probably had a street value of less than $5,000. He theorizes that they were probably only for personal consumption.