12 Russian Operatives Indicted for Hacking Democrats, Voting Systems During 2016 U.S. Presidential Election
They posed as cyberactivists to release the stolen documents, the Justice Department alleges.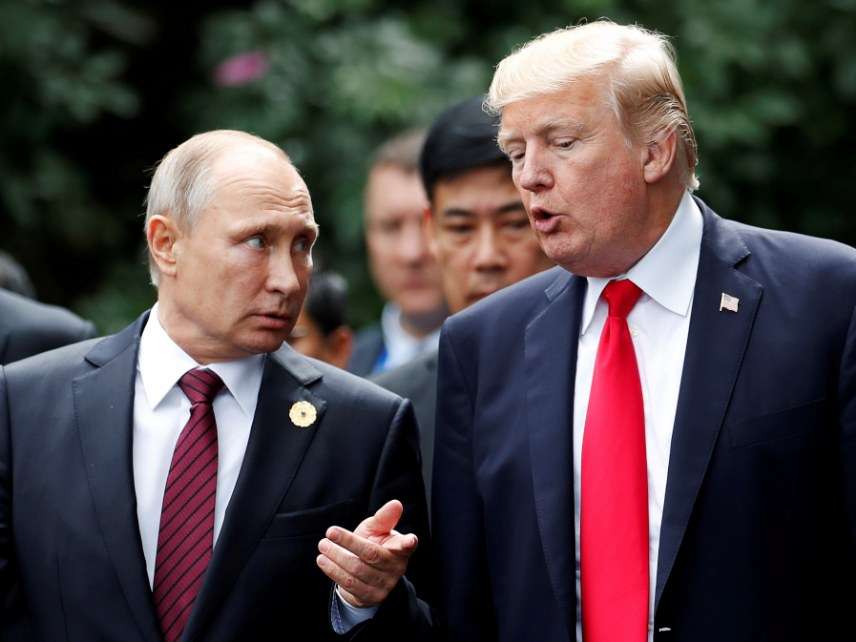 Deputy Attorney General Rod Rosenstein just announced that a grand jury has indicted 12 Russian intelligence officers for hacking into the Democratic National Committee and Hillary Clinton's presidential campaign, and arranging for the release of internal communications for the purpose of influencing the outcome of the 2016 election.
Eleven of the 12 Russian operatives are charged with either hacking into or "spearphishing" (sending emails to trick people into providing passwords) the computer networks of Democratic Party officials; spying on network activity and collecting information; and creating fictional personas to spread the information and conceal that the source was actually Russian officials with military intelligence agency GRU. The veiled proxies included an organization named DCLeaks (which claimed to be Americans) and Guccifer 2.0, who claimed to be a single Romanian person. The hacking campaign dated back to March 2016, according to the indictment.
The 12th Russian operative (as well as one of the previous group of operatives) is charged with hacking into election-management systems on the state level, where that person is alleged to have stolen information about roughly 500,000 voters. Eleven of the 12 operatives are also charged with money laundering, as they are alleged to have used cryptocurrencies to fund their activities while concealing their connections to the Russian government; and with aggravated identity theft, for using peoples' names and passwords to commit fraud.
Rosenstein took great pains to explain that, thus far, there are no allegations that any Americans knew they were communicating with Russian intelligence officers as they went around arranging the release of the internal Democratic Party records. There's also no allegation as yet that any attempts to meddle with the election systems affected the outcome of the presidential vote.
According to the indictment, Democratic Party organizations realized they had been hacked by May of 2016, and brought in a security company to purge the hackers. But the Russian operatives managed to remain in Democratic systems until October 2016.
To distribute the stolen emails, the Russian operative created a fictitious group named DCLeaks, claiming it was made up of U.S. "hacktivists." They made up fictitious people and a Facebook page to promote the leaks online. The computer that operated the Twitter account for DCLeaks was the same computer used for some of the fake social media campaigns intended to stir up protests in the U.S.
In the summer and fall of 2016, the operatives invented Guccifer 2.0 and used "him" to release additional stolen documents through WordPress. The indictment notes that a candidate for Congress actually requested that Guccifer send him or her stolen documents related to his or her opponent, and that Guccifer complied. (The candidate is not named.) The Russians also sent stolen Democratic Party data to a "then-registered state lobbyist and online source of political news." They also sent stolen documents about the Black Lives Matter movement to a journalist (both the state lobbyist and journalist are unnamed). Guccifer also passed along files to an unnamed "Organization 1," which were then released just prior to the start of the 2016 Democratic National Convention. This seems like an obvious reference to WikiLeaks, but the organization is not named.
The entire indictment can be read here, and it is an outcome of Special Counsel Robert Mueller's investigation of election meddling. President Donald Trump is scheduled to meet with Russian President Vladimir Putin on Monday. People are already anxious about what could happen there. This certainly isn't going to calm anybody down.