Stormy Daniels Arrested at Ohio Strip Club After Undercover Cop Claims Butt Was Touched: Reason Roundup
Plus: Is Trump spreading fake news about NATO? And a Kansas governor censors campus art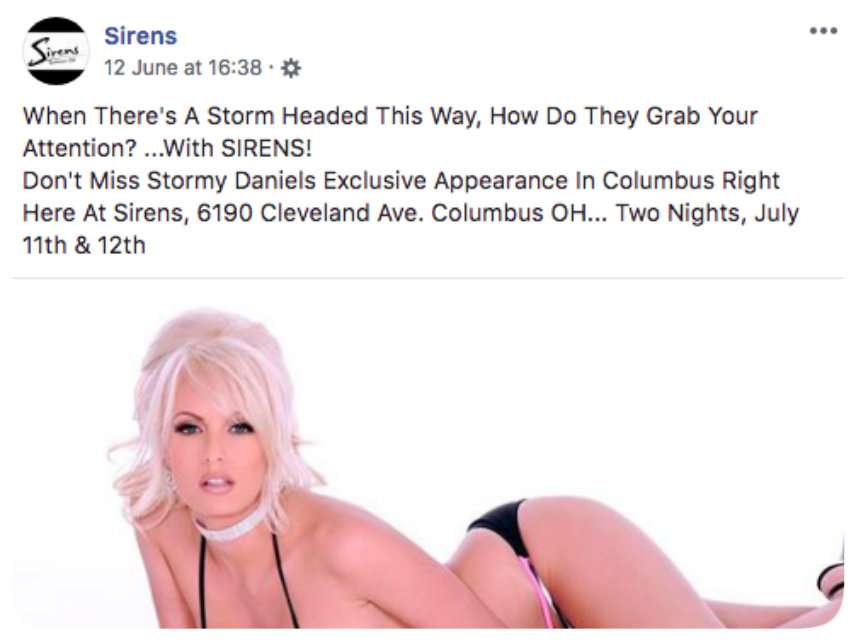 "They are devoting law enforcement resources to sting operations for this?" Adult film star and locus of national scandal Stormy Daniels was arrested last night at Sirens, a strip club in Columbus, Ohio. The stop was part of a tour Daniels is taking across the country, which included a visit to D.C. Monday and Tuesday nights.
Attorney Michael Avenatti, who is representing Daniels in her lawsuit against Donald Trump, tweeted early Thursday morning that Daniels was arrested while "performing the same act she has performed across the nation at nearly a hundred strip clubs. This was a setup & politically motivated. It reeks of desperation. We will fight all bogus charges."
At the D.C. show I saw Monday night, Daniels got up close and personal with the audience, but in a clearly theatrical way. This seems to have continued in Columbus, where Daniels was arrested for allegedly allowing a customer to come in contact with her in a non-sexual manner, according to Avenatti on Twitter.
Ohio prohibits any touching—sexual or otherwise—between nude or semi-nude performers and members of the audience at "sexually oriented" establisments. According to the police report, Daniels, while "topless and wearing a G-string," touched an undercover police officer "in a specified anatomical area." Specifically, she is accused of putting "both hands on officers buttocks" and "then put her breast in officers face."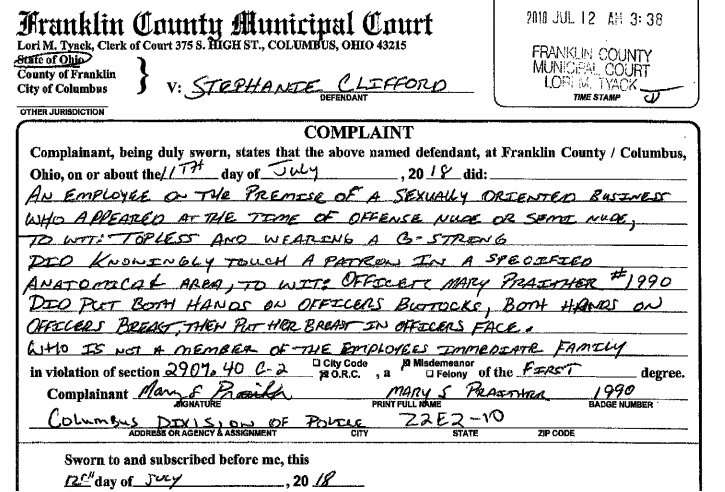 "Are you kidding me?" Avenatti tweeted early this morning. "They are devoting law enforcement resources to sting operations for this? There has to be higher priorities!"
Higher priorities for local cops than getting to take in naked ladies for a few hours and then assert their authority over the most famous of them? Avenatti can't be that naive.
Daniels was officiall charged with three misdemeanor counts of touching a patron at a sexually-oriented business. She's slated to be arraigned in the Franklin Municipal Court Friday morning. She will plead not guilty, according to Avenatti.
In a statement, Daniels announced that she would have to cancel her second scheduled night of Columbus performances. "I deeply apologize to my fans in Columbus," she said.
Presidents have been trying unsuccessfully for years to get Germany and other rich NATO Nations to pay more toward their protection from Russia. They pay only a fraction of their cost. The U.S. pays tens of Billions of Dollars too much to subsidize Europe, and loses Big on Trade!

— Donald J. Trump (@realDonaldTrump) July 12, 2018
Trump continues boorish and bizarre behavior at NATO summit. The president announced that NATO allies will increase spending, as he desires, but offered little in the way of details. French President Emmanuel Macron has since denied Trump's claim.
Kansas govenor censors campus art. The Kansas governor and secretary of state are demanding that the University of Kansas remove a work of art from the school's "Pledge of Allegiance" exhibit, part of a nationwide public art series from New York nonprofit Creative Time. The offending flag, Josephine Meckseper's "Untitled (Flag 2)," is "a collage of an American flag and one of my dripped paintings which resembles the contours of the United States," said Meckseper.
Here's a good roundup from FIRE of art censorship on college campuses.
QUICK HITS
Gawker auction today. This will be interesting. https://t.co/ZpMCLfBXzT

— Sharon Weinberger (@weinbergersa) July 12, 2018
The feds are reopening an investigation into the murder of Emmett Till.
Is the demise of liberalism overhyped? "Scholars and statesmen have been declaring liberalism dead or in deep crisis for at least a century and a half. A review of the many deaths of liberalism might have something to teach us about what, in fact, is happening in the world today."
John Schnatter, the founder of Papa John's, has resigned as chairman of the company. Papa John's stock fell nearly 6 percent on Wednesday, and Major League Baseball suspended a long-running Papa John's promotion campaign, after it was reported that Schnattner used the word "niggers" during a May conference call. He allegedly noted that "Colonel Sanders called blacks niggers" but didn't face a backlash like the one Schnattner experienced for comments made about the NFL.
Twitter is plotting another bot purge.
Comcast and Fox are in a bidding war over the U.K.'s Sky News.
TSA officials "have sovereign immunity while working in their official functions as screeners and security agents under the Federal Tort Claims Act," according to a new ruling from the Third Circuit Court of Appeals.
England is out of the World Cup after losing 2-1 to Croatia last night.
Abolishing ICE isn't a very popular idea (yet).