Are Congressional Republicans Ready To Fight Trump's Tariff Madness?
Is Congress finally ready to get into the fight?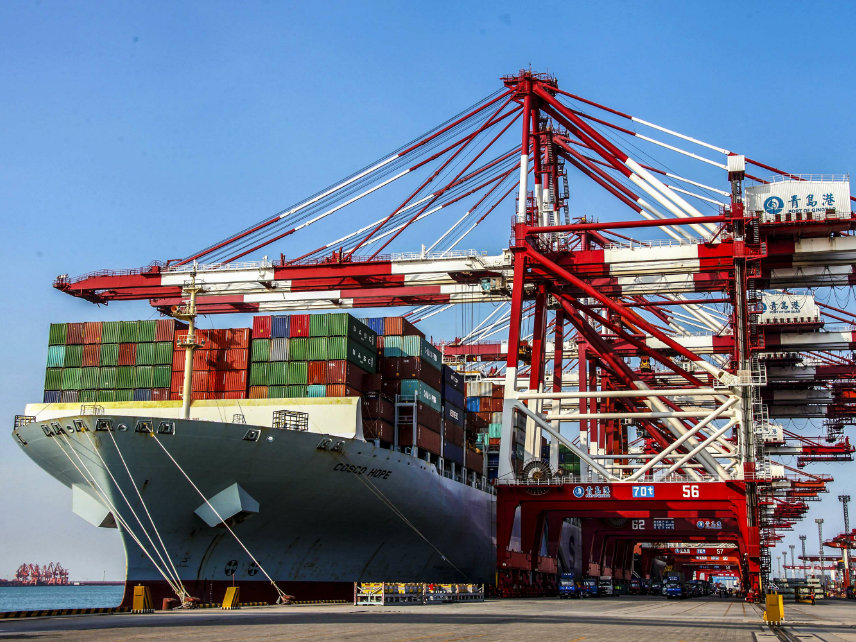 President Donald Trump doubled down on his trade war Wednesday and members of Congress finally took their first tiny steps toward containing the economic damage.
Markets fell Wednesday as the White House announced a new round of 10 percent tariffs on $200 billion of Chinese products, a move that will force American consumers and businesses to pay higher taxes for imported goods including refrigerators, cotton, electronics, and fish. The Trump administration said the tariffs were a response to China's decision last week to place tariffs on $34 billion worth of American exports, which was itself a retaliatory move aimed to strike back at the Trump administration for placing a 25 percent tariff on the same amount of Chinese goods on July 6.
As the trade war between the world's two largest economies escalates, we still don't know what the White House hopes to gain from the confrontation. American and Chinese trade officials told The Wall Street Journal on Wednesday that there are no negotiations scheduled between Washington and Beijing.
While the administration says the trade barriers will force China to stop stealing American intellectual property, it appears more likely that non-Chinese businesses will bear the brunt of the tariffs, according to an analysis by the Peterson Institute for International Economics. Economists say the tariffs are unlikely to force China to change its trade practices, though they could succeed in doing significant damage to the economies of both nations.
The new set of tariffs will be the subject of hearings in late August, and will not take effect until after those hearings have concluded.
Meanwhile, the Senate voted to include a provision in the Farm Bill limiting the president's power to lay tariffs for national security reasons. An amendment co-sponsored by Sens. Bob Corker (R–Tenn.), Jeff Flake (R–Ariz.), and Pat Toomey (R–Pa.) would require congressional approval before the president could impose tariffs under Section 232 of the Trade Expansion Act of 1962—the authority that Trump has invoked to impose steel and aluminum tariffs, and which he has threatened to use to slap new tariffs on imported cars and car parts.
"This Section 232 provision is being misused," Toomey said. The delegation of those powers to the presidency were meant to ensure that America's military could obtain materials necessary for fighting a war, he explained, but Trump has seized on that authoity "as a way to impose tariffs on some of our closest allies, closest friends, and most important trading partners."
The amendment passed 88-12, with all "nay" votes coming from Republicans.
The nonbinding vote is, for now, mostly meaningless. Still, the bipartisan support for limiting the president's ability to abuse the Section 232 tariff authority is the first sign that Republicans in Congress might be willing to stand up to Trump as he continues escalating an unnecessary trade war.
In a statement, Corker said he believed support for the proposal would grow as "American businesses and consumers begin to feel the damaging effects of incoherent trade policy."
That might already be happening. Wednesday's vote could also signal a shift on trade within the Senate's GOP leadership: when Corker tried to offer a similar amendment back in June, his colleagues prevented him from doing so.
In the last month, Trump has followed through on the threat to impose tariffs on Chinese imports (those tariffs were not issued under Section 232, however, and would not be subject to the congressional oversight included in Corker's proposal, which targets the broader steel and aluminum tariffs that took effect in early June). In response to the White House's bellicose trade policies, several American businesses—including famous motorcycle manufacturer Harley-Davidson—have announced plans to close, move, or eliminate jobs
"This vote represents the strongest and most straightforward message this chamber has delivered against the administration's abuse of trade authority," said Flake in a statement. "Imposing tariffs on products from allies that pose no threat to our national security is just plain wrong."