Kyle Kashuv, Parkland Survivor Turned Conservative Activist, on Gun Rights and Free Speech
"I get a lot of death threats, I don't even think I notice them anymore."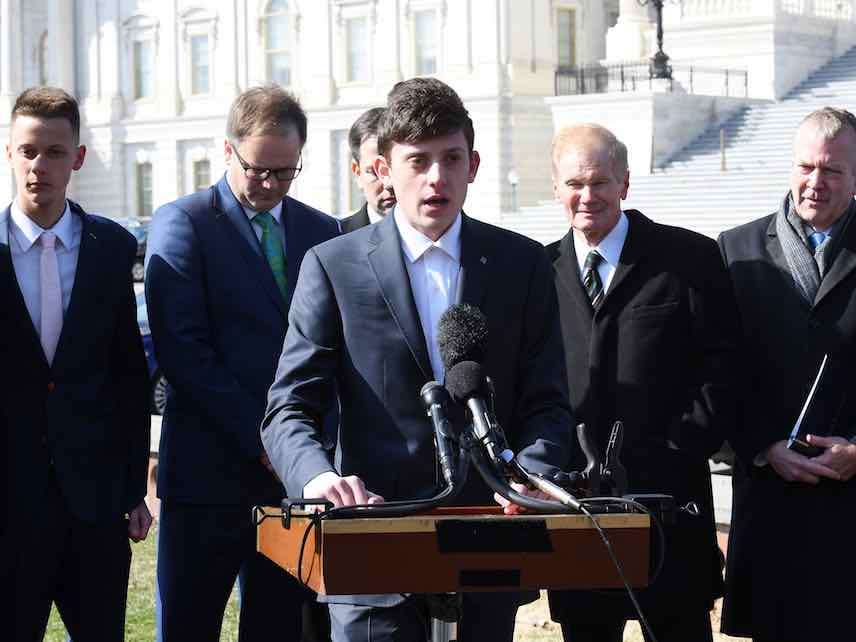 "I'm basically going against the entire tide," Kyle Kashuv, a 16-year-old survivor of the Parkland mass shooting, told Reason in an interview. "Coming out in support of the Second Amendment right after a school shooting is no easy thing to do."
Unlike virtually all the other teen activists who have risen to prominence in the wake of the February 14 tragedy at Marjory Stoneman Douglas High School, Kashuv is a conservative and a gun rights supporter. His strident Second Amendment advocacy has brought him national fame: he met President Trump, has been mentored by conservative pundit Ben Shapiro, and now works at Turning Point USA, a major conservative organization that concentrates on outreach to high school and college students. (Turning Point's High School Leadership Summit, which features a range of high-profile conservative speakers including United Nations Ambassador Nikki Haley, Attorney General Jeff Sessions, and Donald Trump, Jr., is in Washington, D.C., from July 23 until 26. The organization has offered a scholarship so that interested Marjory Stoneman Douglas students can attend for free.)
But back at school, Kashuv has had a rougher time.
"I lost like 90 percent of all the friends I've had because of it," said Kashuv. "It's quite saddening because it shows that people just don't have the ability to be friends with people who have disagreeing opinions with them."
Kashuv has also been besieged by online criticism since he started publicizing his views on Twitter.
"I get a lot of death threats, I don't even think I notice them anymore," he said. "I reached a threshold of hate that there isn't much more that can be thrown at me that will affect me."
That's something he undoubtedly has in common with the rest of the Parkland kids. Fellow survivor-activists David Hogg and Emma Gonzalez have also faced waves of online harassment. In June, Hogg was the victim of a swatting attempt when someone sent police to his house in Florida in hopes law enforcement would mistake Hogg or his family as violent and use force against them.
Kashuv is going back to school in the fall for his senior year. But in the meantime, he's living the life of a teen activist while trying to learn everything he can about gun control as an issue. (He's also reading a lot of Jordan Peterson.)
On other subjects, he's still making up his mind.
"I'm really developing my viewpoint on conservatism," he said. "I'm just a big Constitution guy."
Perhaps unsurprisingly, he's also very concerned about free speech in schools—a main issue for Turning Point USA, though other conservatives have accused the organization of being insincere on this front.
"I've had personal experience with this," said Kashuv. "I mean, people have completely tried to shun me and silence me on my high school campus. It's hard for conservatives to voice their support for the Second Amendment, in general and at Douglas, and I see how important it is to make sure we have free speech."