Trump Says He Hasn't Talked Abortion With Kavanaugh
Many Democrats have come out against Kavanaugh's nomination, arguing that he'll mean the end of Roe v. Wade.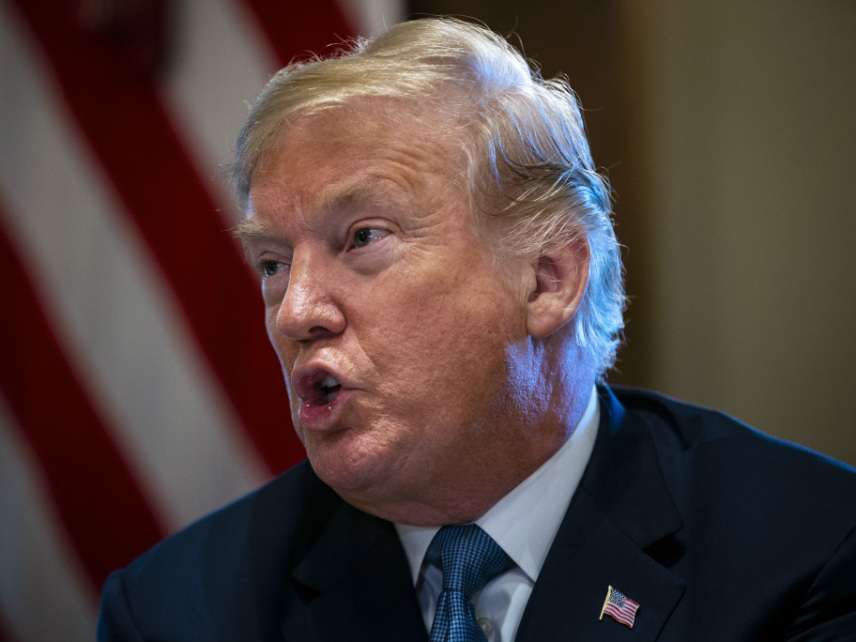 President Donald Trump said today that he has not talked about abortion with Judge Brett Kavanaugh, his nominee for the Supreme Court.
As Trump departed for a trip to Europe, a reporter asked if he had broached the topic in his interviews with Kavanaugh, who has served for more than a decade on the U.S. Court of Appeals for the D.C. Circuit. "I haven't. I really haven't," Trump responded.
In the days leading to Trump's Supreme Court announcement, many predicted the landmark ruling in Roe v. Wade that legalized first-trimester abortion at the federal level would be overturned. Though retiring Justice Anthony Kennedy was nominated to the Supreme Court by President Ronald Reagan, he often sided with the Court's liberal wing on hot-button social issues like abortion. And as a candidate, Trump pledged to nominate "pro-life" justices to the Court.
Kavanaugh's nomination has sparked a panic among Democrats worried that he will oppose Roe. Senate Minority Leader Chuck Schumer (D–N.Y.) expressed that concern in a New York Times op-ed last week, and he has now said he'll fight the judge's nomination "with everything I have."
Other liberal senators, including such potential presidential candidates as Elizabeth Warren (D–Mass.), Bernie Sanders (I–Vt.), Cory Booker (D–N.J.), and Kirsten Gillibrand (D–N.Y.), have also alluded to Roe v. Wade in explaining their opposition to Kavanaugh.
It's not yet clear how Kavanaugh will vote on abortion cases, though it seems likely that he leans anti-Roe. Of particular note is a dissent he wrote last year in a case that involved an illegal immigrant trying to obtain an abortion. Citing Supreme Court precedent, he argued "the Government has permissible interests in favoring fetal life, protecting the best interests of a minor, and refraining from facilitating abortion."
But in the same dissent, he recognized that both Roe v. Wade and Planned Parenthood v. Casey, which upheld Roe, are "precedents we must follow." Along those same lines, he told Schumer during a 2006 confirmation hearing that he "would follow Roe v. Wade faithfully and fully," according to The Hill.
Republicans seem to like him, but it's far from a given that Kavanaugh will be confirmed. The GOP holds a slim 51–49 majority in the Senate, meaning that if every Democrat votes against him, Republicans can only afford one defection. And if Sen. John McCain (R–Ariz.), who's being treated for brain cancer in Arizona, can't make it to D.C. for the vote, Republicans might need their entire caucus to support him.