Entrepreneurialism on the Hoof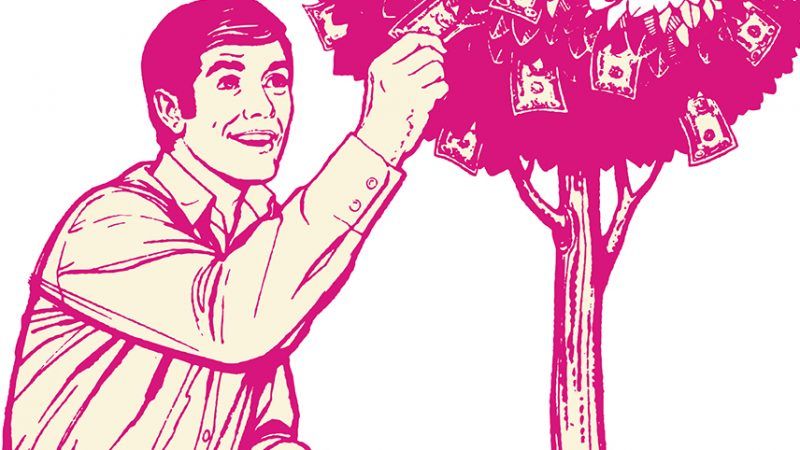 What could explain the tumbleweeds rolling through the corridors of my wife's usually bustling pediatric practice for one week each May? It's entrepreneurial spirit.
Few things motivate the local kids to suppress their usual sniffles and complaints like the annual fair, when their longtime 4-H and FFA (formerly Future Farmers of America) projects come to fruition. All that time, sweat, and energy expended by them (and, too often, their suffering parents) in raising rabbits, lambs, goats, poultry, and steers find their reward at the livestock auction, from which the kids depart with hard cash and the buyers end up with freezers full of meat. It's a demonstration not just of animal husbandry but of an entrepreneurial spirit that's at odds with the Hillbilly Elegy–esque dysfunction we're told to expect of locales outside city limits.
Not that rural America's problems are imagined. Opiate use is big across the country and bigger still in non-urban environs. "While all states have reported increases in opioid mortality and injury, the largest increases are reported in heavily rural states," the National Rural Health Association reported last year.
Unemployment and poverty are definitely pressing concerns as well. The pool of rural jobs continues to be smaller than it was in 2008 before the Great Recession. And the incidence of poverty is higher in rural than urban environments, according to the Department of Agriculture's Economic Research Service.
That said, the poverty rate is declining (from 16.5 percent in 2010 to 15.8 percent in 2016), and the contrast is nowhere near as stark as it once was. "The rural-urban poverty gap has narrowed…from 17 percentage points in 1960 to 3.6 percentage points in 2016," the Department of Agriculture continues.
Maybe one of the factors narrowing that gap is the sort of entrepreneurialism demonstrated by the epidemic of healthiness among my wife's patients.
"It is in fact nonmetropolitan counties that have higher rates of self-employed business proprietors than their metropolitan counterparts," an academic publication called The Conversation noted last year after surveying social scientists and crunching Census Bureau data. Urban entrepreneurialism is concentrated in counties of 1 million or more people, with 131 self-employed proprietors (measured by IRS tax status) per 1,000 residents. Rural counties, on the other hand, become more entrepreneurial as their populations get smaller and more removed from cities, with 234 proprietorships per 1,000 residents reported in counties of fewer than 2,500 residents that aren't adjacent to a metro area.
And no, that's not all kids auctioning off the goats they raised at home—only one-sixth of the businesses identified by The Conversation are farmers.
The businesses tend to enjoy better longevity than urban startups, with five-year survival rates rising the more sparsely settled a county is and topping off at 71.6 percent, compared to an urban high of 68.3 percent in metro counties with populations less than 250,000 and 66.5 percent in counties with 1 million or more.
"The reality is that rural areas have to be entrepreneurial," The Conversation's social scientists note, "as industries with concentrations of wage and salary jobs are necessarily scarce.…The resilience of rural start-ups is perhaps due to more cautious business practices in areas with few alternative employment options."
If you can't find a job, in other words, you have to make one if you want to eat. And you have to make it work.
Rural America's entrepreneurial edge may, alas, be fading. The Small Business Association warned last year that, while "the rate of self-employment has remained higher in rural areas than in other areas," the share of non-urban entrepreneurs has dropped. In part, that's because many Americans have migrated from the country to the city. But a smaller percentage of rural dwellers is self-employed now than in the recent past: 6.5 percent in 2016 vs. 8.4 percent in 1988.
Self-employment also dropped in suburban areas, which hover between the rural and urban rates. It increased a hair in cities, from 5.2 percent in 1988 to 5.7 percent in 2016.
Maybe that fall-off in business startups is just a blip. Those kids ignoring their aches and pains so they can peddle still-mobile pork and beef to eager customers may just be artifacts of a fading past. But I'm hoping their entrepreneurial spirit heralds better things to come.
This article originally appeared in print under the headline "Entrepreneurialism on the Hoof".