Trump's Case for Tariffs Is Unraveling
Automakers, motorcycle manufacturers, the stock market, and even the White House's own analyses are telling Trump to change course.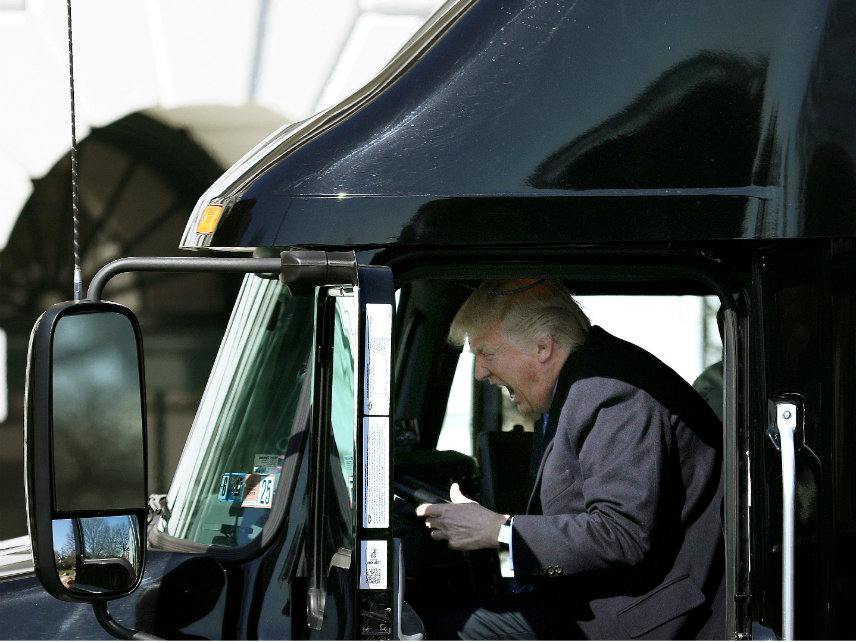 It's been an enlightening economic experiment, but the Trump administration's plan to use tariffs to reshape global trade is now unraveling before our eyes.
Each day seems to bring fresh evidence of exactly how wrong the president was to declare trade wars "good and easy to win." Unfortunately, each day also brings evidence that the White House is determined to stay the course, consequences be damned.
The big news Friday was that several major automobile manufacturers told the administration that planned tariffs on imported cars and car parts would wreck their operations in the United States. That follows a week's worth of news that a wide range of industries—from motorcycles to steel railings, from tires to nails—were shifting jobs overseas or postponing expansions because of the tariffs. The stock market continues to reflect the uncertainty imposed by Trump's trade policy, and even the White House's own assessment shows that economic growth will slow as the tariffs hit.
Over the weekend, in defiance of the mounting evidence, Trump insisted that "it's going to all work out." On Monday, Commerce Secretary Wilbur Ross said the administration will not stop the trade wars, even if the stock market tanks. "There's no bright line level of the stock market that's going to change policy," he told CNBC.
The big question is how much more damage will be done—to the American economy and to the mechanisms of global trade—before the president retreats from these misguided policies.
The automotive tariffs might be the turning point. Trump has instructed the Commerce Department to conduct a formal investigation into whether tariffs could be applied to imported cars on the grounds that they are national security threat. (No, it doesn't make any sense.)
"The domestic manufacture of automobiles has no apparent correlation with U.S. national security," BMW writes in its comments to the Commerce Department. In other comments submitted to the department, automakers say tariffs will increase the price of their cars, potentially by thousands of dollars, and will force industry-wide supply chain adjustments that could see American automaking jobs cut or moved overseas.
Trump announced those proposed auto tariffs last month in response to European tariffs targeting such American goods as motorcycles, whiskey, and blue jeans. Those tariffs, in turn, were the European Union's response to Trump's 25 percent import duties on steel and 10 percent tariffs on aluminum.
That tit-for-tat escalation of the conflict between America and Europe has already claimed some victims. Harley-Davidson, the Wisconsin-based motorcycle brand that also builds bikes in Missouri and Pennsylvania, announced last week that it would shift some manufacturing to Europe to avoid the E.U. tariffs. Building motorcycles in the U.S. and shipping them to Europe would leave consumers paying $2,200 more per bike, the company said in a statement to the Securities and Exchange Commission, and would cost the company about $100 million annually.
Polaris, a Minnesota-based company, could soon follow Harley-Davidson's lead. A spokeswoman told the Associated Press on Friday that Polaris is considering shifting production of its Indian Motorcycle brand from Iowa to Poland.
Harley-Davidson and Polaris could not be more explicit about the reasons for shifting jobs overseas. Neither could any of the car companies that submitted comments last week to the Department of Commerce.
As with the tariffs on steel and aluminum (and another set of tariffs targeting $50 billion in Chinese imports), Trump's proposed tariffs on cars would needlessly harm American workers while aiming to punish close allies and key trading partners.
Whether Trump is aware of that remains unclear.
Last week, while giving a speech in South Carolina, Trump said he wanted to erect trade barriers so carmakers like BMW would have to "build them here" instead of shipping cars from Germany. But BMW does indeed build them here—the company's largest manufacturing facility in the world is in Spartanburg, South Carolina, less than 100 miles from where Trump was speaking at the time. The plant employs more than 9,000 people and produces more than 40,000 vehicles every year.
But ignorance can only account for so much of the White House's bullheaded approach. The consequences of tariffs are well-known.
Trump's tariffs could grow the steel, iron, and aluminum industries by about 33,400 jobs, according to an analysis by the Trade Partnership, a pro-trade think tank. But the tariffs are projected to wipe out more than 179,000 other jobs. That's a net job loss of about 146,000—five jobs gone for every job gained.
A separate study released in March by the Coalition for a Prosperous America, a protectionist think tank that favors tariffs, also found that Trump's steel and aluminum levies would cost American jobs. The U.S. manufacturing sector is projected to lose 10,000 jobs and the construction industry is projected to lose 7,500 jobs, according to the group's analysis. The White House's own report on the tariffs, released in early June, also showed—surprise, surprise!—that they would raise prices and slow economic growth.
All of which should be cause for some second thoughts. But for someone who promised to "drain the swamp" and do things differently, President Trump's response to the slow-motion failure of his trade agenda is a classic move straight out of the Washington playbook: If a government policy isn't working, you declare that just means it hasn't been tried hard enough.
Ross today downplayed tariffs' potential to cost thousands of American jobs and tank the stock market. Those consequences are nothing more than "hiccups," he said.
"There obviously is going to be some pulling and tugging as we try to deal with very serious problems," he told CNBC. "So there will be some hiccups along the way."
In other circumstances, there might be something admirable about Trump's determination to continue full speed ahead even as the warning lights are flashing. But the thing about a "damn the torpedoes" approach is that sometimes the torpedoes actually hit you.