Sacre Bleu! France to Reinstate Mandatory National Service for 16-Year-Olds
Emmanuel Macron wants teens to "value" their citizenship. Milton Friedman would be appalled.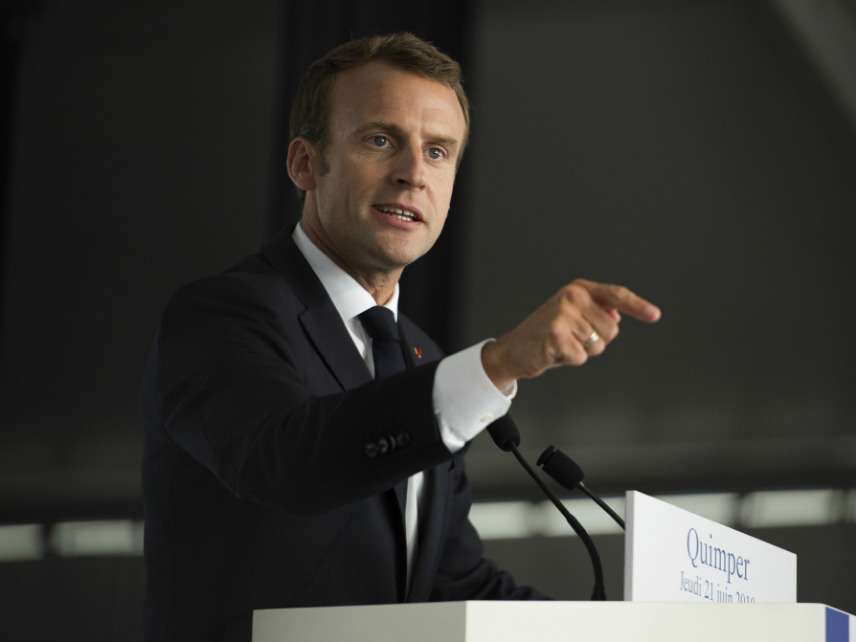 In an effort to promote national pride and "social cohesion," French President Emmanuel Macron is reinstating a mandatory national service program for all 16-year-olds.
Back in 2017, when he was running for president, Macron said he wanted all young adults in the country to experience military life. France conscripted young people into the military until the late 1990s, when it got rid of the draft.
Macron's new program, which officially begins in 2019, does not bring back the draft. Rather, the only mandatory part of the program is a month-long placement focused on civic culture, during which 16-year-olds have the option of doing teaching or charity work, or military, police, or fire service training. Aside from that mandatory one month, participants can spend an optional three months to a year either volunteering or working in the defense or security fields.
The main goal of the program seems to be the promotion of nationalistic ideals. Macron apparently wants young French citizens, both boys and girls, to "value" their citizenship and feel like they are truly part of the French community.
The program's official aim, according to a statement from the Elysee Palace, is to "encourage the participation and commitment of every young person in the life of the nation, to value citizenship and the feeling of belonging to a community gathered around its values, to strengthen social cohesion and boost the republican melting pot."
"The [program] will be a time to meet others that will be useful and profitable for every young person, and a special opportunity to learn and receive, but also to give and engage, regardless of social background," the statement continued.
However, the idea of this national service program has garnered mixed reviews from the French people.
A YouGov poll conducted in March revealed that 60 percent of French citizens support a mandatory national service program. But when the opinions of young people themselves were taken into account, the idea received less than 50 percent support. Moreover, even before the plan was announced, 14 youth organizations said they were unhappy that young people are not being given any choice in the matter.
It appears the opinions of those affected the most don't seem to matter all that much.
The same line of thinking the late famed economist Milton Friedman used to argue against the draft and in favor of a volunteer army applies here. In Friedman's book Two Lucky People: Memoirs, which he co-wrote with his wife Rose, he recalled a conversation he had with U.S. Army Gen. William Westmoreland about the draft.
"In the course of his [Westmoreland's] testimony, he made the statement that he did not want to command an army of mercenaries. I [Milton Friedman] stopped him and said, 'General, would you rather command an army of slaves?'" the passage reads.
France isn't forcing young people into military service, but it is forcing nationalism down their throats. And the people whose lives will be affected by this program have no say in the matter.