Surprise! Young Socialist Beats Democrat Establishment Candidate
Alexandria Ocasio-Cortez blew Nancy Pelosi's potential replacement out of the water. It was the Dems "Eric Cantor moment."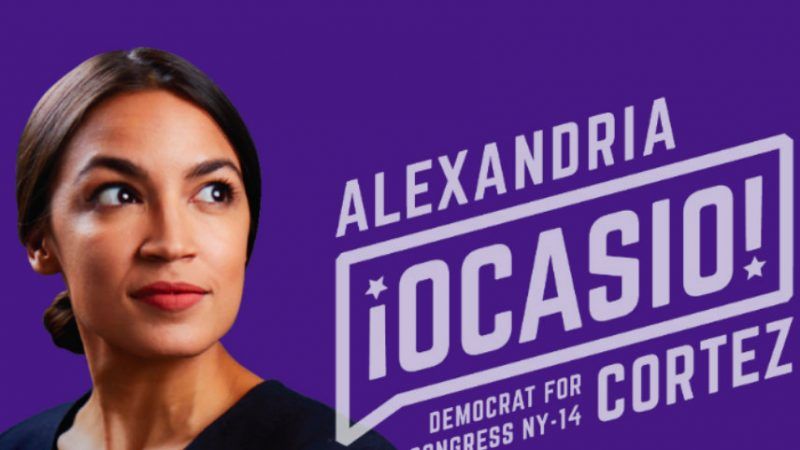 (https://ocasio2018.com/)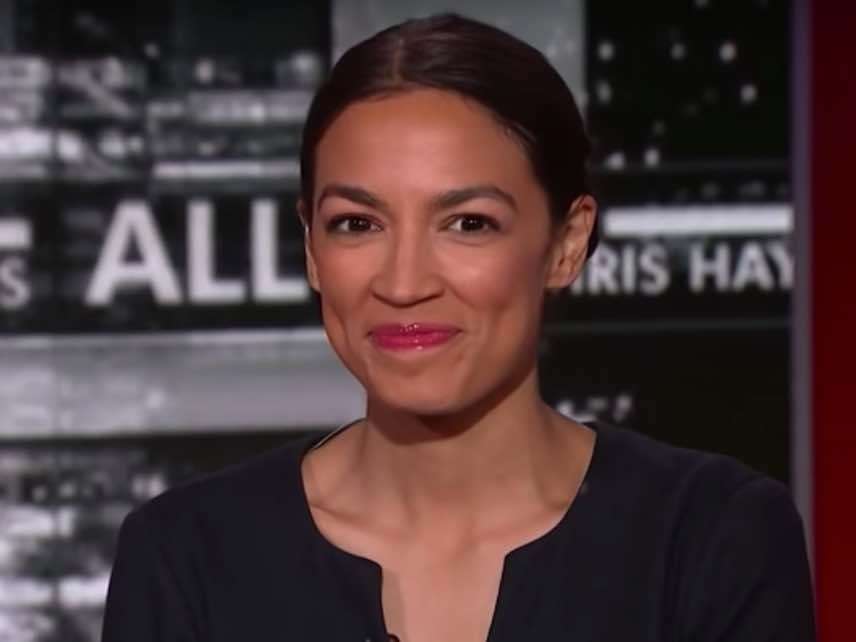 On Tuesday, Alexandria Ocasio-Cortez pulled off a major victory over top House Democrat and 10-year-incumbent Rep. Joe Crowley (D–N.Y.). While the 28-year-old's age, gender, and ethnicity were of much interest to those watching the 14th Congressional District race, there's one thing about Ocasio-Cortez that particularly stands out—she's a bona fide Socialist.
Ocasio-Cortez worked for the late Sen. Ted Kennedy (D–Mass.) and was an organizer for Sen. Bernie Sanders (I–Vt.) during his 2016 presidential campaign. But in a Monday interview with The Cut, Ocasio-Cortez reconfirmed that she was a member of the Democratic Socialists of America.
For Ocasio-Cortez, changing the perceptions around socialism meant focusing on policy: "You can call that whatever you want to call that. Legislatively, when I knock on a door, the way that it looks like is improved and expanded Medicare for all; it looks like housing is a human right; it looks like a federal jobs guarantee that guarantees a $15 minimum wage, paid family and sick leave, and health care. It looks like tuition-free public college, it looks like the exploration and expansion of federal student-loans forgiveness."
Ocasio-Cortez added that her political affiliations were a "non-conversation" for voters. The election results from Tuesday night would seem to agree with her, as she led her opponent 58 percent to 42 percent. As for the legislative interests she represents, Ocasio-Cortez's campaign website listed issues such as universal healthcare, stronger gun laws, and free college.
Alongside the issues, the campaign painted Ocasio-Cortez as a person of the people who is "running for Congress to create an America that works for all of us, not just a wealthy few." She told Elite Daily that she is still paying off her student loans. A picture of her bartending at work less than a year ago circulated around the internet. In fact, one can still see Ocasio-Cortez on the cocktail bar's home page.
President Donald Trump responded to the election results by suggesting that Crowley "should have been nicer" to him.
Wow! Big Trump Hater Congressman Joe Crowley, who many expected was going to take Nancy Pelosi's place, just LOST his primary election. In other words, he's out! That is a big one that nobody saw happening. Perhaps he should have been nicer, and more respectful, to his President!

— Donald J. Trump (@realDonaldTrump) June 27, 2018
However, several others have come to a very different conclusion. Considering Crowley was predicted to succeed Rep. Nancy Pelosi (D–Calif.) as either the minority leader or speaker of the House, pundits are already calling Tuesday's upset the Democrats' "Eric Cantor moment," drawing comparisons to the shocking 2014 defeat. When asked if the primary results indicated a rise in Democratic socialism in her party, Pelosi replied that it was "ascendant in that district perhaps," adding that the Democrat Party was "big tent" and the win was about "representation."