Federal Judge Halts ICE Family Separations, Says Policy 'Cannot Satisfy the Requirements of Due Process': Reason Roundup
Plus: Oklahoma legalizes medical marijuana and Russian pop star linked to Trumps releases bizarre music video.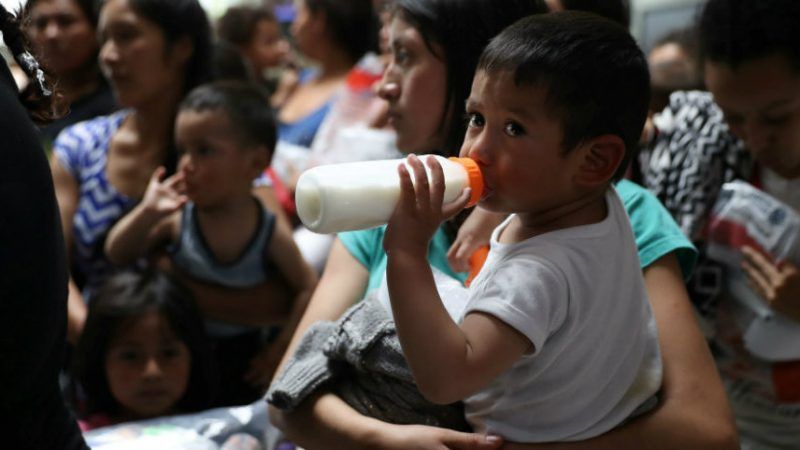 (LOREN ELLIOTT/REUTERS/Newscom)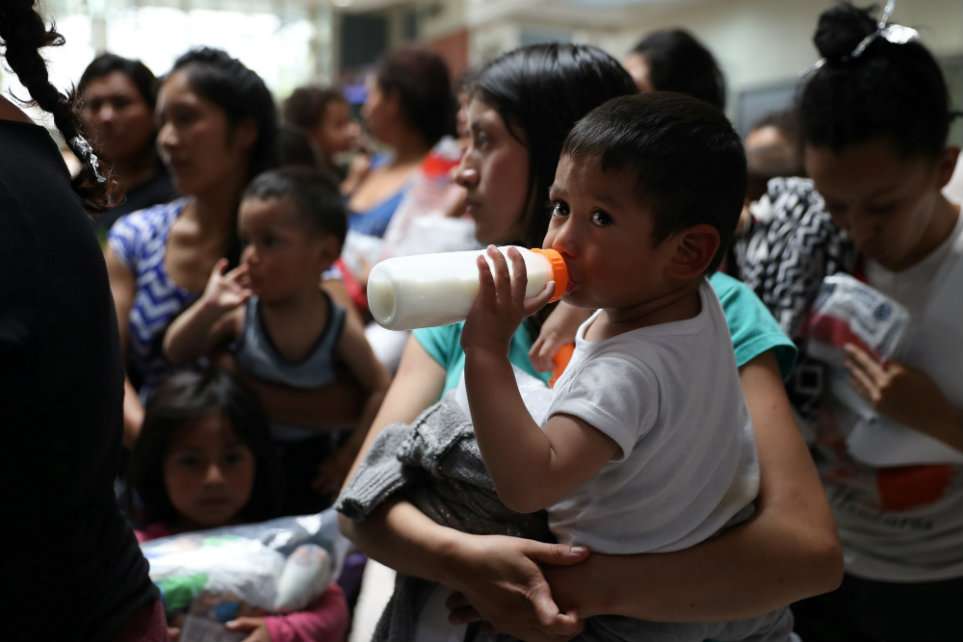 Preliminary injunction on ICE family separation policy. A federal court says the Trump administration's policy of separating migrant children from parents caught crossing the U.S.-Mexico border must stop, and that families who have already been separated must be reunited within one month.
Immigration and Customs Enforcement (ICE) officials have 10 days to put detained immigrant parents in phone contract with their children, ruled Judge Dana Sabraw of the U.S. District Court for the Southern District of California on Tuesday.
Within 14 days, all children under the age of 5 must be reunified with parents (unless the parent is determined to be unfit or declines reunification).
Within 30 days, and all minors ages five and above must be reunited with their parents.
"Plaintiffs have demonstrated a likelihood of success on the merits, irreparable harm, and that the balance of equities and the public interest weigh in their favor, thus warranting issuance of a preliminary injunction," wrote Sabraw. More from his ruling:
This Order does not implicate the Government's discretionary authority to enforce immigration or other criminal laws, including its decisions to release or detain class members. Rather, the Order addresses only the circumstances under which the Government may separate class members from their children, as well as the reunification of class members who are returned to immigration custody upon completion of any criminal proceedings….

The practice of separating these families was implemented without any effective system or procedure for (1) tracking the children after they were separated from their parents, (2) enabling communication between the parents and their children after separation, and (3) reuniting the parents and children after the parents are returned to immigration custody following completion of their criminal sentence. This is a startling reality.

The government readily keeps track of personal property of detainees in criminal and immigration proceedings. Money, important documents, and automobiles, to name a few, are routinely catalogued, stored, tracked and produced upon a detainees' release, at all levels—state and federal, citizen and alien. Yet, the government has no system in place to keep track of, provide effective communication with, and promptly produce alien children. The unfortunate reality is that under the present system migrant children are not accounted for with the same efficiency and accuracy as property. Certainly, that cannot satisfy the requirements of due process.
The case was brought by the American Civil Liberties Union (ACLU) in February on behalf of a Congolese woman whom ICE separated from her 7-year-old child and the "hundreds of other parents whom the government has forcibly separated." The suit asserted that ICE was engaging in the "forcible separation of parents from their young children for no legitimate reason," in violation of the Fourth Amendment.
"Whether or not the Trump administration wants to call this a 'policy,' it certainly is engaged in a widespread practice of tearing children away from their parents," Lee Gelernt, deputy director of the ACLU's Immigrants' Rights Project, told CNN about the case last March.
In his Tuesday order, Judge Sabraw described the situation as a case of "reactive governance—responses to address a chaotic circumstance of the Government's own making" that "belie measured and ordered governance, which is central to the concept of due process enshrined in our Constitution."
FREE MINDS
Oklahoma passes very permissive medical pot bill.
BIG win for my conservative state of Oklahoma. LEGALIZED MEDICAL MARIJUANA!!! cc @nickgillespie @MattWelch

— Mary #FlyTheW (@mchastain81) June 27, 2018
In yesterday's primary elections, Oklahoma voters approved an initiative legalizing medical marijuana. This makes Oklahoma the 30th U.S. state to decriminalize marijuana use by people who get a doctor's permission. And though Oklahoma tends to be a conservative state, its medical marijuana measure is one of the most expansive in the country. "The measure," notes The Washington Post,
… is notable for reflecting one of the most permissive medical cannabis policies in the country. While most states specify a narrow list of medical conditions for which doctors can recommend the plant, in Oklahoma doctors will be able to recommend it for any condition.
FREE MARKETS
BREAKING: Canada is now preparing steel quotas and tariffs on China and others to prevent producers there from dumping the goods that they can't sell to the US https://t.co/5QL6kcRBBQ

— Joe Weisenthal (@TheStalwart) June 26, 2018
RUSSIA WATCH
Bolton in Moscow and Trump look-alikes in Russian pop video. National security adviser John Bolton will powwow with Vladimir Putin in Moscow today. "The president will receive Bolton at the Kremlin," spokesman Dmitry Peskov said. The two men are prepping for a meeting between Putin and President Trump that is supposed to take place in mid-July. "The Trump-Putin summit would be the first meeting of the two presidents not taking place on the sidelines of a broader international gathering," notes The Washington Post.
Meanwhile, Emin Agalavor—the Russian trust-fund kid and pseudo-pop star who helped arrange Donald Trump's Jr.'s infamous Trump Town meeting with Russians during the 2016 election—just released a new music video in which Agalarov appears alongside lookalikes of Trump, Stormy Daniels, Hillary Clinton, Facebook's Mark Zuckerberg, and North Korean leader Kim Jong Un.
"The video's political message is not entirely clear," asserts NBC News. "Julia Ioffe, a correspondent for GQ who has written extensively about Russia under President Vladimir Putin, raised one possibility, tweeting that American viewers were being 'trolled and made fun of by Emin Agalarov.'"
QUICK HITS
"Does Godwin's Law need to be updated? Suspended? Repealed? I get asked this question from time to time because I'm the guy who came up with the law more than a quarter century ago." https://t.co/AkBPT9BavV @sfmnemonic

— R Street Institute (@RSI) June 27, 2018
"Supporters of the referendum to ban brothels argue that this will prevent sex trafficking and help [exploited] women," writes Allison Schrader at Qz. But "I interviewed dozens of women who work in [legal Nevada] brothels. All claimed that they felt safe at work. … Meanwhile, all the women I spoke with who'd done sex work illegally had encountered clients who would not pay or were violent.…Banning brothels only eliminates another safe refuge to do the work."