Woman's Jersey Beach Beatdown by Police Goes Viral
How did an accusation of underage drinking end up with a 20-year-old eating sand?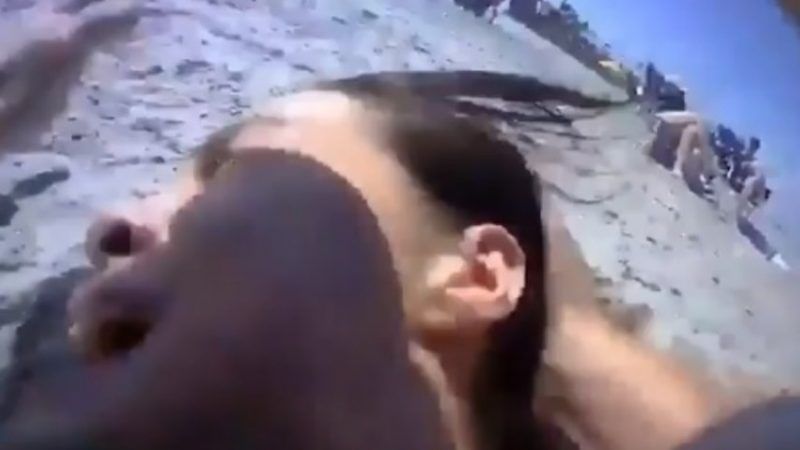 (Wildwood Police body camera footage)
When a police officer tackled a 20-year-old woman on a New Jersey beach over Memorial Day weekend and then punched her in the head, all over a bottle of Twisted Tea, bystander footage of the beatdown quickly went viral.
For those who missed it, here's the initial video, which has been viewed more than a million times:
I was sleeping on the beach and I woke up to this.. i can't believe it.. pic.twitter.com/UJE5Sy7E4G

— Lexy (@HewittLexy) May 26, 2018
It's remarkable that in the crazy-fast, rapid-spin news cycle that now rules us, the story is still getting significant attention a week later. On Wednesday, the Wildwood, New Jersey, police released body camera footage of parts of their encounter with Emily Weinman, 20. If anything, the additional footage highlights how absurd and unnecessary the violence was.
None of the body camera footage shows the initial encounter that led to the confrontation. What we do know is that two Wildwood police officers came across Weinman on the beach. Her family spread included a cooler, and police spotted a bottle of alcohol. Weinman insisted this belong to her aunt, who she said would be coming back soon. (She never shows up during the videos.)
Weinman is not terribly hospitable toward the police, who make her take two breathalyzer tests. You can't really tell what the outcome was, but when all is said and done, she has not been charged with being drunk in public. But she's uncooperative, and she refuses to give police her last name. Eventually an officer has had enough and pulls out the cuffs to arrest her. She's upset by this, so she attempts to walk away. That's when the officer declares "You're about to get dropped," tackles her into the sand, punches her in the head, and arrests her.
The mayor of Wildwood, Ernie Troiano, was quick to come to the defense of the police officers with very little evidence other than his own experience as an ex-bouncer. (I hope to God all mayors in New Jersey are ex-bouncers.) He insisted that Weinman was "by far the aggressor here," then turned to the "she's no angel" tactic, pointing to the fact that Weinman was on probation for a previous crime. (She got into a fight in Philadelphia with a woman she believed was sleeping with her ex-boyfriend.)
The mayor then complained about underage drinking and people's insistence on drinking on the beach. From Philly.com:
"I don't understand why it seems to be that this is a God-given right that they can come here and drink underage," he said, adding that no one is allowed to drink in public or on the beach in Wildwood unless they are attending an event that has received a permit to allow drinking.
So Troiano's argument is that drinking isn't a God-given right; it's a right given by the government. Just because the taxpayers are forced to shell out money to maintain the beach doesn't mean they can just come out there and drink on it, unless they have the government's permission. So you see, they had no choice but to beat up a 20-year-old unarmed woman who was neither drunk nor violent.
It may ultimately turn out that Weinman is, indeed, no angel. It may turn out that she spit at an officer. (It kinds of look like she did as they brought her to the police vehicle.). It may turn out that she was consuming alcohol. But none of that justifies the police's behavior. They decided they wanted to make a lesson out of Weinman, and now the public is repulsed by it. Note the reaction of the bystanders in the video. Several confront the officers about their behavior. At one point one even appears to try to pull the officer off the woman.
Weinman has been charged with two counts of aggravated assault on a police officer, aggravated assault by spitting at or on an officer, disorderly conduct, resisting arrest, obstruction, and being a minor in possession of alcohol.