Georgia Kidnapped This Boy Because His Parents Used Marijuana to Stop His Seizures
Although the state recognizes cannabis as a treatment for epilepsy, it says letting your son use it is "reckless conduct."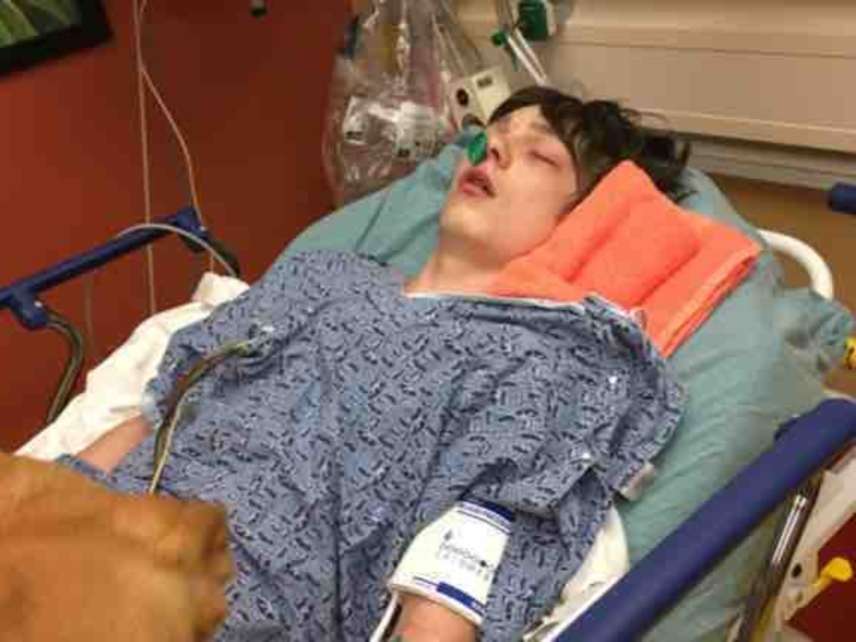 Georgia recognizes cannabis as a treatment for epilepsy and notionally lets certified patients possess up to 20 fluid ounces of "low THC oil," an extract that contains a negligible amount of marijuana's main psychoactive component but a substantial amount of cannabidiol (CBD), the ingredient that reduces seizures. That privilege is mainly theoretical, however, since there is no legal way to produce or obtain cannabis extract in Georgia. Given that glaring defect in the state's medical marijuana law, it is easy to understand why Matthew and Suzeanna Brill let their 15-year-old son, David, smoke cannabis in a desperate attempt to control his epileptic seizures. It is harder to understand why that decision led the state of Georgia to forcibly separate David from his parents.
David was having several seizures a day, the Brills say, and the drugs he was prescribed for his epilepsy did not work. But after he started smoking marijuana in February, he went more than two months without a seizure. "For 71 days he was able to ride a bike, go play, lift weights," Matthew Brill told The New York Times. David's doctors knew why he was suddenly doing so much better, and they did not object. But his therapist ratted out the Brills, which led to a visit by Twiggs County sheriff's deputies, who demanded that David stop taking his medicine. "We complied, and within 14 hours of complying we were rushing our son to the hospital," Suzeanna Brill told the Times. "It was one of the most horrific seizures I've ever seen."
The Brills were charged with reckless conduct, a misdemeanor, and Georgia's Division of Family and Children Services took David away. He has been living in a group home for a month now, away from his parents, his medicine, and the dog that is trained to detect imminent seizures. His parents are fighting to get him back, a process they say may take as long as a year. They are trying to raise money to cover their legal expenses on GoFundMe, where they are more than halfway toward their goal of $30,000.
The Food and Drug Administration may be close to approving cannabidiol as a treatment for epilepsy, and Georgia has already acknowledged its medical utility. Yet when the Brills gave David access to this medicine, the state claims, they endangered his "bodily safety" by "consciously disregarding a substantial and unjustifiable risk," which constituted "a gross deviation from the standard of care which a reasonable person would exercise."
The Brills do not see it that way. "For 71 days our son rode his bike, woke up, went to school, played with friends, played outside, and the terror for his life that gripped our hearts and souls began to lift," Suzeanna Brill writes. "The smiles on our faces reflecting our child getting to be a normal child. Safe in his bed. Doing better in school. Having a great quality of life. We were breaking the law. We saved our son….This is our job as parents, to protect our child even with our own lives."
Addendum: At a press conference today, Twiggs County Sheriff Darren Mitchum defended his department's handling of the case. "Whatever the law is, it's my job to enforce it," he said. "The fact is that, as of today, marijuana is not legal in the state of Georgia to possess or smoke or use for recreational use. And that's it." Mitchum added that he could have charged the Brills with cruelty to children, a felony, but "that's not what we're doing." Instead, he said, "we're trying to, on one hand, understand their position if what they're saying is true," while "at the very least still doing our job like we're supposed to do, not turning our head." He explained that "somebody's got to stand up for the child's welfare."