Are Imported Cars a Threat to National Security? No Way.
Trump can impose car tariffs only by stretching the meaning of "national security" beyond recognition.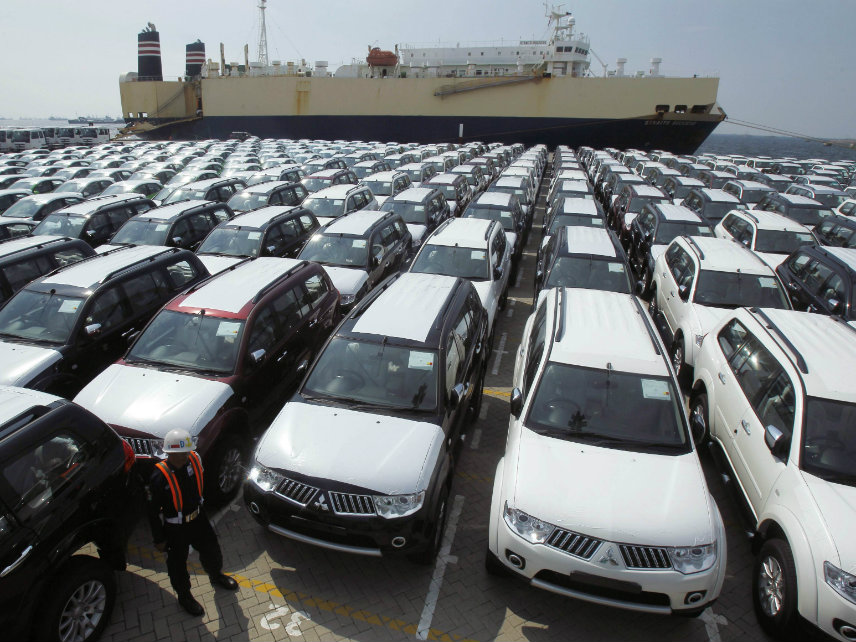 President Donald Trump's decision to take the first step toward imposing tariffs on imported cars and trucks is probably best understood as a bargaining chip in his administration's ongoing efforts to renegotiate the North American Free Trade Agreement (NAFTA). But the official rationale for the tariffs makes zero sense.
On Wednesday, Trump told Commerce Secretary Wilbur Ross to begin an investigation into whether the U.S. should slap new tariffs on imported vehicles and auto parts under Section 232 of the Trade Expansion Act of 1962, which allows the president to impose tariffs unilaterally for "national security" reasons. It's the same process Trump used to craft the tariffs on steel and aluminum imports he announced in early March.
"There is evidence suggesting that, for decades, imports from abroad have eroded our domestic auto industry," Ross said in a press release. The Commerce Department's investigation, he said, will determine if "such imports are weakening our internal economy and may impair the national security."
When Trump sought to impose the steel and aluminum tariffs, the Commerce Department conducted a similar investigation and determined that importing those commodities was indeed a national security threat. Because American weapons of war depend on steel and aluminum supplies, the department concluded, domestic producers must be protected from international supplies that could be cut off in the event of a conflict.
It was not a good argument, but it was supported by the American steel producers who stood to benefit from the tariffs, and it made some sense if you ignored basic facts. For instance, the largest exporter of aluminum to the United States is Canada, a nation that also happens to be one of America's closest allies. Any scenario where Canada restricts aluminum exports to weaken U.S. national security is a future where Washington has much bigger problems than aluminum imports.
The argument for car tariffs is even weaker. "This isn't about national security," Thomas Donohue, president and CEO of the U.S. Chamber of Commerce, said in a statement. The American automobile industry employs 50 percent more people than it did in 2011, Donohue noted, and domestic production has doubled in the last decade.
Those indicators do not suggest an industry in need of protection. Nor do they suggest anything that can accurately be described as a threat to national security. What the White House is really trying to do is apply pressure on Canada and Mexico ahead of an expected effort to renegotiate NAFTA later this year. "The president's Section 232 authorities should not be abused in this way," Donohue said, and "doing so only encourages other nations to do the same."
The possible tariff also drew a sharp rebuke from Rep. Jeb Hensarling (R-Texas), chairman of the House Financial Services Committee.
"The Honda Accord is not a threat to our national security. However, taxing it with trade tariffs is a threat to the economic security of millions of hardworking American families," Hensarling said. "Trade laws designed to uphold critical national security measures should never be used as an excuse for raw protectionism."
Trump's willingness to use bullshit arguments for unnecessary economic protectionism does seem to have made an impression on America's top trading partners. "I have the growing impression that the U.S. no longer believes in the competition of ideas, but only the law of power," Eric Schweitzer, president of the Association of German Chambers of Commerce and Industry, told Bloomberg News. "It fills me with grave concern."
As it probably should. If the Commerce Department concludes that Trump can use the "national security" rationale to slap tariffs on automotive imports, the definition of that phrase will have been stretched so far that it is effectively meaningless. The same argument could be used for tariffs on literally anything.
As with all tariffs, consumers stand to lose again. "To our knowledge, no one is asking for this protection," John Bozzella, CEO of Global Automakers, a trade group, said in a statement. "This path leads inevitably to fewer choices and higher prices for cars and trucks in America."