Movie Review: Tully
Charlize Theron great again in a movie about motherhood with a startling surprise.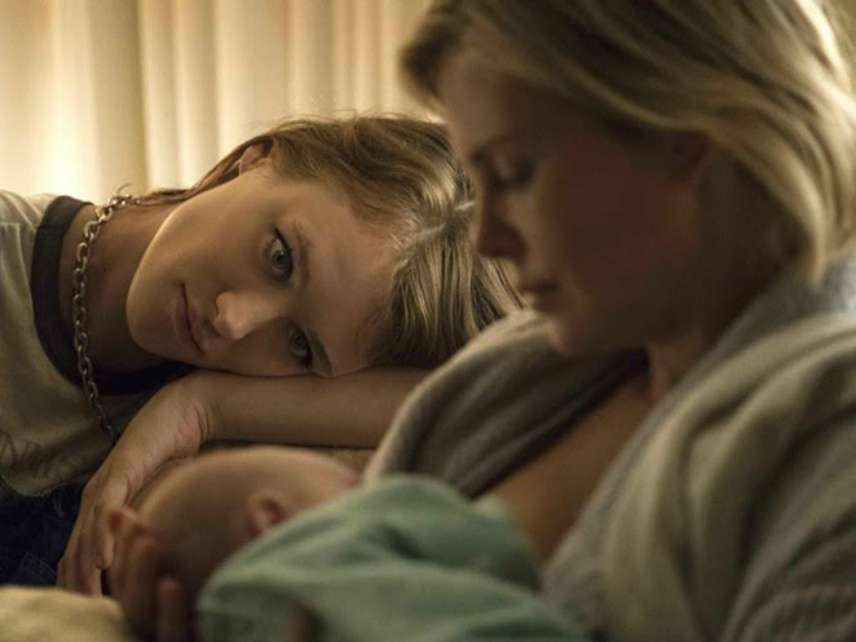 Suburban housewife Marlo (Charlize Theron) is living in a hell we don't hear much about at the movies. She loves her two kids, but they're an exhausting handful: Sarah (Lia Frankland) is at a difficult age for girls (she's eight), and her younger brother Jonah (Asher Miles Fallica) seems clearly to be autistic, although everyone tries to be nice about it and refer to him as merely "quirky." Making matters worse, Marlo is pregnant again—as we see when her huge belly precedes her into the opening shot of Tully, a movie filled with raw truths about the maternal condition and with a startling plot twist that suddenly rears up out of the story and transforms everything that came before it.
It's good to see Theron, giving one of her best performances in an exceptional career, reunited with director Jason Reitman and screenwriter Diablo Cody for the first time since the bitingly perceptive Young Adult, a 2011 movie that never got the love it deserved. This one, with its bold treatment of a subject with which half of the moviegoing public will be at least glancingly familiar, should be more appreciatively received.
Marlo lives with her husband Drew (Ron Livingston) in a leafy small town outside of New York City. Drew is a good guy who's away a lot for work and doesn't grasp the depth of his wife's bleary despair. We do, though, as Reitman shows us around their home, a bomb site of kiddie clutter, and later stages a resonant scene in which little Sarah gets a glimpse of her mom's flubbery postnatal torso and asks, "Mom, what's wrong with your body?"
With the baby arrived, Marlo's mental condition worsens. Her wealthy brother Craig (Mark Duplass) offers her a gift: he wants to pay for a "night nanny" to begin an overnight baby-care shift so Marlo can get some sleep. Marlo resists Craig's offer ("This is like a Lifetime movie where the nanny kills the family"), but not for long. In a nerve-scraping scene, we see Marlo and her kids inside the family car. The baby is shrieking and will not be appeased, and Jonah is acting out, furiously kicking the back of the driver's seat in which Marlo is sitting. Something inside her snaps, and she erupts in a howl of anguish. Maybe a night nanny isn't such a bad idea.
One night soon after, Tully (an effervescent Mackenzie Davis) shows up at Marlo's door. She's 26 years old and full of vim and sparkle. "I'm here to help you with everything," she says. Tully's abs, beneath a crop-top tee, are formidably tight (a physical state the 40-ish Marlo remembers from her own receding youth), and she's a fount of lively chatter and obscure knowledge—about barnacles, astronomy, Japanese phrases. ("You're like a book of fun facts for unpopular fourth graders," Marlo says, although fondly.)
The morning after Tully's first tour of duty, Marlo awakes—refreshed for once—to find that Tully has totally tidied up the house. On another morning, she discovers a big batch of fresh-baked cupcakes awaiting her. Soon Marlo, who'd lost all confidence in herself, starts cooking again, and Drew is happy to see the kids aren't eating frozen pizza for dinner anymore. When Marlo actually whips up a pitcher of sangria, Tully says, "See, you are a homemaker."
Tully decides that it's time to deal with a crucial problem in Marlo's marriage—she and Drew no longer have sex. This leads to an eerie scene in which we realize that there's something going on in this movie that hasn't dawned on us yet. Then Tully calls for a road trip: she and Marlo will drive in to Brooklyn to visit some of Marlo's old haunts in younger, happier times. This sounds like a dangerous idea even as it's being proposed.
I'll say no more.
Tully has already drawn objections for its treatment of postpartum depression. Writing at the Website Motherly, midwife Diana Spalding says that what Marlo actually seems to be suffering from is postpartum psychosis—a much more serious affliction. She says the filmmakers "seem not to have consulted with a therapist to ensure that the topic was handled appropriately," and that "in not addressing the fact that Marlo has a postpartum psychosis, the rampant problem of maternal mental health concerns is perpetuated."
Surely it would be good if more people could be made aware of this problem. But is it the duty of movies to do so? If Tully hadn't been made, would we even be talking about it?