Anti-Sex Work Crusaders Now Coming for Legal Prostitution in Nevada
"Of course the voices of actual sex workers are nowhere to be found," says brothel worker and PhD student Christina Parreira.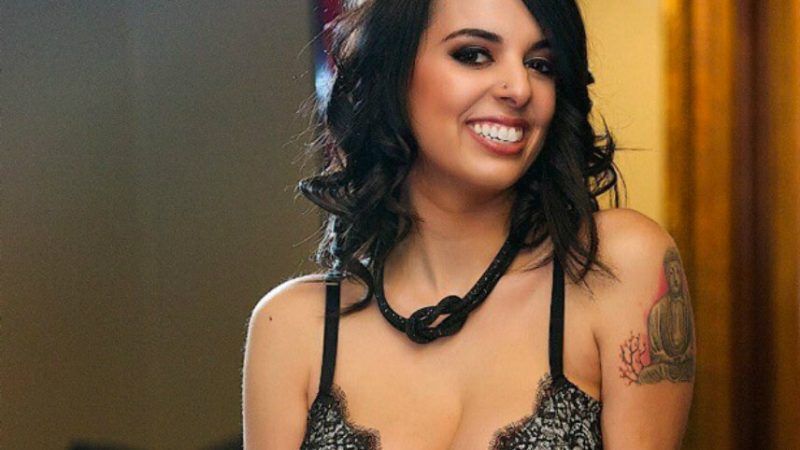 (Christina Parreira photo via BunnyRanch.com)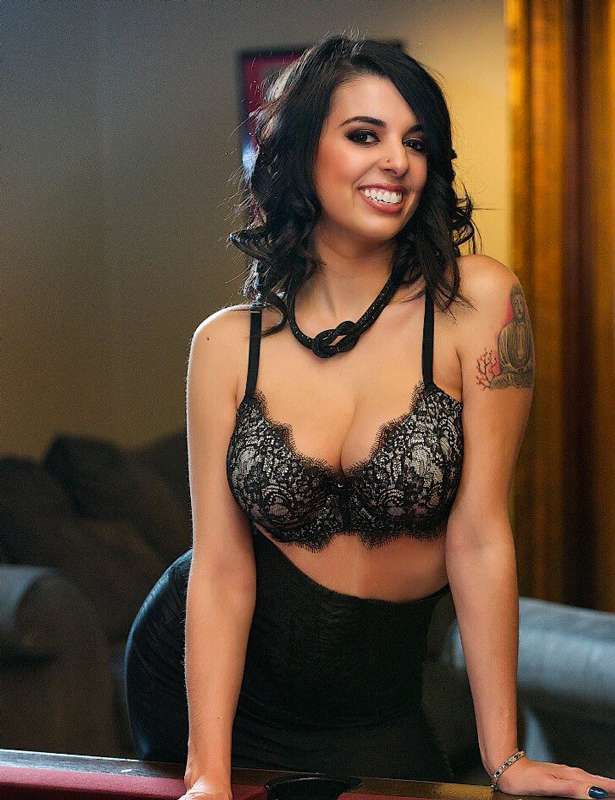 Throughout the United States there are only a handful of counties—all in Nevada—where prostitution is legal in licensed brothels. Now crusaders in two of these counties are trying to change this, with a campaign to put a brothel ban on the ballot this November.
There are currently around 22 active, legal brothels in Nevada, dispersed among seven counties. Anti-prostitution activists are targeting brothels in Lyon County—home to the Moonlite Bunny Ranch, The Love Ranch, the Sagebrush Ranch, and the Kit Kat Guest Ranch—and Nye County. Nye is headquarters to five legal brothels, including three owned by Dennis Hof, who is currently challenging state Assemblyman James Oscarson in the Republican primary.
"Prostitution is not going away, and you either put it in the hands of the professionals like liquor, marijuana and gaming, or you have it in the hands of the criminals," Hof tells The Nevada Independent, noting that his businesses are the largest single source of tax revenue for the county.
But in early April, four Lyon County residents filed a brothel-banning petition with local authorities. It needs 3,350 signatures by June 15th to move forward. If that happens, the Lyon County Commission will vote on the ban and, if it fails to pass the county commission, it will be posed to Lyon County voters at large on fall ballots.
The petition in Nye needs just 1,963 signatures to get on a November ballot initiative.
Both the Nye petitioners and those in Lyon County are working with lawyer Jason Guinasso and activist Kimberly Mull of the "No Little Girl" campaign, funded through something called the End Trafficking and Prostitution Political Action Committee. Guinasso, a resident of Reno, has been practicing law in Nevada since 2003 and made a failed bid for the state assembly in 2016. He has said that similar anti-brothel campaigns could be coming in Nevada's Lander and Storey counties.
No Little Girl asserts that all paid sex constitutes violence against women. The women working at Nevada's brothels tend to disagree.
On the No Little Girl website, "they grossly proclaim that 'no little girl grows up wanting to be a prostitute,'" Christina Parreira, a sex worker and Ph.D student, tells me in an email. "Of course the voices of actual sex workers are nowhere to be found."
Dear friends,

Sex work has always been controversial- even when it's legalized. Now this man would seek to take away my place of business.

If you support me- please, go leave a comment on his twitter stating why you support the Nevada brothels.

Love you guys https://t.co/ztuNiByM1E

— Alice Little (@TheAliceLittle) April 11, 2018
Since Lyon County officially legalized brothels four decades ago, it's "proven to be a time-tested and remarkably successful social experiment," writes Parreira on the Bunny Ranch blog. The groups cites studies of brothel ills that have been debunked or have "nothing to do with legal prostitution," she adds. And "the handful of individuals that submitted the petition represent faith-based organizations" who seem more interested in a pushing their specific sexual mores on others than in looking out for the safety of women who choose to work in Nevada brothels.
"As a licensed prostitute and PhD student at the University of Nevada, Las Vegas, I can tell you that what I want is to continue to have the freedom to choose to work in a safe environment, where I can practice a trade that I love, lawfully and prosperously," continues Parreira. "Sex work is definitely not my last resort or my only option—it is my choice. I'd like to continue to have the opportunity to make that choice legally."
Nova Sky, who works at Lyon County's Kit Kat Ranch, tells KTVN.com that the anti-brothel group is "framing this as a question of the safety of women, but we're very safe."
"We don't have any of those fears that someone working on the streets would have," Amelia Heart, another Kit Kat Ranch worker, tells the TV station.
We couldn't agree more. That's why it's called trafficking, also known as slavery and coercion.

These things stand in stark contrast to the voluntary use of one's mental and physical labor in providing services for others, also known as "working" and "earning a living." https://t.co/illg09da7r

— Amelia Heart (@AmeliaHeartXO) April 11, 2018
Ruby Rae started working in one of Hof's brothels seven years ago, when she was 20. "Since starting my career as a legal prostitute in Nevada, I can truthfully say it was one of the best decisions I have made," she writes in The Nevada Independent. Some clients have become "good friends," and Rae has been able to pay her way through college while also helping care for her grandfather with dementia. She is currently pursing a master's degree.
"When I heard about the petition that is being started by No Little Girl to put an end to the Lyon County brothels, I was angry, saddened and confused," writes Rae. "Not only is this group trying to take away my livelihood, success and freedom, but also they are trying to take that away from the hundreds of women I work with and the hundreds of staff that these four brothels employ."
Shutting down the brothels "would be a huge step back for me personally in terms of my career," Alice Little, who works at the Moonlite Bunny Ranch, tells a local ABC affiliate. Sex workers, she says, "are going to fight tooth and nail" against this.