Black Gun Owner Will Give Birth in Prison After Trying to Protect 2-Year-Old Daughter from Assailant
Siwatu-Salama Ra used a legally purchased firearm to protect her family. She was sentenced to 2 years in prison.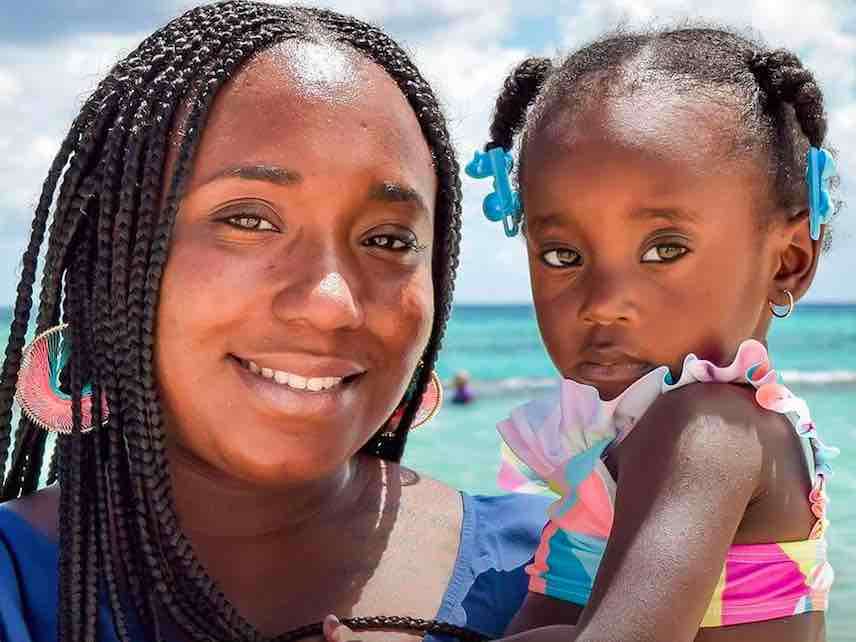 Siwatu-Salama Ra is a 26-year-old black mother who watched in horror as an angry assailant—a neighbor with whom Ra had a dispute—deliberately crashed her vehicle into Ra's car while Ra's two-year-old daughter was playing inside. Ra removed her unloaded, legally purchased handgun from the glove box and brandished it, scaring the neighbor off.
The assailant, Channel Harvey, was never charged. Ra was arrested for felonious assault. She is now serving a mandatory two-year-sentence, even though Michigan is a Stand Your Ground state and Ra was clearly defending her family on her own property.
Ra is pregnant, and she is expected to give birth in prison.
The Detroit Metro Times, The Root, and Democracy Now! have all reported on the overwhelming criminal justice failures on display here. The jury in Ra's trial evidently ended deliberations early in order to wrap the case up before a major snowstorm hit—and that's not even the craziest thing about this case. The Detroit Police Department apparently treated Harvey as the victim, even though she rammed Ra's car, for the sole reason that Harvey beat Ra to the station and filed a police report first.
According to Ra's attorney, Victoria Burton-Harris, Ra and Harvey's nieces attended school together. These two girls had a disagreement; Ra contends that Harvey's niece beat up Ra's niece at school. On that basis, Ra decided that Harvey's niece wasn't welcome at the Ra household anymore. Harvey brought her over anyway. As Burton-Harris told Democracy Now!:
Siwatu called her sister herself and found out from her sister that there was no permission given for this young lady to be at the family home that day visiting, and therefore Siwatu informed the young lady that she needed to call her mother to come back and pick her up….

And so, the mother arrived about 10 minutes later to pick the child up. She was very upset, irate even. She pulled back up to Siwatu's family's home. She started yelling, using profanity. She was very angry. She started demanding answers. "Why can't my child be here? These girls have made up. Your niece has come to my home over the last two weeks. I don't understand." And she testified at trial that she thought she had a right to be on that property and to demand answers as to why her child was not welcome there. And that's where this incident started.
Harvey refused to leave, according to Burton-Harris, and eventually drove her car into Ra's, which was parked on the street with Ra's two-year-old daughter inside it.
At this point, Ra feared for her child's safety—and also the safety of her own mother, who was on the front porch. Harvey continued to move her car forward and backward in an aggressive manner. Finally, Ra retrieved her handgun and brandished it at Harvey. Harvey then used her cell phone to take a picture of Ra holding the gun and raced off to the police station, where she filed a police report.
Ra also filed a report, but Detroit police consider the first person to file a report to be the victim in a dispute. The Detroit Police Department has not responded to Reason's request for comment, but according to the Detroit Metro Times, multiple police detectives confirmed that this policy exists, including at the trial.
Again, Michigan residents enjoy the legal right to use a firearm to defend themselves and their property. But since Harvey complained first, investigators didn't give proper weight to Ra's side of the story. Bafflingly, the authorities decided that Ra wasn't engaged in self-defense at all but was instead engaged in the commission of a crime. She was charged with two counts of felony assault: one against Harvey, and one against Harvey's daughter, who was in Harvey's car.
Ra was arguably denied the right to a fair trial as well:
The jury was told the trial would likely only last two days, but it didn't begin deliberations until midway through Thursday—the fourth day. The forecast called for a blizzard on Friday, and the judge told the jury that it would return to court regardless of the weather if it didn't arrive at a decision. (It's worth noting that the court did close on Friday.)

Burton-Harris adds that the jury wasn't aware that Ra would receive a two-year prison sentence were she found guilty of any of the felony firearm charges because juries aren't informed of mandatory sentences.

When the jury began deliberations with the snowstorm looming, it could be heard hotly debating the case from the jury room, Burton-Harris says. Still, it quickly came to a decision—guilty on one charge of felonious assault against Harvey, acquittal on a second felonious assault charge against Harvey's daughter, and guilty on the felony firearm possession charge.
This decision obviously makes no sense. How could a jury conclude that Ra's self-defense explanation was sufficient to dismiss the charge of assaulting Harvey's daughter, but insufficient to dismiss the charge of assaulting Harvey herself? A jury looking forward to a three-day weekend was apparently disinclined to consider this contradiction.
Michigan's mandatory minimum sentencing guidelines require a two-year sentence, which means that Ra will have to give birth in jail. Her attorneys asked the court to delay her sentence until after the pregnancy was over, but this request was denied.
The Sierra Club and Black Lives Matter have expressed serious concerns about how this case was handled. Given that it involves a legal gun owner protecting her family and her property, it would be nice to see the National Rifle Association speak up as well. Ra doesn't belong in prison for any length of time, let alone the next two years of her young children's lives.