Rapid Rise in Same-Sex Marriage Support Since 2013 Cuts Across Age, Race, Religious Lines: Reason Roundup
Plus: Google's office culture is a factious mess and the checking in on the "gig economy."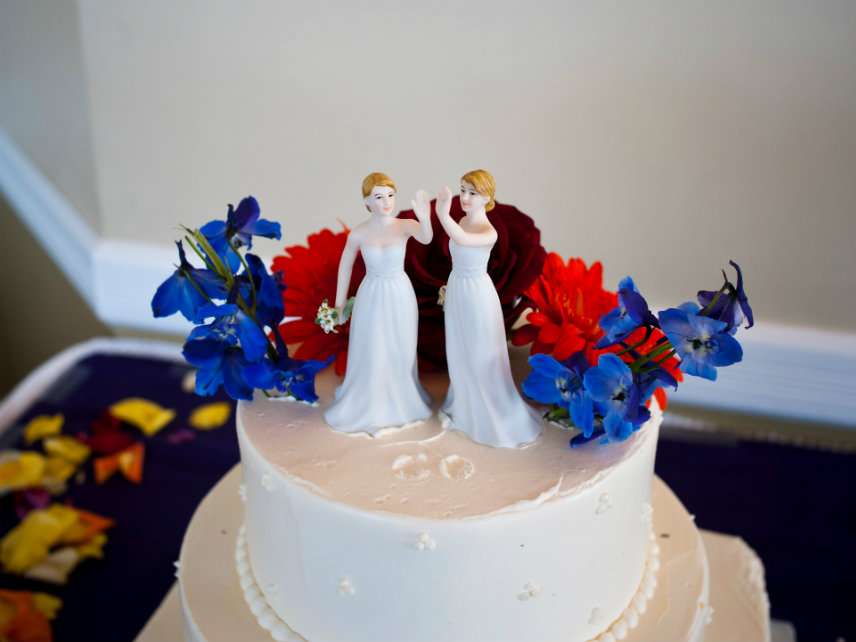 Majorities of most U.S. groups now support same-sex marriage. Sixty-one percent of Americans now favor the legalization of same-sex marriage, according to new research from the Public Religion Research Institute (PRRI). Five years ago, the number was just a tad over 50 percent. The U.S. has seen a "sea change in support for LGBT rights that now crosses lines of race, ethnicity, religion and geography," said PRRI Research Director Dan Cox.
The new poll—conducted over eight months in 2017, with more than 40,000 participants—found that same-sex marriage support had risen across political, racial, and religious groups, including some for which this was still a minority position in 2013. For instance, support among blacks rose from 41 percent in 2013 to 52 percent last year, with the largest shift occuring among black Protestants.
Support rose twice as much among American seniors over the past five years as it did among young adults, though support among the younger generations was much higher to begin with. In 2013, 72 percent of 18- to 29-year-olds surveyed said the favored the legalization of same-sex marriage; in last year's survey, it was 77 percent. Meanwhile, nearly half (47 percent) of the 65+ cohort surveyed last year favored same-sex marraige, up from 36 percent in 2013.
A few other key takeaways:
A slight majority of Republicans still opposed same-sex marriage (51 percent) in 2017, as did more than a quarter of Democrats (27 percent).
Most religious groups in the U.S. now support same-sex marriage, including 97 percent of Unitarians, 80 percent of Buddhists, 80 percent of the religiously unaffiliated, 77 percent of Jewish people, 75 percent of Hindus, 67 percent of white mainline Protestants, 66 percent of white Catholics, 66 percent of Orthodox Christians, 65 percent of Hispanic Catholics, and 51 percent of Muslims.
That puts support for same-sex marriage higher among American Muslims than among Republicans.
Google's intra-office culture is a mess, says a new exposé from The Wall Street Journal. At the company's Sillicon Valley headquarters, "fractious groups of employees have turned the workplace into a virtual war zone of debate over all manner of social and political beliefs," reporters Kirsten Grind and Douglas MacMillan write:
Google has long promoted a work culture that is more like a college campus—where loud debates and doctrinaire stances are commonplace—and today its parent, Alphabet…is increasingly struggling to keep things under control.

"Activists at Google" helped organize a rally critical of President Donald Trump's policies. "Militia at Google" members discussed their desire to overturn a prohibition on guns in the office. "Conservatives at Google" allege discrimination against right-leaning job candidates. "Sex Positive at Google" group members are concerned that explicit content is being unfairly removed from Google Drive file-sharing software.

"Googlers For Animals" invited the PETA president, only to be undercut by members of the "Black Googler Network."
Now, "Google executives are preparing to issue a new set of guidelines around what can and can't be said on internal forums," the Journal reports, "as the internal political battles have begun to seep out into public view and even threaten to affect Google's business," including one recent bid for a contract to help the U.S. Department of Defense with drone intelligence.
"Growth in the gig economy has been fairly robust," reports Kevin Drum at Mother Jones. "But it's starting from a pretty low base. It's still not a very big factor in the overall economy."
Drum has been casting skepticism on the idea that the so-called "gig economy" (your Uber drivers and so on) is "exploding," pointing out that the percentage of people in part-time work has been relatively steady from 1996 to 2018.
But states are still wary of new companies and business models, and battles over the rules and regulations that apply to them continue going strong. A unanimous Monday decision from the California Supreme Court made it harder "for employers to classify their workers as independent contractors," notes the Los Angeles Times. The ruling not only has "implications for the growing gig economy…and other app-driven services," the paper says, but "could extend to nearly every employment sector."
Related:
Pakistan's Gig Economy Helps Smash Obstacles To Women Workinghttps://t.co/ae7Zsbmjpx

— Feminists for Liberty (@FeministLiberty) May 1, 2018