Congress Wants to Add a Popular Fitness Drug to the List of Controlled Substances
Officials should be thinking about harm reduction, not criminalization.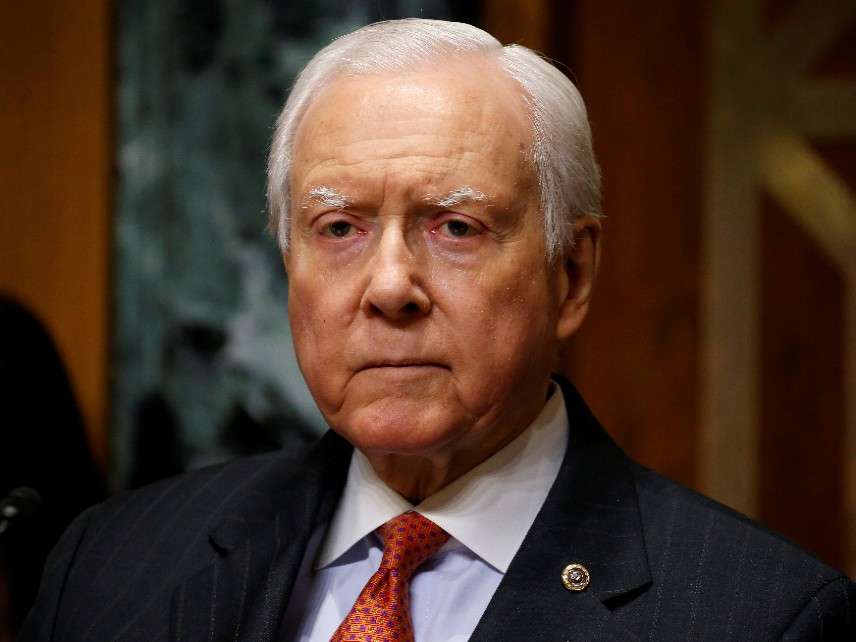 If an athlete was suspended in the last year (or so) for using a performance-enhancing drug that wasn't a testosterone-based steroid, it was probably because they tested positive for a SARM. SARMs—"selective androgen receptor modulators"—have been around for years; they're popular because they work and because they aren't regulated. But that last part may be about to change.
Sens. Orrin Hatch (R-Utah) and Sheldon Whitehouse (D–R.I.) introduced legislation last week that would criminalize the entire SARM class of compounds. The SARMs Control Act of 2018 would place the drugs in schedule III under the Controlled Substances Act, alongside testosterone and substances intended to cause muscle growth.
Drugs in schedule III are legal to prescribe if they've been approved by the Food and Drug Administration (FDA); without a prescription, they are illegal to possess, buy, or sell. Since SARMs have not been approved by the FDA, and likely won't be for years (if ever), the Hatch-Whitehouse bill will make them illegal in nearly every context.
In a statement released late last week, Hatch declared that SARMs "pose the same safety risks as anabolic steroids." That's a remarkable claim, considering that we don't actually know these substances' safety profile. There are no extensive human trials for any of them. Maybe they have the same long-term effects of steroids (which are themselves overblown), but right now it's impossible to say for sure.
Here's what we do know: Enobosarm, one of the most popular SARMs, holds promise as a treatment for muscle wasting, which is a symptom of more than a dozen serious diseases ranging from HIV to cancer. RAD140, another popular SARM, may protect brain tissue from degeneration much the way testosterone appears to. Along with several other compounds, both Enobosarm and RAD140 are designed to offer the tissue regeneration benefits of testosterone without the latter's pesky effect on secondary sexual characteristics. This is why pharmaceutical researchers began working on SARMs in the first place. A drug that could deliver testosterone's anabolic effects (muscle growth, increase in red blood cell count) without the androgenic effects (facial hair, acne, thickening of the vocal cords) would be quite useful for female and pediatric patients, not to mention male patients with an elevated risk of prostate cancer (testosterone makes everything grow faster, including tumors).
You won't learn any of that from Hatch, because discussing drugs in a nuanced way generally undermines the argument for banning them. But you should be able to learn all of this from the Food and Drug Administration, which has thus far declined to respond to the rise of research chemicals in a way that educates consumers. That's a shame, considering the wealth of misinformation about SARMs.
These drugs are often marketed as a side-effect-free alternative to pharmaceutical testosterone, which is almost certainly not true. One study of the SARM LGD-4033 found that while it increased lean body mass compared to a placebo, it also greatly reduced endogenous testosterone production. In other words, it made men's balls stop working. This was with doses as small as 0.1 mg, while the largest dose used in the study was 1 mg. Yet the LGD-4033 available online—if it is in fact LGD-4033—is dosed anywhere from 3 to 5 mg per serving, which is more than necessary and likely to produce even greater negative effects.
The anecdotal reports I've read from SARM users confirm that most formulations cause suppression of testosterone production in men, which is a trait the drugs share with anabolic steroids. That doesn't necessarily make them dangerous. Rather than tell people, "Don't do this thing you clearly intend to do regardless of what we say," the FDA could try, you know, educating. Aggregate the information that studies have found, emphasize the low dosages used therein, and discourage consumers from taking more than the available evidence suggests is necessary. The agency could also discuss potential side effects, and when to seek treatment. Crazy, I know!
The Hatch-Whitehouse approach—criminalizing everything that looks remotely like a steroid—will not discourage a certain type of consumer from buying gains in a bottle. Criminalizing anabolic steroids in the 1990s didn't do that, nor did criminalizing prohormones in the 2000s. In fact, the most significant consequence of banning drugs we understand really well—like testosterone, which was first synthesized nearly a century ago—is that research chemists are now constantly looking for new substances that aren't yet illegal, but also aren't all that well understood. In other words, Congress created the SARMs "problem" by banning the thing that was popular before SARMs. If Hatch's bill becomes law, we'll know even less about the long-term consequences of whatever drug class comes next.