Shocker! American Steel Prices Spiked in April.
Hmm, I wonder why....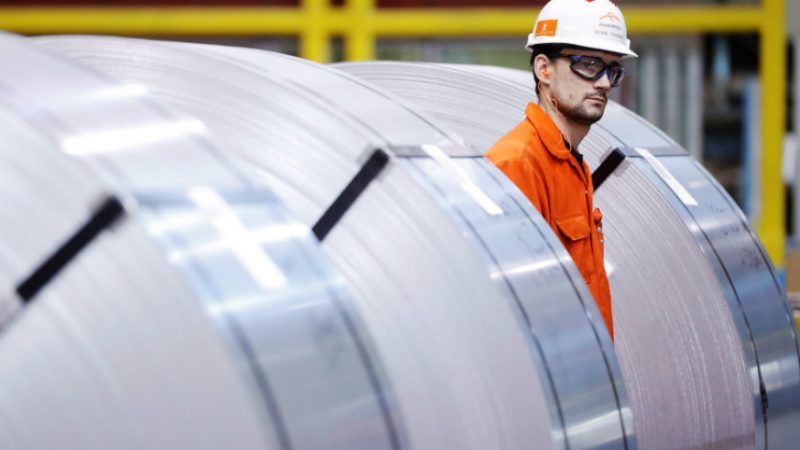 (MARK BLINCH/REUTERS/Newscom)
In the days and weeks after President Donald Trump slapped 25 percent tariffs on imported steel and aluminum, it was widely reported that American steel-consuming companies were bracing for higher prices. Some said they were already seeing those higher prices reflected in contracts to purchase steel from suppliers, but no one was sure how significant those price increases would turn out to be.
Now, a little more than six weeks since the tariff announcement, we have a better picture of the consequences of Trump's trade policy. It looks like this: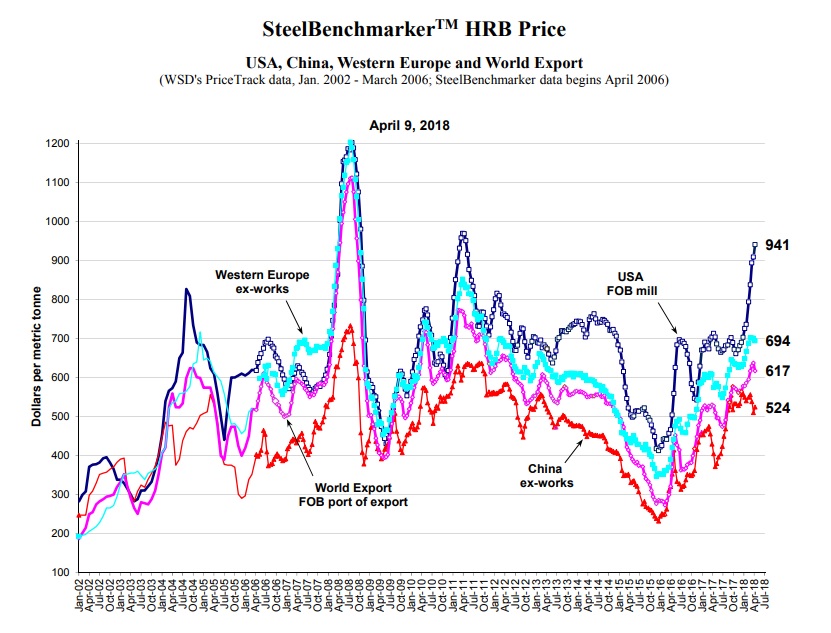 This chart—published by SteelBenchmarker, a firm that tracks the price of the commodity across different markets—shows the average price (in dollars per metric tonne) of hot-rolled band (HRB), one of the most commonly used types of steel. The dark blue line represents the United States' average price, while the light blue represents the price of steel produced in Western Europe, the red line represents China, and the pink line shows what SteelBenchmarker refers to as the "World Export" market: steel produced in other places, including Japan and South Korea.
The chart is notable because it shows how American-made steel has fluctuated in price relative to foreign-made alternative supplies. It's pretty plain that American steel historically has been a bit more expensive than steel made anywhere else in the world, but also that the price of American steel typically follows the same ebbs and flows as other markets. That's because steel is a globally traded commodity and price fluctuations in one place are going to affect pretty much everyone equally.
Until the last few weeks. American HRB steel has skyrocketed in price while steel made in other markets has experienced only a slight uptick.
The same is true for cold rolled coil (CRC), another common form of raw steel. According to SteelBenchmarkers, American CRC steel has seen a dramatic increase in recent weeks and is now priced more than 50 percent higher than Chinese or European options: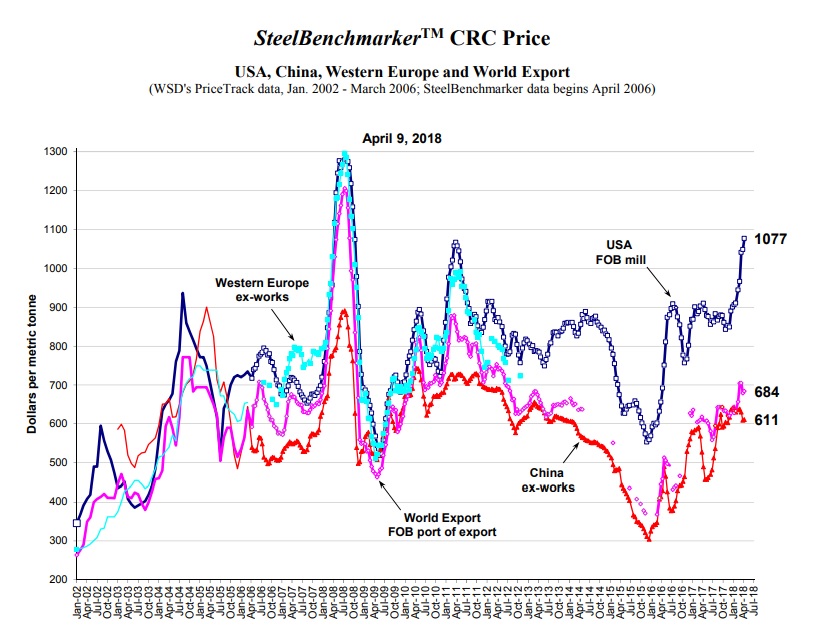 Is this good news for American steel manufacturers? Well, they are now able to charge higher prices for their product. But steelmaking is a relatively small part of the American economy. According to 2015 Census data, steel mills employed about 140,000 Americans and added about $36 billion to the economy that year, but steel-consuming industries employed more than 6.5 million Americans and added $1 trillion to the economy.
As a result, a large sector of the American economy—businesses that consume steel to make everything from beer kegs to automobiles—are stuck with a difficult choice. Buy cheaper foreign steel and pay 25 percent import taxes to the federal government, or turn to American suppliers and get stuck with a significantly higher purchase price.
"We see hot rolled steel up on average 30 percent on foreign and domestic pricing. No one is leaving prices 30 percent below an artificial market price," says Mike Schmitt, CEO of The Metalworking Group, an Ohio-based parts manufacturer.
Schmitt says he's also worried about American steel producers being able to keep up with demand. One large order from a domestic mill has been delayed several times already. "We don't even have a firm date," he says, "but it will be at least 6 weeks late."
It's not easy to bring additional steel production facilities online, so increasing supply (to reduce prices, or at least to ensure everyone is getting the steel they need) is not a immediately available remedy.
It's also worth noting that Trump's steel tariff applies only to steel in a raw or unprocessed form. American businesses that turn raw steel into, say, steel wheels for use on trucks and RVs have to pay higher prices for their supplies, but a foreign competitor that makes steel wheels and ships them to the United States does not. A trade policy that was intended to protect some American businesses from foreign competition ends up giving other foreign businesses a huge advantage over American ones.
That's exactly what's happened to Americana Development, Inc., which employs about 400 people in three states making steel wheels for trucks, RVs, garden equipment, and the like. Jeffrey Pizzola, the company's COO, tells Bloomberg that his company is paying 25 percent more for steel, something that creates "an unfair price advantage for Chinese companies that sell finished steel wheels" into the United States. Unless something changes, Pizzola warns that his company will have to reduce staffing or production.
They likely won't be alone. A projection released by the Trade Partnership, a Washington-based pro-trade think tank, says Trump's steel and aluminum tariffs will cause 146,000 net job losses—five jobs lost for every job gained. Even protectionist think tanks like the Coalition for a Prosperous America project a net decline in American jobs as a result of tariffs. The only point of disagreement seems to be how bad things will get.
Tariffs don't merely misalign economic incentives. They screw with political incentives too. Faced with what it sees as "unfair price competition" from China as a result of American tariffs, Americana Development is one of several companies now petitioning the U.S. Trade Representative to impose more tariffs on imported goods.
"All we're asking is that the table be leveled and the field balanced so the competition is fair," Pizzola tells Bloomberg.
There is an economic cost to protectionism, and it is spelled out plainly in the price of hot-rolled steel. The moral cost is more difficult to calculate.