FDA Investigation of Adolescent Juuling Could Endanger Adult Smokers
What if the e-cigarette features that appeal to teenagers also appeal to grownups?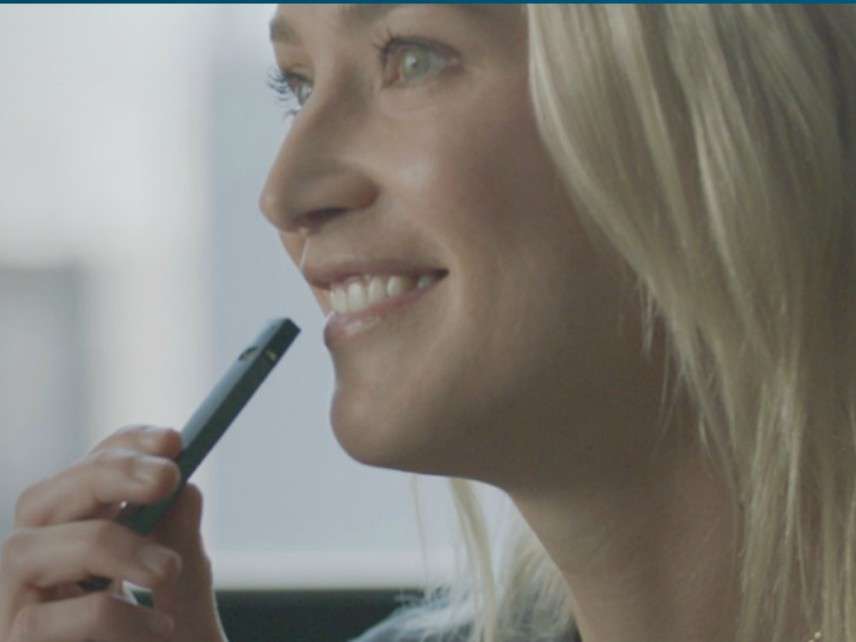 Juul, a discreet, streamlined e-cigarette developed by the innovative vaporizer company Pax Labs, is pretty cool. That's a problem for Juul Labs, which spun off from from Pax last year, because teenagers like cool things. Yesterday the Food and Drug Administration, responding to anecdotal reports of students who juul during school, announced that it is investigating whether the company is marketing its products to minors.
New York Times reporter Kate Zernike already seems to have made up her mind. She says the FDA wants to "get manufacturers to stop marketing e-cigarettes to young people," which implies that manufacturers are in fact doing that.
With respect to Juul, that charge seems pretty implausible. The company's website, which asks visitors to affirm that they are at least 21 (the minimum purchase age for e-cigarettes in some jurisdictions), emphasizes that the rectangular vaping devices, which resemble elongated flash drives and can be charged via USB ports, are "for smokers…by design," delivering nicotine doses similar to those from conventional cigarettes. "JUUL was created to be a satisfying alternative to cigarettes," the website says. "JUUL was founded by former smokers…with the goal of improving the lives of the one billion adults smokers. We envision a world where fewer people use cigarettes, and where people who smoke cigarettes have the tools to reduce or eliminate their consumption entirely, should they so desire."
Juul is clearly positioning its e-cigarettes as harm-reducing alternatives for grownups who smoke, which the FDA itself has recognized as a potential boon for public health. The models on Juul's website are all in their 20s or older, and so are the consumers featured in the video testimonials. The selling points touted by Juul—"simple," "clean," "satisfying"—are consistent with the market the company says it is trying to reach. There is nothing about Juul's pitch that seems geared to adolescents or even adult nonsmokers. "Our ecommerce platform utilizes unique ID match and age verification technology to make sure minors are not able to access and purchase our products online," Juul says.
Some of the retailers selling Juul vaporizers have been less punctilious. The FDA says it is conducting "a large-scale, undercover nationwide blitz to crack down on the sale of e-cigarettes—specifically JUUL products—to minors at both brick-and-mortar and online retailers." So far the agency has sent 40 warning letters to retailers, including convenience stores across the country, for selling e-cigarettes to customers younger than 18, the minimum age under FDA regulations.
In her Times story, Zernike erroneously reports that the retailers "violated the law preventing sales of vaping devices to anyone under 21." There is no such federal law, although a few states and cities, including California and New York City, have enacted that rule. In most places the minimum purchase age is 18.
FDA Commissioner Scott Gottlieb worries that "e-cigarettes have become wildly popular with kids." Whether that is true depends on your definition of "wildly popular." In 2016, the most recent year for which data from the National Youth Tobacco Survey are available, 11 percent of high school students reported using e-cigarettes during the previous month, down from 16 percent in 2015. Less than 3 percent of high school students use e-cigarettes "frequently," meaning they report use on 20 or more of the previous 30 days.
If e-cigarettes did not exist, teenagers would not be using them. In that sense, companies such as Juul are absolutely responsible for underage vaping. (Then again, teenagers who vape might otherwise be smoking, which would expose them to much bigger hazards.) Juul likewise can fairly be charged with making sleek, convenient electronic gadgets that appeal to teenagers as well as adults. The same goes for the flavors of its e-liquid pods.
"Juul comes in kid-friendly flavors like mango and crème brûlée," Zernike says. But these are also adult-friendly flavors, as demonstrated by surveys in which grownups say they like them and report that flavor variety is an important factor in switching from smoking to vaping. Banning e-liquid flavors in the name of deterring adolescent vaping therefore would endanger adult smokers by making e-cigarettes less appealing to them.
The FDA is asking Juul for "documents related to product marketing; research on the health, toxicological, behavioral or physiologic effects of the products, including youth initiation and use; whether certain product design features, ingredients or specifications appeal to different age groups; and youth-related adverse events and consumer complaints associated with the products." Juul promised to cooperate with the FDA and "continue working with all interested parties to keep our product away from youth." Gottlieb says he is determined to figure out "why kids are finding these products so appealing—and address it."
What if the things that make Juul products appealing to teenagers are the same as the things that make them appealing to adults? No doubt high school students would be less likely to use bad-tasting, ugly, clunky, inconvenient, and inefficient e-cigarettes. But so would adult smokers. Mandating less appealing e-cigarettes means discouraging smokers from making a switch that would dramatically reduce the health risks they face. The FDA should not sacrifice the lives of adult smokers on the altar of child protection.