Man's Joke Video of Dog Giving Nazi Salute Lands Him U.K. Hate Speech Fine
Court feels "menaced" by a pug.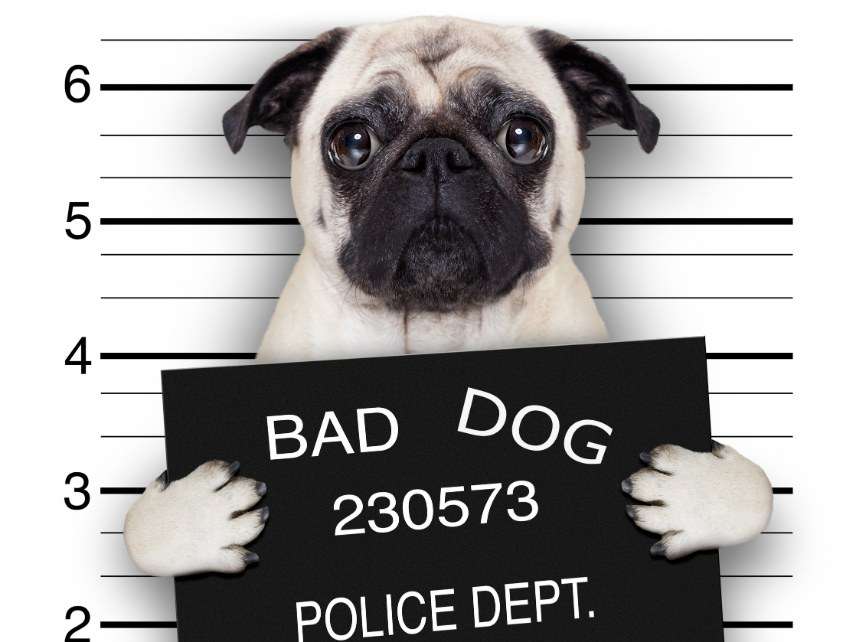 Declaring a joke video of a pug giving a Nazi salute to be "menacing," a court officer in the United Kingdom today fined a man £800 (about $1,100) for violating the country's hate speech laws.
Scottish man Mark Meechan (a.k.a. "Count Dankula") was convicted last month for violating the Communications Act and became an international story over the absurdity of the case. Meechan taught his girlfriend's pug to raise a paw when he said "Sieg Heil," apparently to annoy said girlfriend, and he posted a video of it on YouTube.
Here's how the man sentencing Meechan described the justification for his fine, according to The Guardian:
"You say the video was only intended as a joke to upset your girlfriend, whose dog you used, and nothing more.

"On the whole evidence, including your own, applying the law as made by parliament and interpreted by the most senior courts in this land, I found it proved that the video you posted, using a public communications network, was grossly offensive and contained menacing, antisemitic and racist material."

He added that while the right to freedom of expression was very important, "in all modern democratic countries, the law necessarily places some limits on that right."
Much as with the rap lyrics case that I noted earlier today, there is no evidence in the video that Meechan is trying to stir up prejudice or violence. There is no call to action. There is no threat. It's a joke that offends people with the power to punish Meechan.
Reason's Christian Britschgi noted Meechan's arrest and the absurdity surrounding it last fall. Meechan faced potential jail time for his video, so he at least he avoided that.
Meecham's video has also prompted support, and discussion of humor and free speech. Watch a group of people reacting live to his video below:
Watch @CountDankulaTV's "nazi pug" video shown to a live audience. https://t.co/vIatFTAQHD

— Comedy Unleashed (@UnleashedComedy) April 23, 2018