Republicans Could Face Political Consequences Over Trump's Tariffs
"He's going to be a one-term president, plain and simple."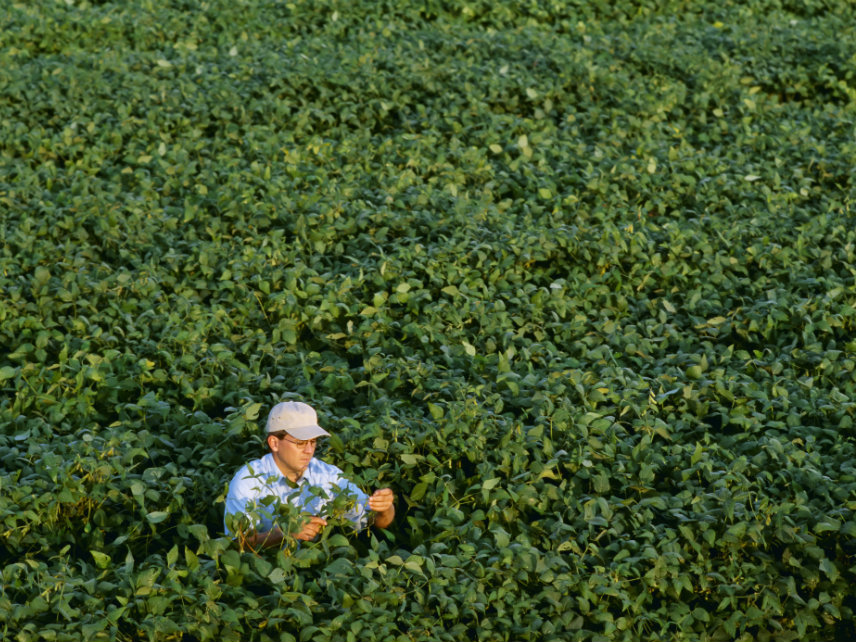 Tariffs have economic consequences, both intended and unintended. They also have political consequences, as Republicans will likely learn in the months ahead.
At the intersection of the economic and political fallout from a potential trade war with China lies the soybean. America is the world's top producer of the crop, and China is the world's largest consumer. China bought more than $14 billion of American-grown soy last year, accounting for 61 percent of total U.S. soybean exports and more than 30 percent of overall U.S. soybean production. In response to President Donald Trump's decision to impose tariffs on more than 1,300 Chinese-made goods last month, China has threatened a 25 percent tariff on soybeans and other American agricultural products.
If soybeans were commonly grown in Brooklyn or San Francisco, Republicans probably wouldn't have to worry about upsetting the people who produce them. But as the GOP tries to keep control of Congress this year, the fact that Iowa, Minnesota, Missouri, and North Dakota are some of the nation's top soybean-producing states is creating some headaches for the party of Trump. Key congressional races across the Midwest could tip the scales in the House, and Republicans are eyeing Democrat-held Senate seats in Missouri and North Dakota to pad a slim 51–49 majority in the upper chamber.
With that in mind, The New York Times has dispatched a reporter to soybean country—specifically to Cass County, North Dakota, the nation's top soybean-producing county—to see what farmers think about Trump's trade skirmishes with China.
"If he doesn't understand what he's doing to the nation by doing what he's doing, he's going to be a one-term president, plain and simple," Robert Runck, a fourth-generation farmer, informs the paper. Runck tells the Times that tariffs would "cost Kevin Cramer some votes" too. Cramer is the Republican congressman who currently represents all of North Dakota, and he's hoping to unseat Sen. Heidi Heitkamp (D–N.D.) in November.
An analysis from the Brookings Institution shows that Trump's tariffs figure to do the most damage to the economies of red states including Iowa, Missouri, Ohio, and Pennsylvania. (Missouri, remember, is hosting a key Senate race this year.)
When it comes to Chinese tariffs on American agricultural products, Brookings found that much of the pain is again concentrated in the Midwest.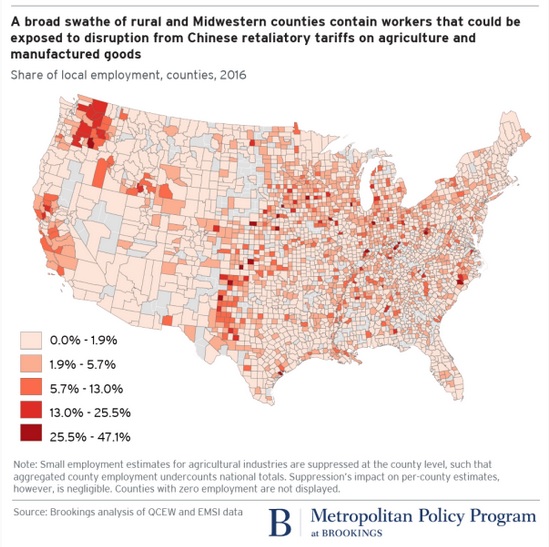 Trump's tariffs are his way of fulfilling a campaign-trail promise to revive American steel plants. But the protectionist policies that might help boost steel mills come at the expense of a much larger group within the president's political coalition. For every steel-producing job in the country, there are about 46 steel-consuming jobs—many of which are now on shakier ground because of the higher costs created by tariffs.
And on the agriculture front, the president "has little to no understanding of the farm coalition," Republican strategist Karl Rove tells the Times.
Trump is New Yorker who ran hotels and casinos, then became a TV star. Nothing about that résumé suggests that he would have a detailed understanding of the concerns of a North Dakota farmer—no, Trump Steaks do not count—or an Ohio machine shop worker. But Trump supporters have never seemed to care that the president isn't like them. Indeed, Trump's unwillingness to make phony attempts at courting rural voters is one of the things that made him stand out during the campaign.
But it's one thing to support a candidate who is nothing like you. It's another to keep supporting him, and his party, when he is actively making your job more difficult or your lifestyle more costly.
Trump won the American heartland in part by promising to end a regulatory war on agricultural and industrial jobs, and he has been following through on that promise. But he now risks replacing one set of oppressive economic policies with another, putting farmers and manufacturers on the front lines of a trade war. The fact that he's not directly responsible for Chinese tariffs on soybeans might not save Trump, or the rest of his party, from the ire of those who suffer the consequences of these myopic trade policies.
It's a political cliché that people vote with their wallets. That may hold true even for a president who smashed so many other traditional notions of how to get elected.