This Could Be the First Cannabis-Derived Drug to Win FDA Approval
Epidiolex shows great promise in relieving two severe forms of epilepsy.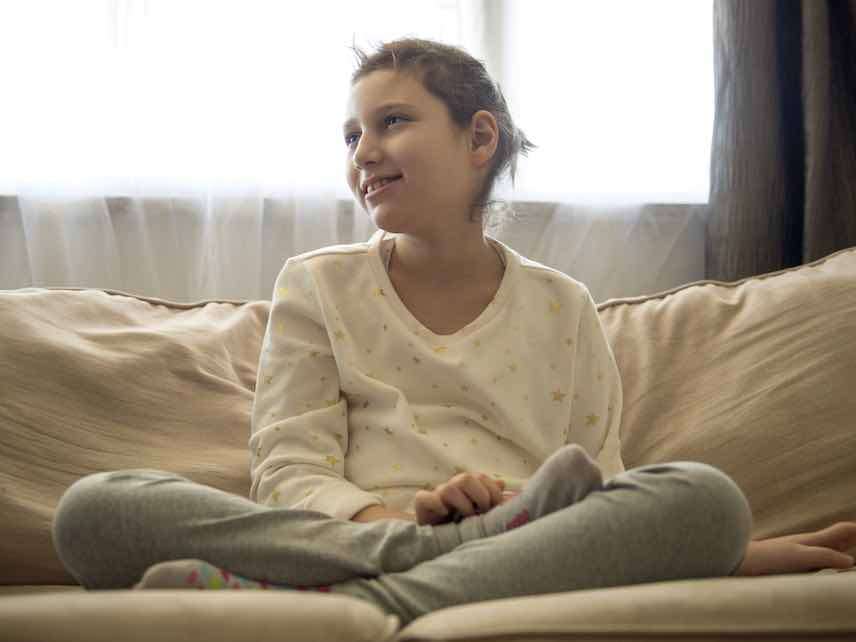 Epidiolex, a cannabidiol drug used to treat rare, severe forms of epilepsy in children, has moved one step closer to approval by the Food and Drug Administration, which could happen as soon as June. If approved, Epidiolex will be the first cannabis-derived drug recognized as a medicine under federal law. The FDA's announcement comes days before an independent, expert panel will vote on its safety.
Because of Epidiolex's success in treating diseases with no alternative treatments, the FDA gave it "priority review" status in December, meaning the agency will review the application for the drug within six months (compared to 10 months under standard review). After the advisory board makes a recommendation to the FDA, the agency has until June 27 to reach a decision.
The FDA staff report to the advisory committee says Epidiolex reduced seizures in a "clinically meaningful and statistically significant" way for patients suffering from Lennox-Gastaut syndrome and Dravet syndrome. The results of those studies provide "substantial evidence" of the drug's efficacy, the report says.
Both Dravet Syndrome and Lennox-Gastaut are difficult to treat, as patients experience several types of seizures and are often resistant to medication. Patients who participated in the studies had taken other medications without adequate relief.
Over two weeks, total seizures among Lennox-Gastaut patients who took Epidolex fell, on average, by 38 percent in one study and 44 percent in the other, while placebo patients experienced a drop of 18.5 percent and 23.5 percent, respectively. About 40 percent of patients in the cannabidiol (CBD) treatment groups saw a 50 percent or greater reduction in "drop seizures"—violent seizures that cause the upper body or full body to go limp, resulting in falls or injuries. Injuries from falling and poorly controlled seizures are cited as risk factors in the premature deaths of Lennox-Gastaut patients.
The author of one Lennox-Gastaut study, Elizabeth Thiele, director of pediatric epilepsy at Massachusetts General Hospital, called Epidolex "life changing" in an interview with The Washington Post. "One child who comes to mind had multiple seizures a day," Thiele said. "She had been on every medication possible. She is now talking about college options. She would have never had that conversation before."
In a Dravet syndrome study, cannabidiol cut the median number of monthly convulsive seizures in half, from 12.4 to 5.9. The median number of seizures in the control group fell only slightly, from of 14.9 to 14.1 per month.
People with Dravet syndrome require constant care because of their frequent seizures, and 15 to 20 percent of them do not reach adulthood, dying at an average age of 8. The FDA has not approved any treatments specifically for Dravet syndrome. Since Epidiolex, made by the British company GW Pharmaceuticals, is not available yet in the United States, many families with children who suffer from Dravet travel to states where they can legally obtain CBD oil.
Although 29 states and the District of Columbia allow medical use of cannabis, the federal government still classifies it as a Schedule I drug, meaning it is not legal for any use. A synthetic version of THC, another compound found in marijuana, has been available by prescription since 1985. But Epidiolex would be the first FDA-approved medicine derived directly from cannabis.
Currently 1,100 epilepsy patients obtain Epidiolex through the FDA's Investigational New Drug program, which lets patients try medications that have not yet received FDA approval. If the FDA approves Epidolex, it would increase medical access and offer families an alternative to CBD oil, which is legal only in some states. It would also spur further research on cannabis-based medicine.
"The important thing for us is that patients like this deserve a pharmaceutical solution," GW Pharmaceuticals Chief Executive Justin Glover told the Post. "They should not be moving across the country. They deserve the right to have access."