Chuck Schumer Wants to Legalize Marijuana: Reason Roundup
Plus: James Comey explains his obsession with locking up Martha Stewart, and Rudy Giuliani finds work.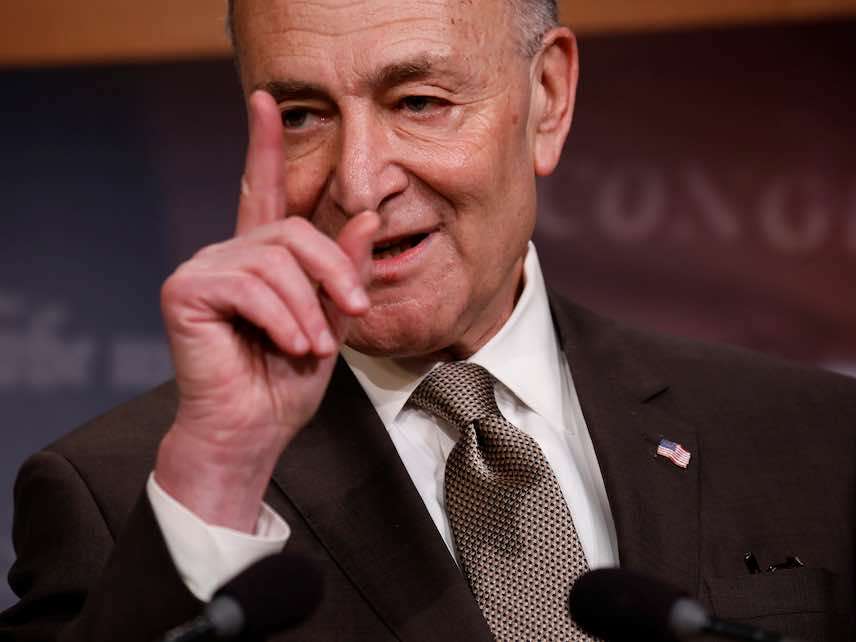 Senate Minority Leader Chuck Schumer (D–N.Y.) came out in support of federal marijuana legalization Thursday night. The top Democrat in the Senate was previously a major opponent of legal weed, but now says, "I've seen too many people's lives ruined by the criminalization."
Schumer made these comments in an interview with Vice that aired on HBO last night. According to a transcript of the interview released ahead of time, he said, "Ultimately, it's the right thing to do. Freedom. If smoking marijuana doesn't hurt anybody else, why shouldn't we allow people to do it and not make it criminal?"
The Hill reports that Schumer plans to introduce a bill that would remove marijuana from the DEA's list of controlled substances, echoing previous legislation that enjoys the backing of several other Democratic senators:
Schumer would not be the first Democratic senator to push for looser federal marijuana policies.

Sen. Cory Booker (D-N.J.) introduced the Marijuana Justice Act in August. That legislation would eliminate marijuana's status as a Schedule 1 drug under the Controlled Substance Act and require federal courts to expunge the records of Americans who have prior marijuana convictions related to use or possession.

Sens. Ron Wyden (D-Ore.), Kirsten Gillibrand (D-N.Y.) and Bernie Sanders(I-Vt.) have all expressed support for the Marijuana Justice Act. A matching bill in the House also has more than 20 cosponsors.
Schumer is not the only major politician to change his mind about marijuana recently. Just last week, former Speaker of the House of Representatives John Boehner declared that "my thinking on cannabis has evolved." Despite being "unalterably opposed" to marijuana legalization in 2011, Boehner has now joined the board of advisors for Acreage Holdings, a cannabis corporation, alongside 2016 Libertarian Party Vice Presidential Candidate William Weld.
Even President Donald Trump has promised to respect the wishes of states that already legalized marijuana, like Colorado. Unfortunately, Attorney General Jeff Sessions remains adamantly opposed to legal weed, which means states might have a hard time trusting the federal government to leave them alone when it comes to pot.
Even so, the fact that former drug hardliners like Boehner and Schumer have suddenly seen the light is good news for supporters of legalization. Some day soon, the federal government might finally get out of the business of punishing pot smokers. Happy 4/20, everybody.
FREE MINDS
Civil liberties organizations are coming to the defense of Randa Jarrar, the Fresno State University professor under investigation for making offensive comments about recently deceased former First Lady Barbara Bush. Fresno officials initially seemed like they would be content to condemn Jarrar's celebration of Bush's death on Twitter, but subsequently announced they would investigate the controversial English professor.
"This was beyond free speech," said Fresno President Joseph Castro. "This was disrespectful."
The ACLU of Northern California, Defending Rights & Dissent, Electronic Frontier Foundation, Foundation for Individual Rights in Education, National Coalition Against Censorship, PEN America, Project Censored, and the Thomas Jefferson Center for the Protection of Free Expression sent a joint letter to Fresno pointing out that disrespectful speech nevertheless enjoys First Amendment protection.
"We remind you that an investigation of constitutionally protected speech can itself violate the First Amendment," wrote the civil liberties groups.
Ben Shapiro, the conservative editor of The Daily Wire whose free speech rights are frequently threatened by illiberal mobs on college campuses, also penned a defense of Jarrar's right to make loathsome statements about Bush. David French, a senior writer for National Review, did so as well.
FREE MARKETS
Former FBI Director James Comey is really proud of how he handled the long-ago Martha Stewart insider trading case. While discussing his new memoir, A Higher Authority, with ABC's George Stephanopoulos, Comey revealed his reasoning for prosecuting Stewart, and how it affected his thinking about public corruption:
And folks don't realize this, but I almost hesitated and almost didn't bring the case against Martha Stewart, in hindsight, because she was rich and famous. And decided that if she were anybody else, any other ordinary person, she would be prosecuted. And what helped me come to that conclusion was I remembered a case I'd been involved in against an African-American minister in Richmond when I was a federal prosecutor there, who had lied to us during an investigation.

And I begged this minister, "Please don't lie to us because if you do, we're going to have to prosecute you." He lied. And at the end of the day, we had to prosecute him. And he went to jail for over a year. And as I stood in my office in Manhattan, I'm looking out at the Brooklyn Bridge, I remember this moment. And I'm thinking, "You know, nobody in New York knows that guy's name except me. Why would I treat Martha Stewart differently than that guy?"

And the reason would only be because she's rich and famous and because I'll be criticized for it. The truth matters in the criminal justice system. And if it's going to matter, we must prosecute people who lie in the middle of an investigation.
But Stewart wasn't brought down for lying to the authorities. Her crime was declaring publicly to the press that she had not committed insider trading. In the October 2003 issue of Reason, contributing editor Michael McMenamin famously argued that Stewart was the victim of an elaborate federal witch hunt. "Her crime is claiming to be innocent of a crime with which she was never charged," he wrote.
QUICK HITS