Thanks, Trump! Los Angeles Finally Legalizing Street Vendors to Protect Poor Immigrants From Crackdowns
A bill in the California senate could legalize street vending across the state.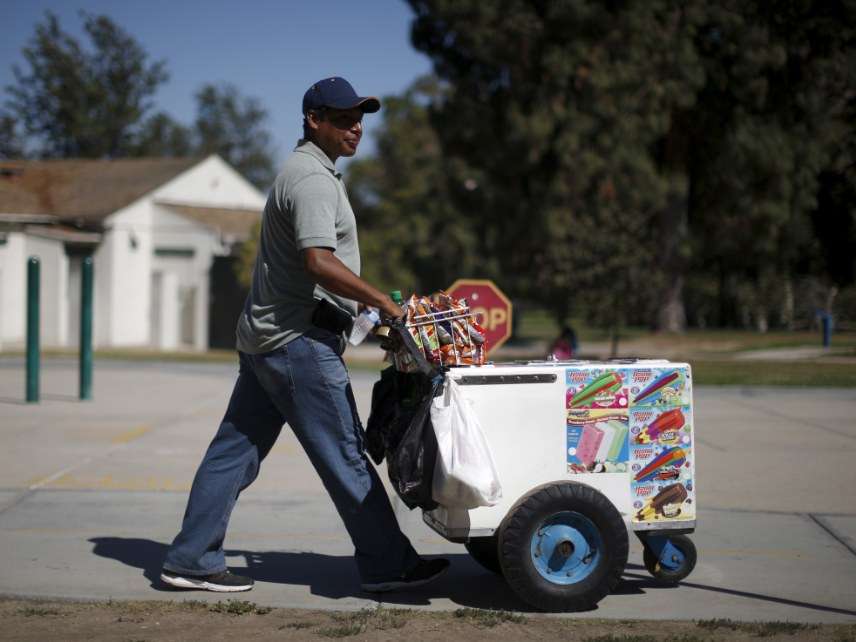 The dude with the elote cart who shows up as school lets out in my Los Angeles neighborhood will soon be able to breathe easier. The city is moving forward and finally, after years of debate, legalizing street vending.
Yesterday, the Los Angeles City Council voted 11-4 to have the city attorney draft a permitting system for street vendors so that they can sell their wares legally. And while this will come with all sorts of regulation (and in all likelihood, overregulation), the city has decided to reject a provision that would give nearby shop owners veto power over where street vendors can peddle their goods.
One street vendor told the council that nearby businesses had used threats to call the police as a way to extort money from her. So the lack of veto power matters. In its place, the city will be implementing an appeals process where businesses can complain about health and safety issues connected to particular vendors.
The ordinance will also restrict the number of street vendors per block and will ban street vending entirely in some busy areas like Hollywood Boulevard and Dodger Stadium. So there may still be some problems when street vendors want to sell where people actually congregate. (The street vendors in my calm residential neighborhood are in no actual danger of being shuttered by police—the residents like them and there are no storefronts nearby competing, so the cops are not getting any complaints.)
At the same time that Los Angeles is finally moving forward with legalizing street vending, there is also legislation winding its way through the State Senate in Sacramento that will legalize street vending throughout California. SB 946 would allow local authorities to license and regulate—but not entirely ban—street vending. The bill would require that persons who violate street vending ordinances face only administrative fines (as opposed to potential jail time) and would require that those fines go into local government treasuries, no doubt inspired by police encounters like this one where a Berkeley police officer shut down an unlicensed hot dog vendor and seized the money out of his wallet. The bill would also allow those convicted of past misdemeanors for sidewalk vending to petition to get those convictions dismissed.
That could be a big deal for the many poor immigrants in the state who are concerned that getting punished or imprisoned for something as harmless as street vending could get them picked up by immigration officials and deported. And that's partly what is pushing all this action forward after years of squabbling. The anti-immigrant nativism of President Donald Trump (he just tweeted something loathsome this morning directed toward sanctuary cities in California) and his administration have helped to turn every arrest by local police into a larger threat of deportment.
We now need to figure out how to get the Trump administration to go after people who violate occupational licensing laws so that the state will start scaling those back as well.
Bonus link: Check out Gustavo Arellano on L.A.'s long war against working class food choices from Reason's August/September 2015 issue.