Gov. Cuomo to Use Pardons to Restore Voting Rights to Some Felons
He faces a reelection challenge from the left, with Cynthia Nixon running on criminal justice issues like pot legalization.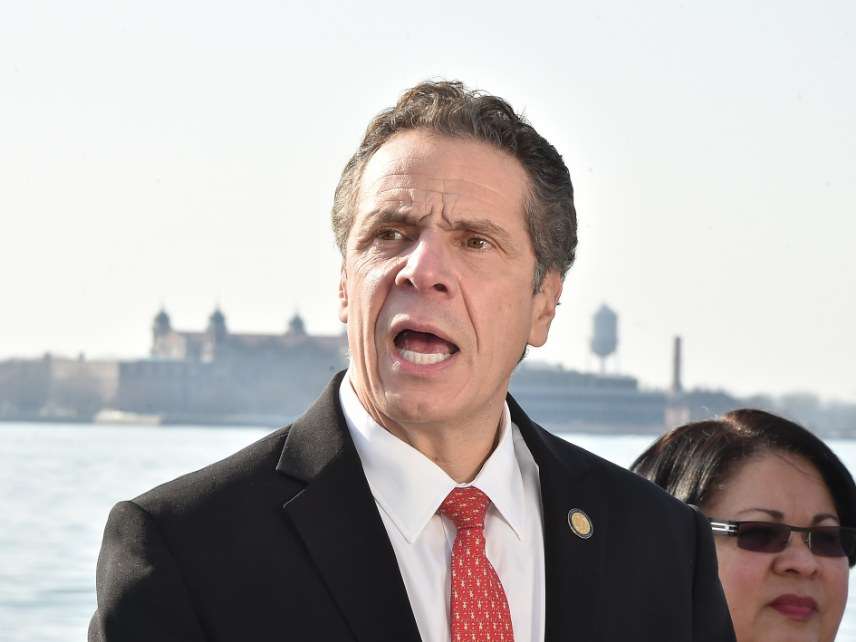 New York Gov. Andrew Cuomo announced today he'll use the power of the pen to bypass a state legislature that has refused to support some of his criminal justice reform efforts.
New York State doesn't restore the voting rights of felons who have been released from prison until they have completed parole. The Democratic governor recently proposed to restore their voting rights earlier, while they're still on parole. The legislature wouldn't bite—it appears all of Cuomo's proposed criminal justice reforms have stalled—so he's taking a different tack: He plans to pardon all 35,000 felons currently on parole in New York so they can get their voting rights restored. And he will continue to sign pardons as felons get released on parole for the remainder of his term. (He reserves the right to not pardon individual parolees if law enforcement representatives express concerns about them.)
The New York Times notes that this doesn't expunge the pardoned felon's record, nor will it restore other rights that have been taken away due to felony imprisonment. Nor is he exactly pioneering new ground: 18 states and the District of Columbia allow parolees to vote.
Using pardons to restore voting rights might sound unusual, but it has also happened in Virginia and Iowa. Democratic Virginia Gov. Terry McAuliffe made a big mess of it in 2016, when he tried to just throw together a blanket pardon of 200,000 released felons rather than pardoning them case-by-case as the law requires.
It's also an election year, and Cuomo is facing a challenge from his left in the form of Sex and the City actor Cynthia Nixon. Nixon is making marijuana legalization, a position Cuomo has been resisting, a central part of her campaign. Cuomo has supported medical marijuana use and decriminalization of small amounts, but not full legalization, even as New York City continues to arrest thousands of people annually for pot possession.