CUNY's Law Dean Is Wrong About the Attempted Shutdown of Josh Blackman
The student handbook makes it clear that students broke university policy.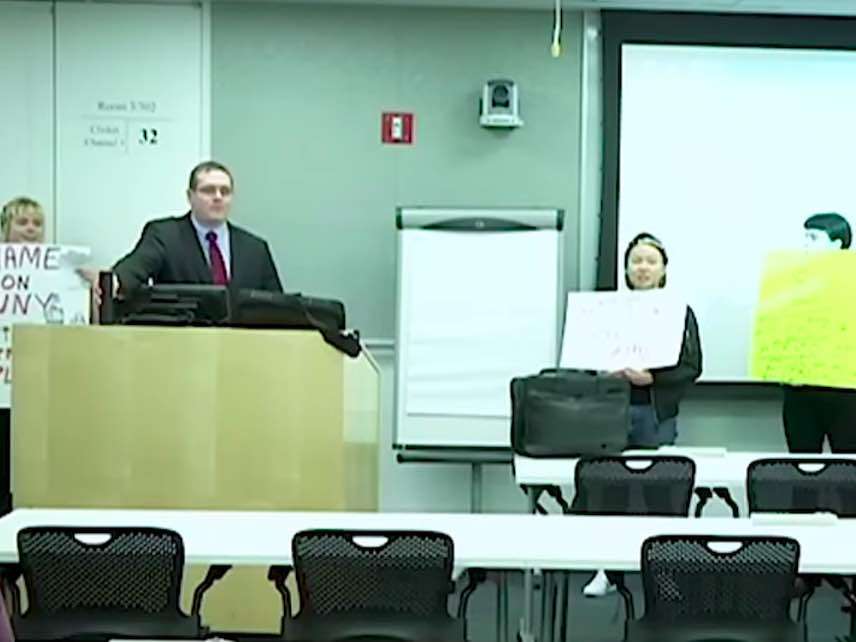 CUNY School of Law Dean Mary Lu Bilek called the recent student-led protest against conservative law professor Josh Blackman "limited and reasonable" and maintained that it did not violate university policy.
The dean is dead wrong. She's wrong about the protest, and she's wrong about university policy.
As I reported last week, Blackman—an associate professor at the South Texas College of Law—was attempting to speak to students at CUNY when a group of activists crashed the event, surrounded him, and heckled. They accused Blackman of a litany of unfounded crimes, labeling him a white supremacist, a racist, and an oppressor. The professor's controversial opinion is that he believes President Donald Trump was correct to end the Deferred Action on Childhood Arrivals (DACA) program, which permitted some illegal immigrants to remain in the country without fear of deportation. Blackman believes that DACA was enacted in a way that violated the rule of law, though he supports the DREAM Act, which would install a similar system in a different way.
The student-activists made it impossible for Blackman to speak for about eight minutes, and after that they left. Bilek told Inside Higher Ed that since Blackman was only disrupted for the first 10 minutes of a 70-minute speech, his rights were not violated:
"For the first eight minutes of the 70-minute event, the protesting students voiced their disagreements. The speaker engaged with them. The protesting students then filed out of the room, and the event proceeded to its conclusion without incident," Bilek said.

"This non-violent, limited protest was a reasonable exercise of protected free speech, and it did not violate any university policy," she added. "CUNY Law students are encouraged to develop their own perspectives on the law in order to be prepared to confront our most difficult legal and social issues as lawyers promoting the values of fairness, justice, and equality."
As The Volokh Conspiracy's David Bernstein points out elsewhere on this site, the dean is wrong—the students' behavior clearly violates university policy:
Let's take a look at page 85 of the law school's student handbook: "II. Rules of the university (1-11) and law school (12). 1. A member of the academic community shall not intentionally obstruct and/or forcibly prevent others from the exercise of their rights. Nor shall she/he interfere with the institution's educational process or facilities, or the rights of those who wish to avail themselves of any of the institution's instructional, personal, administrative, recreational, and community services." Also this: "5. Each member of the academic community or an invited guest has the right to advocate his position without having to fear abuse—physical, verbal, or otherwise from others supporting conflicting points of view." The disruption didn't violate any university policy, Dean Bilek? Have your read the student handbook?
Bilek also failed to note a key detail: The protest came to an abrupt end only because a university administrator stood up and said, in no uncertain terms, "You may not keep anyone from speaking. If you do, I have other things to do, I will be back. Or you can resolve this yourselves. Or you can have me resolve it." This provides more evidence for my thesis: When students, administrators, and professors stand up to hecklers and implore them to be quiet, an event can be saved.