RIP Miloš Forman, a True Hollywood Anti-Authoritarian
From One Flew Over the Cuckoo's Nest to Black Peter, the Czech-born Oscar-winner championed eccentric individuals and artists over small-minded bureaucrats and a stifling state.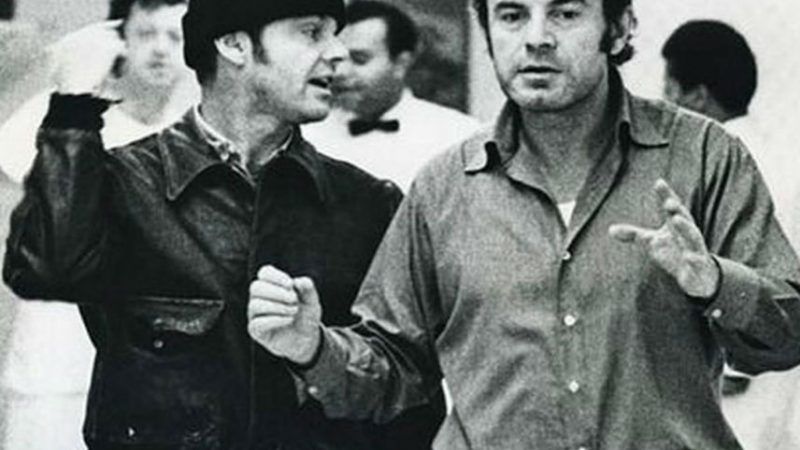 Miloš Forman, one of the great anti-authoritarian directors in film history, died on Friday at age 86 near his home in Connecticut. The son of parents who were killed in the Holocaust, the Czech-born Forman fled his native country after the Warsaw Pact invasion of 1968, eventually becoming a naturalized U.S. citizen in the place where he'd find his greatest success. "Well," he explained while accepting his first Academy Award for Best Director, "America still is big, beautiful, hospitable, and open country."
Forman was best known for his Oscar-sweeping pictures One Flew Over the Cuckoo's Nest (1975) and Amadeus (1984), which between them encapsulate the two major themes of his work: the importance and dignity of the iconoclastic individual vis-à-vis a stifling state, and the heroism of the transgressive artist. Here's a scene from Cuckoo's Nest that, while still true to the 1962 Ken Kesey novel, nonetheless works as symbolism for both Forman's own émigré story and the entire 1963–'75 generational struggle we loosely characterize as "the sixties." As Charles F. Barr wrote contemporaneously in Reason, "The parallels between the movie's mental ward and society at large are simply too obvious to miss":
If Forman's second great theme, the artist-as-hero, feels played out now, as it began to in his hagiographic 1999 Andy Kaufmann biopic Man on the Moon, that's partly because Hollywood has since then indulged in the persistent self-congratulation of Birdman, The Artist, and Argo. But it's also because 2018 America, regardless of how heroic its dissenters may feel at a given moment, cannot compare to the artist-vs.-authoritarian drama of 1960s Prague, where Forman helped kick-start the influential Czech New Wave with a troika of terrific movies.
Communist-era Czechoslovakia was one of the most repressive East Bloc regimes for most of its 1948–'89 run, ranking right down there with the police states of East Germany and Albania. The only real loosening during that time came from 1963 to the first half of 1968, when novelists, playwrights, musicians, poets, visual artists, and film directors waged a multi-front assault on the state's censoriousness, using a mixture of wink-nod political symbolism, direct lobbying to widen the band of permissible expression, and a straight-up explosion of artistic creativity. Prague, that centuries-old center for cosmopolitan culture and literal capital of Bohemia, proved an uncomfortable fit for top-down, closed-border censorship. The space these artists fought to create—heroically, even!—led directly to the series of early-1968 political reforms known as the Prague Spring, which thrilled the world with its all-too-temporary decontrols on media, speech, and the administrative state.
Forman's two best-known movies during this period, 1965's Loves of a Blonde and 1967's The Firemen's Ball, were both Best Foreign Picture nominees that made darkly comedic sport with small-minded, over-empowered bureaucrats. (The latter film in particular was a pretty direct political critique, and it found itself banned after Soviet tanks crushed Prague Spring.) But ask Czechs to name their favorite Forman and they'll almost universally tell you it was his less internationally heralded debut feature, 1964's ?erný Petr (Black Peter). That film, despite being a low-budget black-and-white offering from communist Czechoslovakia, was almost startlingly modern—a generational conflict centered on an awkward and blasé young man a good three years before The Graduate; a story about nothing three decades before Seinfeld; an exercise in cinéma vérité and overheard conversations more convincingly authentic (in part due to Forman's reliance on non-actors) than what Robert Altman would produce the following decade.
That sense of naturalism is what ultimately makes the movie so beloved back in Forman's homeland: Black Peter, like the writings of Bohumil Hrabal, is just so unmistakably Czech. Particularly in its conveyance of that hard-to-define Czech cultural trait known locally as "black humor." Here's the trailer:
Forman's best movies feel like immersive experiences in place and time. Cuckoo's Nest (which—fun fact!—was filmed at an Oregon mental hospital where my mom used to work), is a tactile snapshot of the Pacific Northwest matched only by Gus Van Sant. Ragtime (1981) is an evocative throwback to early 20th century New Jersey and New York. Amadeus may not be authentic Vienna, but by shooting it in Prague and other Czech locations Forman* infused the production with an ecstatic Mitteleuropean sensibility that at the time stood in stark contrast to what his old '60s comrades were allowed to get away with. Looking at his track record, one of the great unmade movies of all time has to be Ghost of Munich, Forman's examination of the 1938 Munich Agreement based on a screenplay by Václav Havel (!), which was scuttled after the financial crisis of 2008–'09.
"You know the censorship itself, that's not the worst evil," Forman said in a late-career CNN interview segment that also included his old schoolmate Havel. "The worst evil is—and that's the product of censorship—is the self-censorship. Because that…destroys my character." A generation of anti-communists, now slowly dying off, understood intrinsically that the biggest threat of totalitarianism is what it can warp within the privacy of your own soul. Miloš Forman sought to demonstrate in both artistic practice and subject matter the heroism of men and women choosing to act freely, if not always wisely, in a less-than-free world. RIP.
* Was originally "Kundera," which is a hilariously bad mistake.